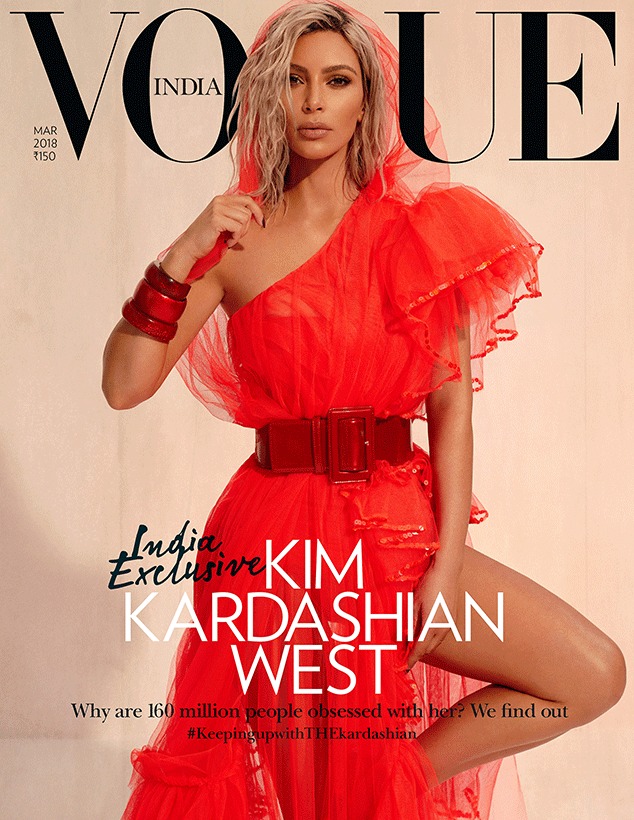 Greg Swales for Vogue India
Kim Kardashian loves her family, but there are also a few sibling qualities she could live without.
In her cover story for Vogue India's March 2018 issue—Kim's seventh Vogue cover—the Keeping Up With the Kardashians star revealed which qualities she'd borrow and take away from each of her family members to form the ultimate Kardashian.
When it came to the best qualities, Kim had a rather lengthy list.
"My brother's sense of humor. Kendall's sweetness. Khloé's I-don't-give-a-f--k attitude. Kourtney's savviness around finances. Kylie's ability to just go for it and not care what other people's opinions are. And my mom's nurturing," she said. 
While Kim said she wouldn't remove any qualities from her mom Kris Jenner—adding that she's "perfect"—she did have a few qualities she'd nix from her siblings.
"Maybe… Kourtney's stubbornness. And Khloé's getting too sensitive," she said. "I would take away Kendall's anxiety, Kylie's 'I don't care, I know what I'm doing' thing and probably my brother's moodiness."
Greg Swales for Vogue India
In addition to talking about her family, the reality star spoke about her decade-long show and the success of "launching a beauty brand completely by myself, and funding it all." She also shared some business advice she's learned from her hubby Kanye West.
"Don't give your name away," Kim said. "Stand your ground on being an owner in your company. This is something I've heard from my husband all the time. I did it all the wrong way at first. Or not wrong, but I never had that confidence that my husband always had, and it has paid off for him in the end."
To read more of Kim's interview, check out Vogue India's March 2018 issue.