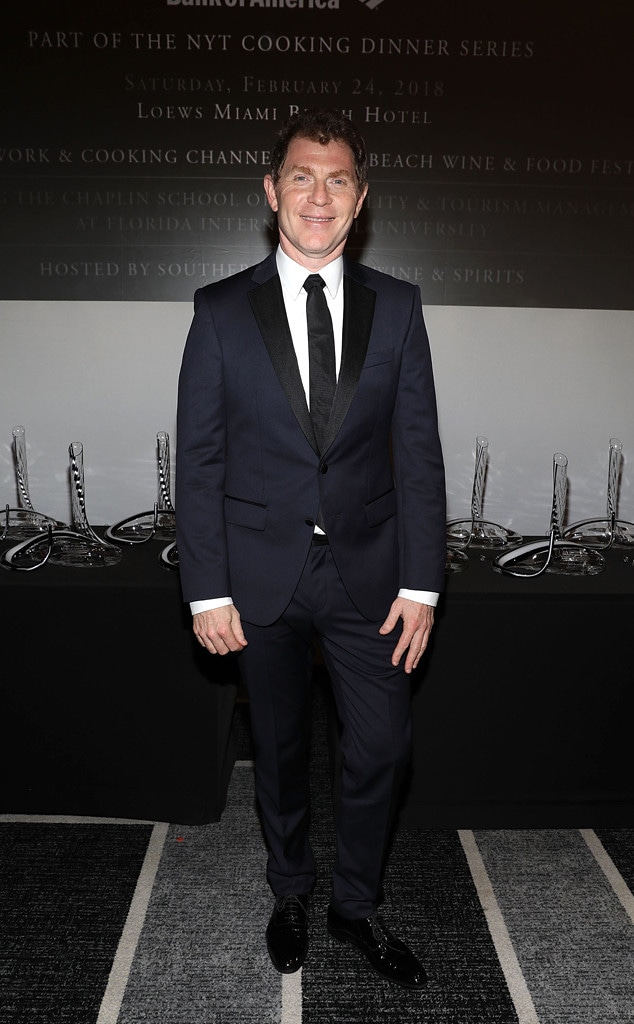 Aaron Davidson/Getty Images for Palms Casino Resort
Bobby Flay can cook up some good recipes and maybe even some TV drama.
Last fall, reports surfaced claiming the Food Network fan-favorite quit Iron Chef Showdown in the middle of filming.
While Bobby assured viewers at the time that it was all just some "confusion," fans are getting some more insight into what really happened during a taping.
While speaking at the South Beach Wine & Food Festival this past weekend, Bobby revealed that during the final competition of the summer, he removed his chef's coat 20 minutes into filming to reveal a shirt that read: "This is my last Iron Chef battle ever."
"I wanted everyone to know that this is my last Iron Chef battle and my objective, though it was probably not the best idea, was that that's what would be filmed," he shared during an "In Conversation" discussion moderated by Michael Symon (via People). "When the camera's on you, that's what the viewer would see. So I did it."
"The network was not thrilled," Bobby continued, "I thought it would be good TV. They didn't think of it that way, and that's obviously their prerogative."
The best-selling author and businessman reportedly said that Food Network "blacked out" the incident for airing. At the same time, he explained why he was getting fatigued with the show.
"I've done over 100 Iron Chef competitions, and frankly they are exhausting. They are exhausting physically but, even more so, they are exhausting emotionally," he explained. "When I do a season, I do between 6 and 8 [battles] in a week and it crushes me because it's 60 minutes of pure energy, creativity and execution. And so at some point I was like, 'I've been doing this for a long time and I want to go out on a high note."
For now, Bobby remains busier than ever both on and off the Food Network. Shows in production include Brunch @ Bobby's, Beat Bobby Flay and Food Network Star. He also continues to work on his various restaurants including Mesa Grill, Bobby's Burger Palace and others.
"I think that Iron Chef is a great place for new and younger people to come on and start taking the reins," Bobby shared. "How many times do you want to watch Bobby Flay do Iron Chef?"