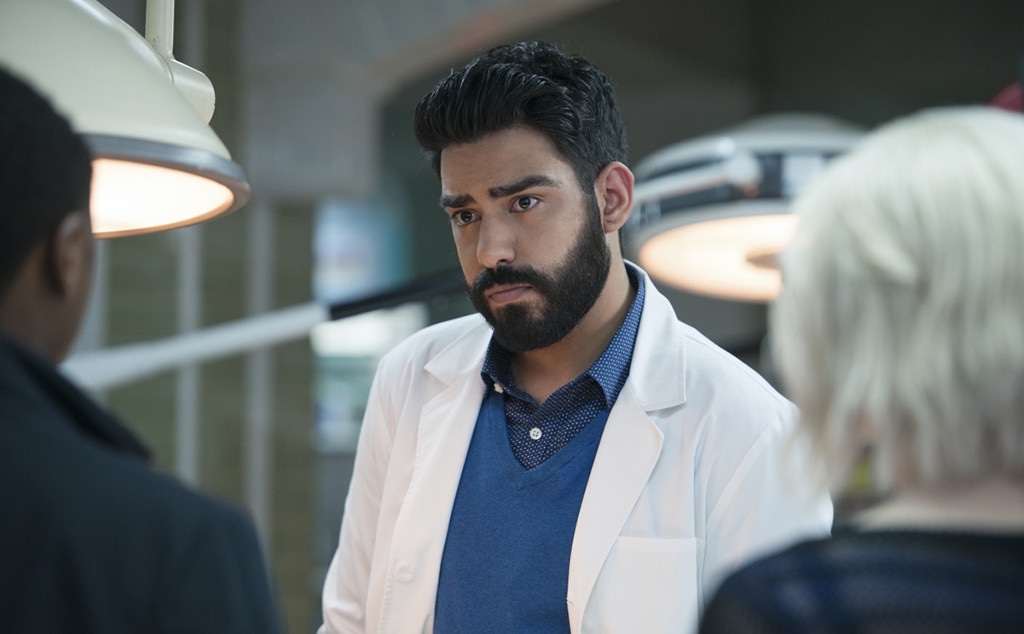 CW
iZombie is finally, finally back, and a lot of things probably happened in tonight's season four premiere. 
When last we left our favorite zombie show, the world had been let in on the zombie secret, and Seattle became the zombie capital, happy to keep the zombies contained as long as everyone else agreed to donate their brains when they died.  
It seemed like a good plan, so what we're guessing is that everything went great and everyone was happy in tonight's premiere. We can't tell you for sure, because we were just so distracted by the fact that Ravi got his zombie period and was extremely naked. 
Obviously, he gave himself a zombie vaccine, so now he's only a zombie a few days out of the month, and during the few days of the month covered in tonight's premiere, he ate the brains of a nudist—sorry, naturist—and thus he was nude. 
Now, we're adults, so we can handle a bit of nudity. We watch a lot of HBO. But Dr. Ravi Chakrabarti is so typically not a zombie naturist that the sight of him suddenly becoming a zombie naturist was very distracting to us, and when you add in the fact that he's basically dealing with metaphorical menstruation in zombie form, it's just a lot. It hindered our ability to process any scenes that came before or after the nudity, and we're so sorry about that. 
We know that at the time of our watching, we enjoyed the premiere and found a lot of things alarming, like the zombie-made zombie guillotine and the revelations made by those hungry zombie teens being mentored by Major. There was definitely an indication that some of them were prostituting themselves for brains, which is wild and heartbreaking, but damn, Ravi was so naked. 
The question we now have is this: Did iZombie unleash naked Ravi too early?
We are here for Ravi occasionally partaking in brains and all the joy that comes with eating brains, but what could possibly top the brains of a nudist? Where can they go from here? Could other characters also get naked? Would could this show possibly have in store for us if naked Ravi is only the beginning of the season?
All that we do know is that naked Ravi is not some kind of last ditch attempt to keep the show from being canceled, because there seems to be no danger of that. 
Back in August during the TV Critics' Assocation press tour, CW president Marc Pedowitz said that "if and when" the end of the show comes near, he would work with creator Rob Thomas to figure it out and "at this moment in time, I'm not planning on having that series end."
Thomas recently told E! News that there's no reason for fans to be worried—at least not any more worried than they ever have been before.  
"We land right in the middle of The CW ratings, so no more than last year, or the year before, or the year before that," he told us with a laugh. "We don't know anything, like we haven't been told that we're going to be gone or that we're going to get a fifth season. I will say this season, I'm really thrilled with it. It's a fun season. It's a whole new world, Seattle is a wild city and they've got 10,000 zombies in there and four or five thousand humans and trying to live in peace. It has made for a really weird and cool new world. It's been great." 
iZombie airs Mondays at 9 p.m. on the CW.