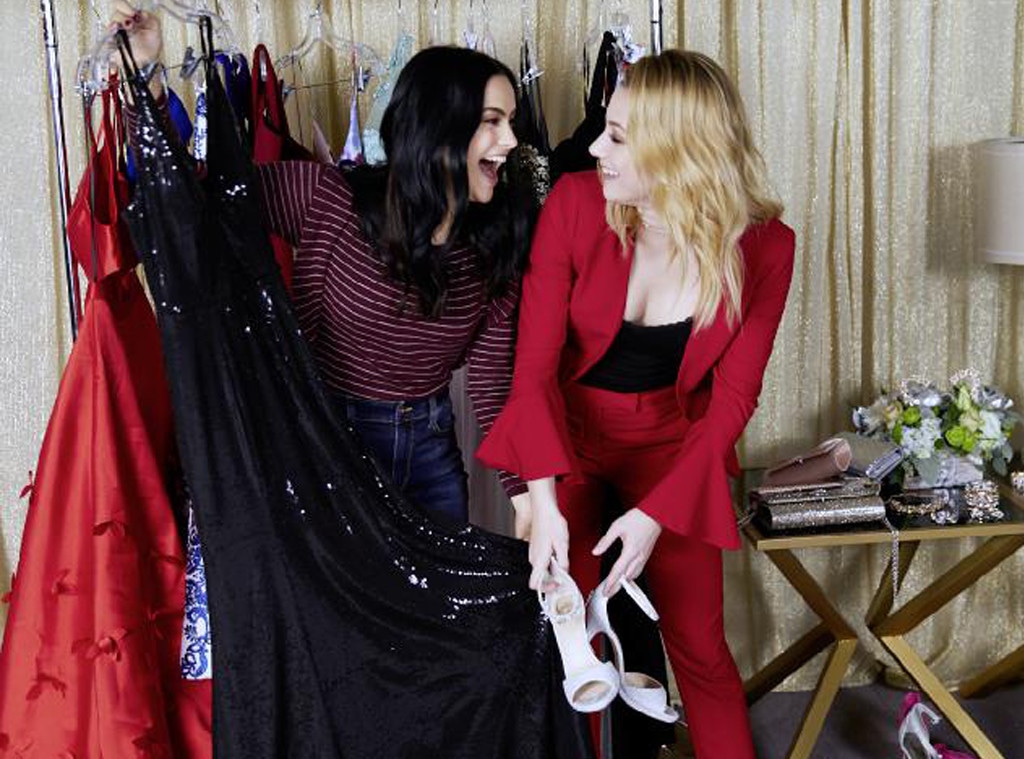 Camila Mendes and Lili Reinhart want you to have a Riverdale-level prom.
In partnership with JcPenney and the YMCA, the actresses that play Veronica Lodge and Betty Cooper on CW's hit show surprised teenagers who may not have been able to afford prom attire with a styling session and photo shoot. As a one-stop shop, the actresses helped students pick the dress, shoes and accessories that would make them confident on their big day.
Camila told E! News, "They were so smart and so driven, and they all had, like, these really crazy ambitions, and some of them have already gotten into really great schools—just hearing all their individual stories was very inspiring, and Lili and I were just there to kind of guide them in finding their style, and realizing their dream prom look."
"It was really a wonderful, wonderful experience and towards the end, we hopped in a couple photos with them and played some Cardi B," Lili added.
Raving about philanthropic endeavor, the stars decided that they didn't want to stop there, and revealed to E! News their tips for prom, so you, no matter where you go to school, can have the Riverdale experience.
Don't settle!
CM: My senior year, I had been looking for a dress at various department stores for about a week. I kind of settled on this one dress that I got...I think it was around $400, $500 range. And then, the next day I went to a thrift store with my friends, and I found this old, vintage, very Hollywood glamour sort of dress that I tried on and it fit me perfectly, and the length was perfect, which is very rare for me because I'm 5'2...I felt so glamorous in it, and it was so understated, but gorgeous.
LR: There's hundreds and thousands of dresses out there and if you're feeling hesitant or it doesn't quite feel like the one, than it's not the one, just keep looking. The earlier you start looking, the better.
Let your dress (or lack thereof) say something about your dreams.
CM: My dress was kind of like the symbol of my ambition and my dreams. I knew I wanted to be an actress for as long as I can remember—since I was eight years old I wanted to be an actress. So, I feel like when I put that dress on I felt like an old Hollywood actress, you know?
LR: I don't have a prom story because I never went to prom. When I was 16, I switched to online school, because I was in the middle of starting my acting career, and school was making it hard to devote all my time to that...I, in kind of a cocky but sort of ambitious way, told myself that, I didn't need to go to prom because I would be walking on a red carpet someday.
It's OK if you're not sure what your style is.
LR: I have only been doing events for a year and a half. So, I'm figuring out what I like and what looks good on my body and what colors I like, and what makes me feel the best and the prettiest and the most sexy. It is an ongoing experience, which makes it super exciting.
Have fun with your makeup!
LR: I love the process of getting ready. I did my sister's makeup for prom. I think just having fun with it is the most important thing...I think I did a subtle red lip and some soft black eyeliner, it wasn't anything crazy at all because my older sister did not like to wear very much makeup at all.
In front of the camera, just be yourself.
CM: I think the first shoot I did, I was kind of stiff, and I didn't really know what to do with myself 'cause I was just waiting to be told what to do, and then the more I realized that you can kind of take control of the situation...I know more than anybody what looks good on me or what position is going make me feel confident. As soon as I, like, take that initiative, then the photographer's happy because their getting the shot that they want and you're happy because you feel good.