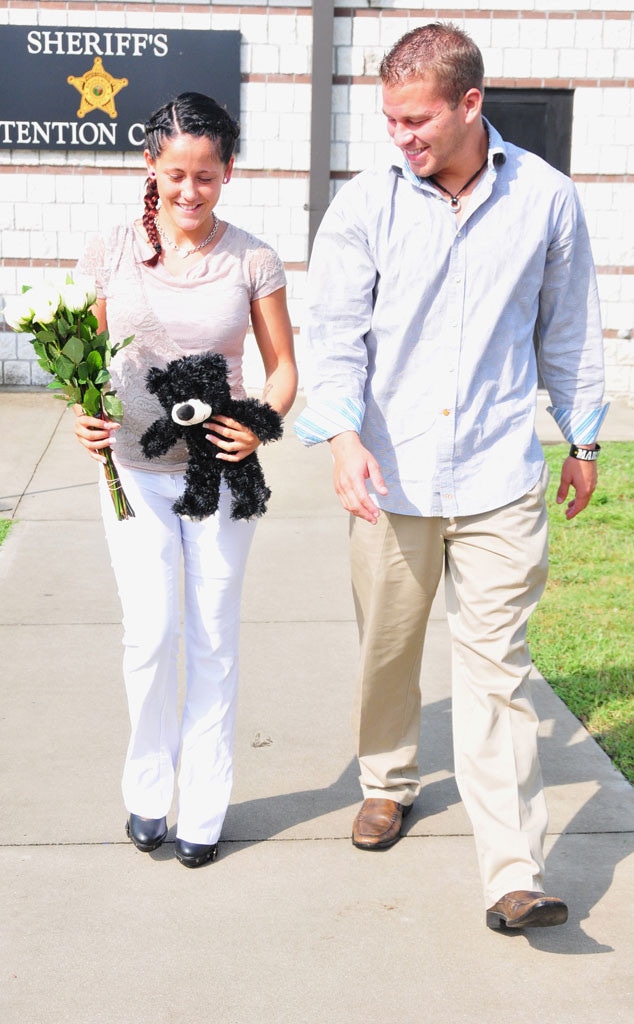 Todd DC / Splash News
Jenelle Evans is sharing her reaction to ex-fiancé Nathan Griffith's weekend arrest.
E! News has confirmed that the 30-year-old Teen Mom 2 star was arrested on a traffic violation on Sunday, February 25 in Myrtle Beach, South Carolina. Evans and Griffith, who split in 2015, have a 3-year-old son together, Kaiser Griffith.
In response to the arrest, Evans tells E! News exclusively, "It doesn't surprise me at all. It's sad that Kaiser was there this weekend and a witness to all of this. Hopefully, Nathan doesn't continue to make the same mistakes and set a better example for his son."
A Myrtle Beach Police Department told Us Weekly that Griffith was "issued a ticket, arrested and charged with striking fixtures while driving on a highway and a failure to report these collisions."
The spokesperson continued, "He hit fixtures on the highway and then left the scene. He was released at 5:30 a.m. on a $464 bond."
Back in September 2017, Evans responded to Kaiser's grandmother's emergency custody filing. E! News obtained legal documents submitted by Doris Davidson on Sept. 1, 2017 against Kaiser's parents which (among other things) claim Jenelle's daughter Ensley Eason tested positive for marijuana at the time of her birth in January 2017. 
"Our lawyers are talking today. Doris made accusations but I can tell you that Barbara has a lot to do with them… Doris threw her own son under the bus by admitting that he has pending felonies and possibly on drugs. Her emergency filing was against me and Nathan both," Evans told E! News at the time. "I can tell you that they are allegations, mostly driven by my mom. Our lawyers are working out a new agreement."
Just last week, Evans' husband David Eason was fired from MTV over alleged homophobic tweets.
"David Eason's personal comments do not reflect the views of MTV," a network spokesperson said in a statement to E! News. "With six weeks left of production on Teen Mom 2, effective immediately, we are ending our relationship with him."