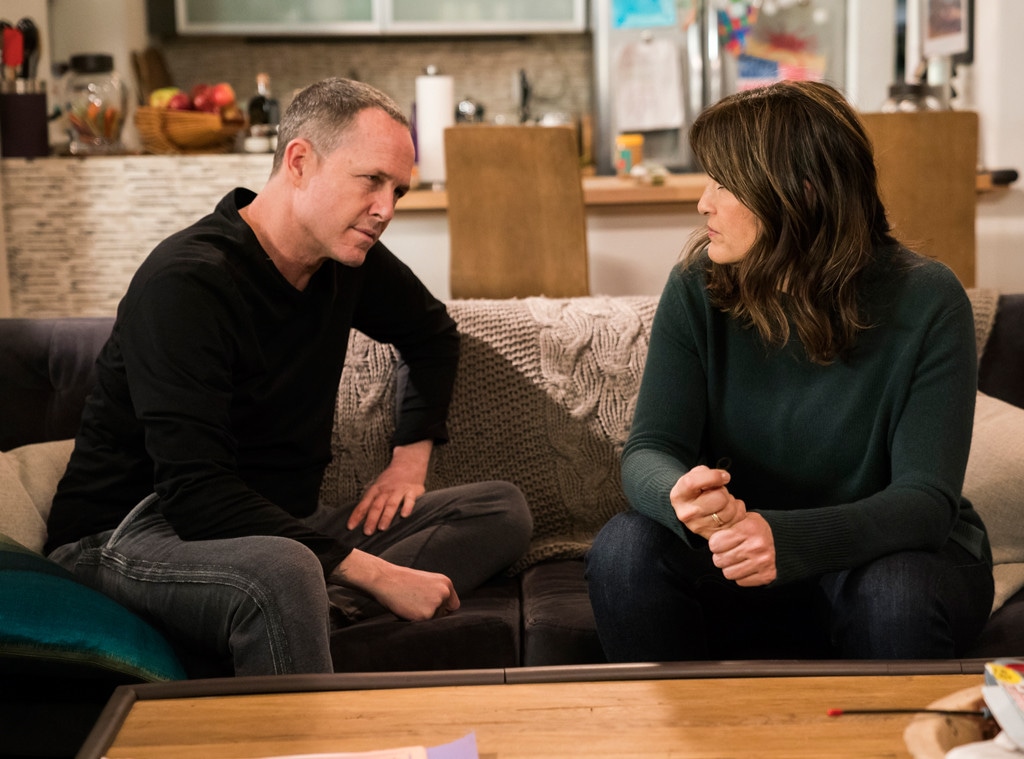 NBC
Law & Order: SVU is no stranger to shocking reveals and putting its characters in dangerous predicaments and "Chasing Demons," the Wednesday, Feb. 28 episode of the NBC drama, had both of those things. Spoilers ahead!
In the episode, a doctor accused of sexually abusing his patients is freed after Cassidy's (Dean Winters) testimony caused a mistrial. The mistrial set off a string of events, including the death of the doctor and an implication that that put Cassidy at odds with the squad and put Benson's (Mariska Hargitay) job and reputation on the line. Cassidy turned to Benson for help, and she obliged, but this put them in conflict with new series regular Philip Winchester as new SVU ADA Peter Stone.
Eventually, Cassidy was cleared and the character, who originated in season one, revealed he was sexually molested as a child. E! News spoke with showrunner and executive producer Michael Chernuchin to get the scoop on the big reveal and what's ahead. Read on!
I heard you're a planner, how far in advanced are you planned? Next year?
We have three or four ideas already, we were actually talking about them last night. We're trying to make—and I think it's happened—each episode completely different, take a different genre. Like "Something Happened" was a stage play, "Gone, Baby Gone" was a chase…each one we want to give a different feel to so the actors and the audience don't get bored. We've already come up with some concepts for next season. Now all they have to do is pick us up. [Laughs.]
That Law & Order/Gunsmoke record is in sight.
I know, two years. Two years!
There was a moment a couple weeks ago where Ice-T's Fin confronts Peter Gallagher's Dodds about this mysterious memo. Will we learn more about that?
Probably in the finale, that's what we're looking at right now.
We said goodbye to Raúl Esparza's character, Barba, and hello to Philip Winchester's Stone. The relationship between Stone and the squad is not great right off the bat.
No, it's going to be tense for a couple of episodes until they accept him as part of their family.
Right, I feel like that's how it always is when a new ADA joins the cast.
Exactly. It's the same in any business; the new kid on the block is always the outsider for a while. And Stone kind of manipulates them into liking him. [Laughs.]
Can you tease the dynamic between Benson and Stone and what's coming? They obviously started off on a bad foot.
Yes, well, he prosecuted her best friend. [Laughs.] Which is a tough thing. Eventually they learn to respect him fro.m..the way he treats them and I can't give away too much of a future episode, the way he treats Carisi [Peter Scanavino] in particular in an episode, and also his skills in a court room.
As you know, SVU fans are quite vocal. I've been contacted by some who are eager to hear about SVU's plans for LGBTQ representation in characters. The series hasn't had a series regular gay character since BD Wong.
We're discussing it. Let's put it that way. We have a core group of people, I don't think we need any new people on the show. But we deal with those subjects on a weekly basis; it's just that not one of our characters is a member of that community.
You've had Cassidy back, McCoy, the Stone family legacy…Are there any other characters in Law & Order franchise lore you'd like to revisit?
Yes, but I'm not going to tell you. [Laughs.] We've got a biggie coming up.
On a more serious note, Cassidy admits he is a victim of molestation. How long was that planned in your mind to reveal that?
It was kind of spur of the moment when we were doing the outline, we were doing the beat sheet and planning the show. In retrospect, it explains his character. And he said for the first time in 19 years I understand where I'm coming from, Dean did, and it just fit in with the story so perfectly. Why he overreacted in the courtroom and why he's a hot head, things like that…and why he's single.
Were Dean and Mariska receptive to the reveal?
Oh, they loved it. They absolutely loved it. We hit with two heavy-handed emotional shows for Benson back to back. Raul leaving and then Cassidy coming back and saying goodbye.
Is there happiness in Benson's future? Is she out of the woods?
She is for now. In this world she lives in, I don't know how happy you can be. Most people don't even realize, they stay as SVU for two years, tops. They can't handle it.
I loved Rollins confronting Cassidy. I feel like the bond between Rollins and Benson has been explored more.
That was totally intentional. We want to give Mariska a close friend, a close female friend. And who better than Rollins?
I don't think I've ever seen Rollins and Cassidy interact. That was fun seeing her go to Benson's apartment and lay down the law.
And it was great because the scene was about Benson. To hear these two people that love her, arguing about her, it was a classic scene…Dean was amazing. It was the biggest role he's had on the show by far…it was about him, the bar room scene…a lot of that he ad-libbed and it was brilliant.
Stone says in the episode something keeps him in New York.
That will be explored, it's once again a family issue…I think 15 or 16, you'll learn about it quickly.
Law & Order: SVU airs Wednesdays, 9 p.m. on NBC.
(E! and NBC are both part of the NBCUniversal family.)