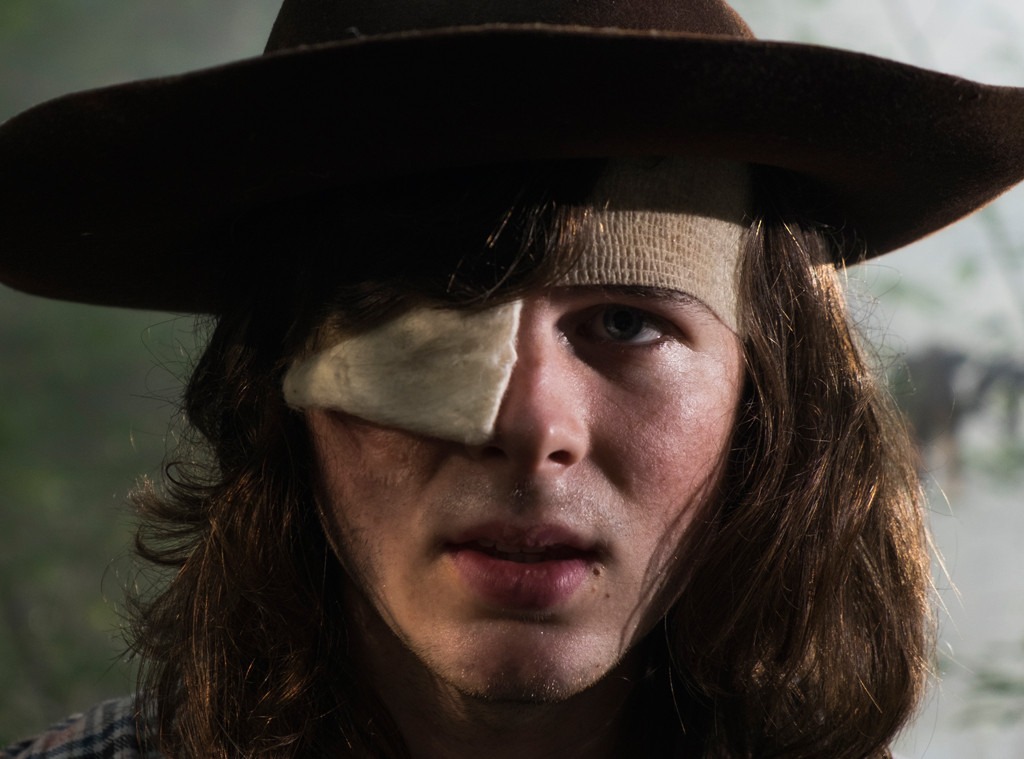 AMC
The Walking Dead said goodbye to an original cast member in "Honor." This is your one spoiler warning in case you've been hoarding episodes on your DVR.
Chandler Riggs' Carl Grimes said farewell to the zombie apocalypse in the ninth episode of season eight. After getting bitten in the midseason finale, Carl gets to say goodbye to his friends and family before taking his own life. He asked his father, Rick (Andrew Lincoln), to build a better future alongside their enemies, the Saviors, as his last request. Negan (Jeffrey Dean Morgan), the leader of the Saviors, posted an emotional goodbye to Riggs on Instagram.
Riggs thanked fans on Twitter after his final episode aired.
In a video posted by AMC, The Walking Dead cast looked back on key Carl moments and bid farewell.
"I think it's seismic," Lincoln said in the video. "Everything that drove Rick from the first episode, everything, his engine, was his family. I'm trying to figure out how he moves on from here."
In the comic books the show is based on, Carl is still alive. His death on the TV series mirrored how Andrea died in the comics.
"Rick Grimes doesn't have his son anymore," Lincoln said. "There's nothing more terrifying than somebody who's lost everything. I think he'll come back and be willing to lose every part of himself in order to wreak vengeance on this."
Carl impacted many of the characters on the show, including Danai Gurira's Michonne.
"I was in so much devastation about this storyline because it really was something I could not process," she said. "For me, Michonne grew as a character through Chandler and my interaction on screen, that's how her heart opened, through Carl."
Norman Reedus, who plays fan-favorite Daryl on the AMC drama, said he always thought Carl—and Riggs—were the "most level-headed people on this whole cast."
But what about Rick's hat that Carl began wearing early in the series? "There's definitely a lot of responsibility that comes with the hat. But, I think by season 15, Judith will live up to it," Riggs said.
Click play on the video above for more from The Walking Dead cast and crew.
The Walking Dead airs Sundays, 9 p.m. on AMC.