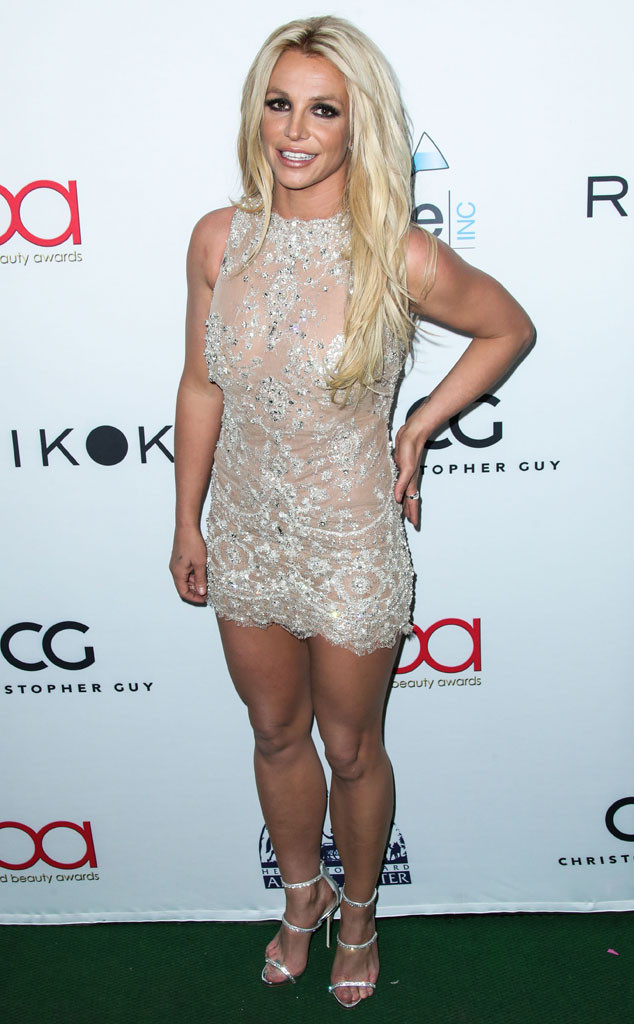 Jim Smeal/REX/Shutterstock
Britney Spears made a rare red carpet appearance to attend the Hollywood Beauty Awards Sunday. Hosted at Avalon Hollywood in L.A., the 36-year-old "Slumber Party" singer showed up to collect the award for her Fantasy in Bloom perfume, which was named Fragrance of the Year.
Revlon's EVP of Global Fragrances, Ron Rolleston, presented Spears with the award.
"I adore Ron. He's like my grandfather. I just friggin' love him. I want to thank Ron and the team at Revlon. It's always great working with you to bring our ideas, like Fantasy in Bloom, and all our fragrances to life," said Spears, who sparkled in two different mini-dresses at the event. "When I was getting ready this evening, my sons were like, 'Mom, are you going to the Oscars?' I said, 'Well, it's kind of like the Oscars, and I won the biggest award there.' They were jumping up and down, and I felt really proud—but they were just ready to get my ass out of the house!"
"Anyways, I also want to thank the Hollywood Beauty Awards for this amazing honor," the "Make Me..." singer continued. "Thank you so much and I am so excited to be working with [you on] all the new projects. HBA, shall I tell my sons we have a date for this time next year?" (In the last 14 years, the singer has released over 20 perfumes, grossing several billion dollars.)