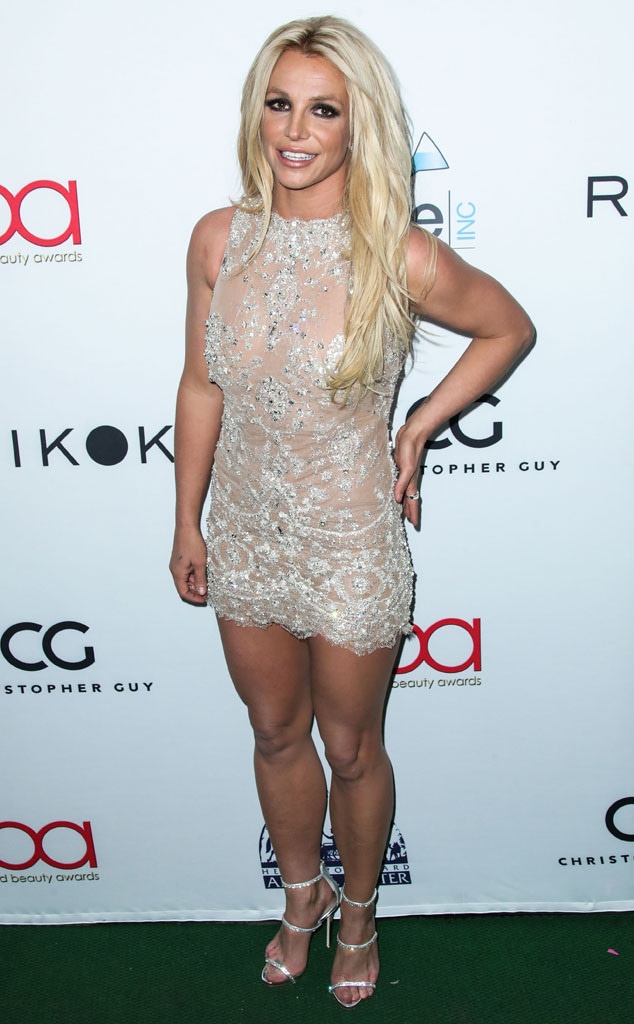 Jim Smeal/REX/Shutterstock
Britney Spears made a rare red carpet appearance to attend the Hollywood Beauty Awards Sunday. Hosted at Avalon Hollywood in L.A., the 36-year-old "Slumber Party" singer showed up to collect the award for her Fantasy in Bloom perfume, which was named Fragrance of the Year.
Revlon's EVP of Global Fragrances, Ron Rolleston, presented Spears with the award.
"I adore Ron. He's like my grandfather. I just friggin' love him. I want to thank Ron and the team at Revlon. It's always great working with you to bring our ideas, like Fantasy in Bloom, and all our fragrances to life," said Spears, who sparkled in two different mini-dresses at the event. "When I was getting ready this evening, my sons were like, 'Mom, are you going to the Oscars?' I said, 'Well, it's kind of like the Oscars, and I won the biggest award there.' They were jumping up and down, and I felt really proud—but they were just ready to get my ass out of the house!"
"Anyways, I also want to thank the Hollywood Beauty Awards for this amazing honor," the "Make Me..." singer continued. "Thank you so much and I am so excited to be working with [you on] all the new projects. HBA, shall I tell my sons we have a date for this time next year?" (In the last 14 years, the singer has released over 20 perfumes, grossing several billion dollars.)
MediaPunch/REX/Shutterstock
Here is the complete list of Hollywood Beauty Awards honorees and winners:
Rick Baker Makeup Award
Anthony Nguyen
Sarah Tanno – WINNER
Matthew VanLeeuwen
Tym Buacharern Makeup Award
Carola Gonzalez – WINNER
Sir John
Eva Kim
Gail Ryan Hairstyling Award
Claude Baruk – WINNER
Riawna Capri – WINNER
Caile Noble
Camille Friend Hairstyling Award
Cesar Ramirez
Takisha Sturdivant-Drew
Johnny Wright – WINNER
Douglas Kirkland Photography Award
Eric Charbonneau – WINNER
Frazer Harrison
Katy Winn
Ellen Mirojnick Styling Award
Robért Behar
Monica Rose
Marina Toybina – WINNER
Honorees
Outstanding Achievement in Special Effects Makeup: Rick Baker
Outstanding Achievement in Makeup: Tym Shutchai Buacharern
Outstanding Achievement in Hairstyling: Gail Ryan
Outstanding Achievement in Hairstyling: Camille Friend
Outstanding Achievement in Photography: Douglas Kirkland
Outstanding Achievement in Costume Design and Styling: Ellen Mirojnick
Special Honorees
Fragrance of the Year – Britney Spears for Fantasy Britney Spears in Bloom
The Gentleman Award – Smokey Robinson
Timeless Beauty Award – Jane Seymour
New Beauty Award – Kirstin Maldonado, Olivia Holt, Tinashe
Product of the Year –Beth Stavola for CBD For Life
The Breakthrough Award – Desire Fragrances, Inc. for Lamborghini "Invincible"
The Breakthrough Award – Christine Ko for Moira Cosmetics
Beauty Enhancement Award – Dr. Babak Azizzadeh
The Innovation Award – Tamim Hamid for Theradome
Special Recognition – Helen Woodward Animal Center