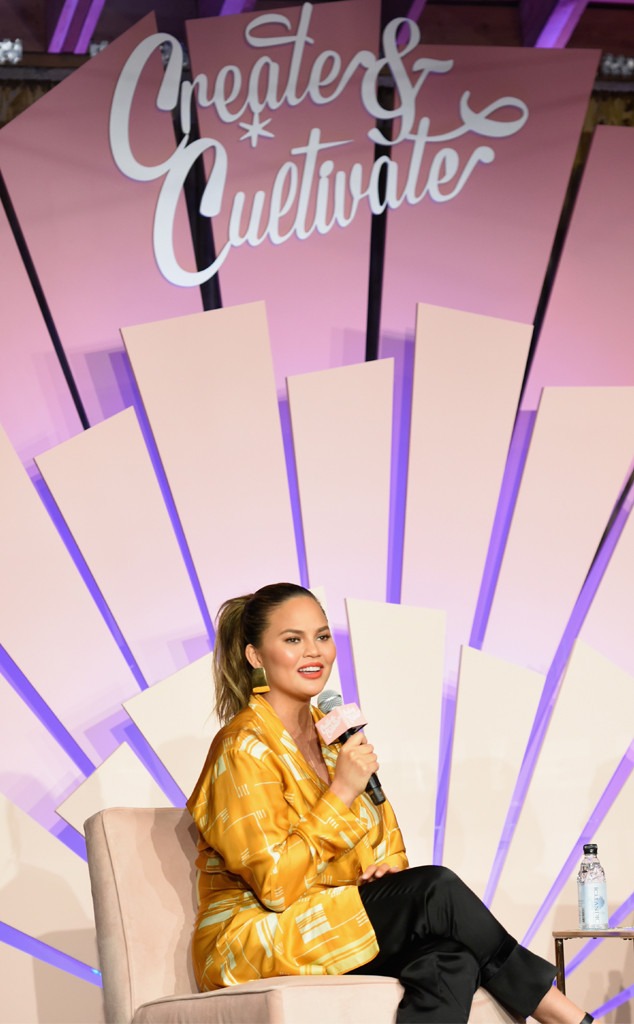 Vivien Killilea/Getty Images for Create & Cultivate
The always candid Chrissy Teigen did not pull any punches when she sat down with friend and celebrity hairstylist Jen Atkin at the Create & Cultivate Conference in Los Angeles on Saturday.
During the Q&A, the pregnant social media personality talked to Kim Kardashian's famed hairstylist about a slew of topics, ranging from the perils of Instagram superstardom to the joys of being married to John Legend and even on to the subject of her past battle with postpartum depression following the birth of her now-22-month-old daughter Luna.
In April 2017, Teigen revealed to Glamour magazine that despite the Instagram smiles she'd suffered from postpartum depression after giving birth.
Now that she's pregnant with her second child, a son who is due in June, the 32-year-old told Atkin that she did fear that the condition would come back once again.
"Do I worry about it with this little boy? I do. But I also know that when it does happen—if it does—I'm so ready for it," she said in front of the packed house on Saturday night. "I have the perfect people around me for it. That's why I stand for a real core group of people around me."
According to the National Institute of Mental Health, "Postpartum depression is a mood disorder that can affect women after childbirth. Mothers with postpartum depression experience feelings of extreme sadness, anxiety, and exhaustion that may make it difficult for them to complete daily care activities for themselves or for others."
Vivien Killilea/Getty Images for Create & Cultivate
Teigen made it clear that having her husband, family and close friends around her was a major factor that helped get her through the trying times. 
At the event, the former model spoke about PPD affecting her despite everything she had, "I had just had Luna. I knew I had an incredible life and husband and family and all the resources necessary. I knew that I was personally unhappy, but I didn't think that anything was wrong with it because I just assumed that that's the way it goes."
She said she just thought that's how you were supposed to feel after having a child, "You have a kid, you're sad, you lose those endorphins and that's the way it is."
The Lip Sync Battle star did confess that she wished someone would have spoken to her about her issue.
"I do wish that more people had spoken up around me. I encourage anyone who sees something around them to point it out," she shared. "It took me to finally sit myself down because I think it's hard for people to point something out."
While the talk took a serious turn, the cookbook writer did also get a chance to chat about her biggest inspiration in life—being in the kitchen.
"Cooking is my No. 1 passion," said the Cravings author. "It centers me like nothing else does. I think it's so hard to find your real passion. I never loved modeling I was so insecure. I always became best friends with people behind the camera."
A number of other celebs, including Kim Kardashian, Molly Sims and Lauren Conrad also appeared at the Create & Cultivate Conference on Saturday. Before the event there was a VIP speaker dinner where Kim Crawford Wines was poured. Dinner attendees included Kardashian, Conrad, Atkin, Nina Dobrev, Tia Mowery, Busy Phillips and more.