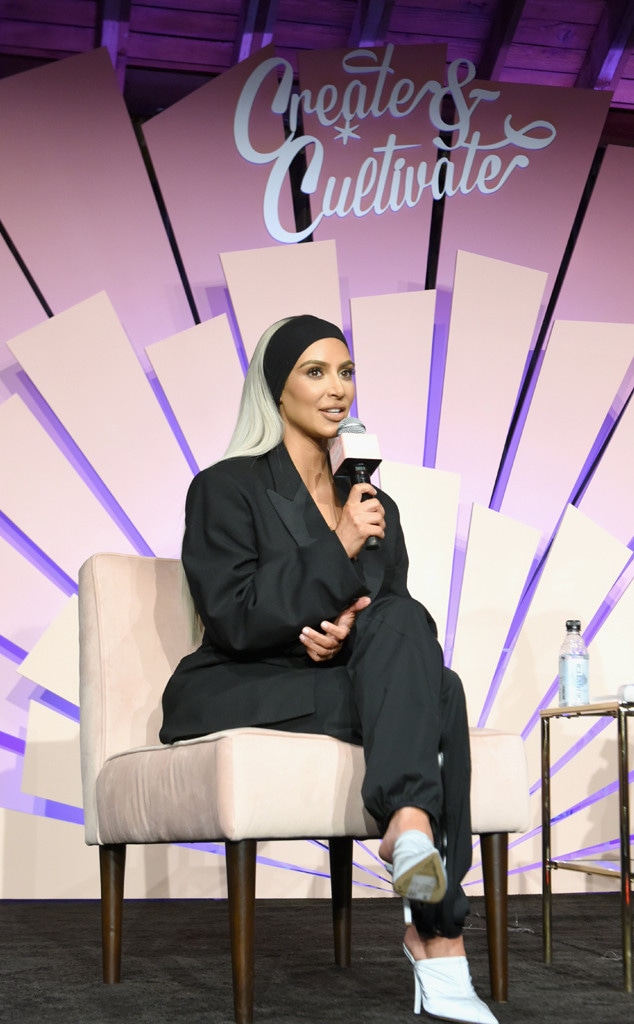 Vivien Killilea/Getty Images for Create & Cultivate
What's it like being Kim Kardashian? At the Create & Cultivate conference in Los Angeles on Saturday, the reality star talked about her life and got candid about the good, the bad and apparently, the ugly.
When asked what is the best part of being her, the 37-year-old said, "The free s--t. No, free trips. Free planes. Free everything. But I do love to share, when I get free stuff I literally give it to all my friends and family."
Kim's least-favorite thing about being Kim Kardashian?
"When I just look like s--t and want to go outside and just eat a churro and not like, have anyone just up my ass," Kim replied. "But I can't complain, honestly. It's not that bad."
Life certainly has changed for the Keeping Up With the Kardashians star, beauty product mogul and social media fan-favorite since she and her family rose to fame more than 10 years ago.
"Material things don't make me happy anymore," Kim said at the conference, adding that she prefers trips.
Last year, she gifted husband Kanye West a surprise birthday trip to Japan, while he gifted her a vacation to a luxury resort in Utah for her birthday.
Vivien Killilea/Getty Images for Create & Cultivate
The thing she's most proud of in life, Kim said, is her family. She's now a married mother of three, having recently welcomed baby No. 3, a daughter named Chicago West.
"Three kids is a game changer," she said. "I am really cautious when I am at home with my phone and being super present with my kids."
Kim often posts on social media pics and videos of her two eldest kids, North West, 4, and Saint West, 2, but has yet to share a photo of Chicago, although she did make a cameo in her aunt Kylie Jenner's baby reveal video earlier this month.
At the conference, she also talked about her relationship with Kanye.
"My husband is so amazing, he just builds me up and motivates me," she said. "I have an incredible husband."
The two first stepped out together in 2012 and wed two years later in Italy. She also dished on the early stages of their relationship, noting his sleeping technique.
"First day I ever slept at Kanye's house—I won't say the date because then I'll get in trouble—like years and years and years ago," Kim said. "He put the heat on, he slept with the heat on and I think he had socks on."
She said that's how she knew he was her soul mate, saying that she herself sleeps at an 80-degree temperature, wearing a robe and socks.