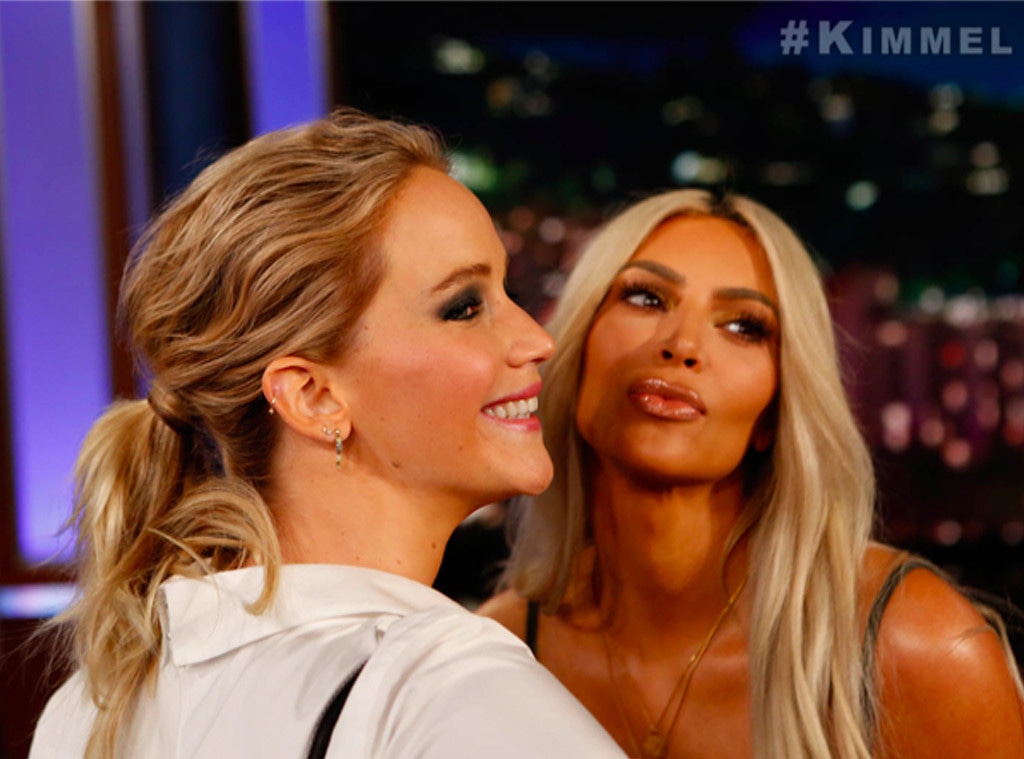 ABC/ Randy Holmes
Jennifer Lawrence and Kim Kardashian appeared to have bonded on TV but the Oscar winner isn't sure the reality star would consider her an actual friend.
The 27-year-old actress is a longtime fan of Keeping Up With the Kardashians and had interviewed Kardashian, 37, while guest-hosting Jimmy Kardashianmel Live! in November. Before the sit-down, she hung out with the reality star's family at her mother Kris Jenner's home.
"I don't know if she'd call me her friend," Lawrence said on Friday about Kardashian at a speaking event at The Wing, a women's social club in New York City, joking that it was probably "a one-sided friendship."
"I went over and I met the family when I found out I was going to be interviewing her," the actress said. "I wanted to get as much information that I could and I wanted to know the questions to ask. I wanted to really do my due diligence on Kardashian Kardashian. So I went over to Kris' house and I had dinner with the whole family and I have to say, they are smart, they are grounded and normal and funny and...they're very nice people that have a very close, loyal bond with one another, which I think is a positive thing to put out in the world. They've been absolutely lovely to me."
During their Jimmy Kimmel Live! interview, Kardashian and Lawrence talked about how the actress and Jenner both got drunk at the family dinner. Lawrence said she remembered "getting naked" in a closet and "ordering" Kardashian to dress her.
"You said, 'I'm not joking. I really want Kanye [West] to style me,'" Kardashian recalled. "And so I said, 'OK.' And then I come back in and you're fully butt naked, and I'm like, 'Um, I'm going to intercom downstairs and tell him to not come upstairs.' We put on one of my mom's dresses, and you wore it throughout the whole dinner."
"Oh, I have it!" Lawrence said. "I went home in it."
During the event, Lawrence gave shout-outs to her Hollywood pals, fellow Oscar winner Emma Stone and Cameron Diaz.
She took part in the sit-down to promote her latest movie, Red Sparrow, which sees her play a Russian spy. Lawrence says the film allowed her to conquer her fears of showcasing her sexuality onscreen.
"For years, I just felt very insecure in sexuality really, was what happened to me in 2014—my nudes got hacked in 2014—but also, I grew up in Kentucky, I grew up in a conservative home and I've always felt I'm so afraid of being judged for using my body or being sexual," Lawrence told the audience.
"And then I read this script and I found it empowering and I thought it was an important character and an important message and I thought, if I don't do this movie because of these fears, these fears and insecurities are going to rule my life and then they win," she said. "And I did it and after I finished the first scene, where I literally—it's a nightmare come true—start stripping in front of a classroom, I thanked the director...as crazy as that sounds, because I walked off that set feeling like a completely different person." 
Lawrence was recently criticized for wearing a racy dress while posing for photos with her male Red Sparrow co-stars, who were dressed in coats amid near-freezing temperatures. She defended her clothing choice in a rare message on Facebook.
"I think it was really irresponsible on behalf of the people whether it was a blog or whoever put it out there because there are very real issues just need to be discussed," Lawrence later told E! News. "I've shot in below freezing weather with walking pneumonia. I can stand in a Versace dress for 90 seconds? I'm an adult. It was silly and it was a misuse of a platform."
Red Sparrow is set for release on Friday, March 2.
Watching Keeping Up With the Kardashians on Sundays at 9/8c on E!