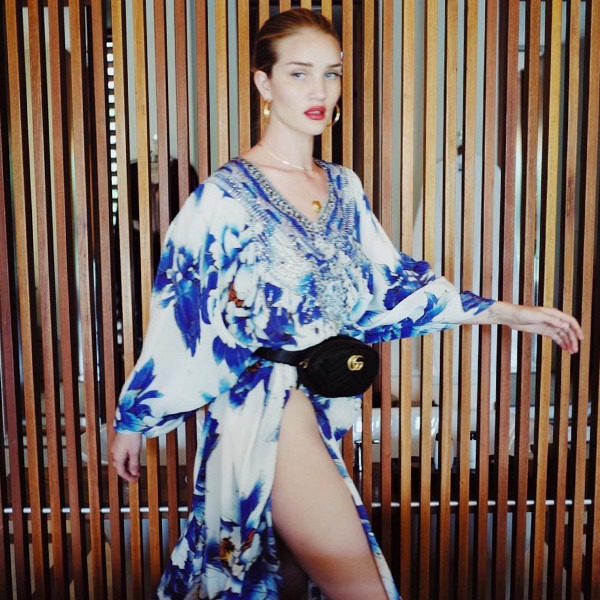 Instagram
Are you ready for your next vacation?
While most of us want to nod yes, anxious to get away from responsibilities, weather woes and stresses, Rosie Huntington-Whiteley just reminded us that living your best life includes a beautiful travel wardrobe. Whether you've booked your tickets or not, it's time to start thinking about what you're taking on your 2018 travels.
If you need some inspiration, Rosie is goals. While vacationing in the Maldives for her "babymoon," the star posted a photo wearing a blue and white maxi kaftan with a high split from Camilla, a Gucci belt bag and gold hoops. Then, finished with a casual low bun and red lip. 
Her dress, however, is the star. The iteration of the kaftan features a high slit and split arms, giving it a sultry appeal and showing off her runway-ready legs. The luxury resort wear is 100% silk, so when the wind from the beach hits it, it has a graceful movement that looks elegant and regal as it subtly reveals more skin. It can be worn to a summer day party, brunch or over a swimsuit, making this dress a versatile must-have to add to your vacation wardrobe.
The best part: It's on sale! 
Shop vacation-ready, marked-down dresses below!