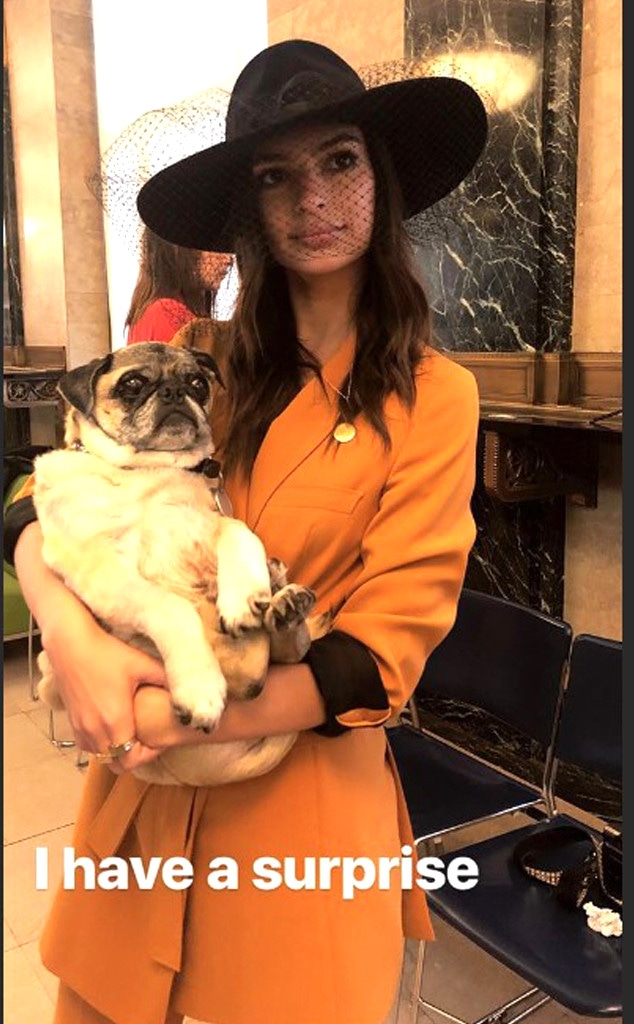 Snapchat
Emily Ratajkowski is a bride on a budget! 
The 26-year-old model shocked fans when she revealed her and boyfriend Sebastian Bear-McClard tied the knot on Friday, heading to a New York City courthouse with a few pals after a whirlwind courtship of only a few weeks. 
Like many City Hall "I Do's," Emily opted for an unconventional wedding day ensemble that would fit almost any fellow bride's price point. Ratajkowski's mustard yellow pantsuit is currently available at Zara, with the double breasted jacket ringing in at $129 and matching flared trousers at $69.90. 
Something tells us EmRata's chic look is flying off the shelves right about now. 
The music video vixen accessorized the stylish power suit with strappy black heels and a wide-brimmed hat complete with a black veil. As for jewelry, Emily coordinated an elegant pendant with her thick, gold wedding band and other rings that read "EM" and "RATA." 
In several snapshots shared to her Instagram Stories, Emily and Sebastian's wedding witnesses all wore oversized suits in varying monochromatic shades. Social media star The Fat Jewish made a statement of his own with a Planned Parenthood sweatsuit. Meanwhile, the groom dressed for the occasion in a powder blue suit and black T-shirt. 
Emily previously dated producer Jeff Magid for some time, though reports indicate they split earlier this year. 
Congratulations to Emily and Sebastian! Let us know your thoughts on her cost-effective ensemble in the comments below.