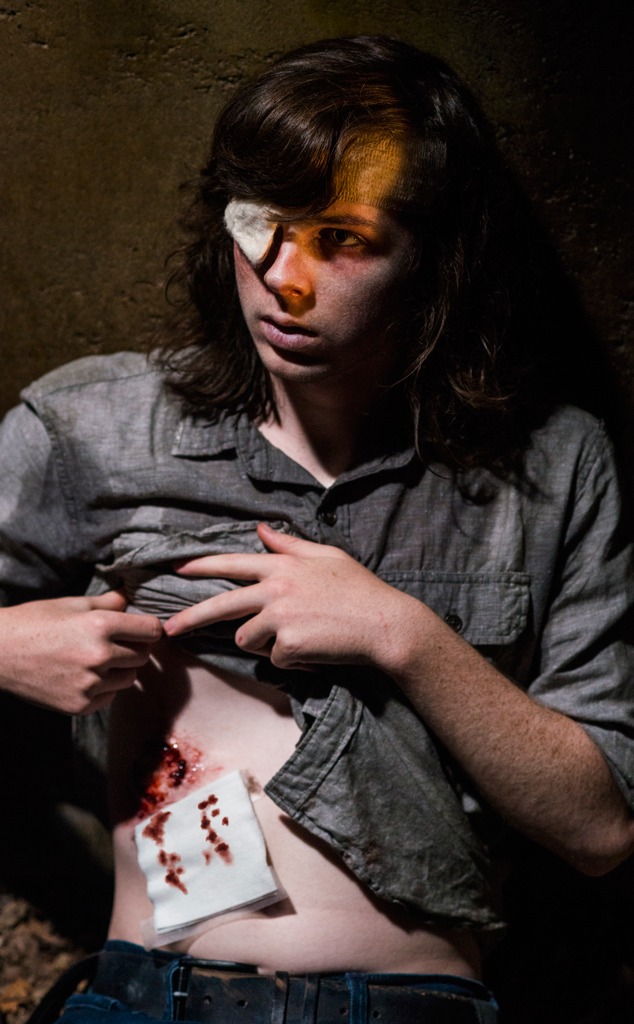 AMC
Say it with us now: Caaaaarl! (Bonus points if, like Andrew Lincoln himself, you shouted it "Corl.")
Now that The Walking Dead has returned for the second half of season eight, after two long months, it's finally time to say goodbye to poor Carl Grimes for good. After the kiddo sustained a deadly walker bite in the midseason finale while trying to help newcomer Siddiq (Avi Nash) find his way to safety, signaling that one of the show was putting one of the biggest changes from its source material into motion, Chandler Riggs (who's been with the show since day one—from age 10 to 18) got his swan song as Carl shared his vision for a more peaceful future with his dad before putting himself out of his own misery with a bullet to the brain.
While the decision to kill of Carl—and write out Riggs—came as quite a shock when it was revealed late last year, the idea here seems to be that the legacy character's death will be the necessary wake-up call for Rick, Michonne (Danai Gurira) and the gang to find a way to reach lasting peace in this all-out war with Negan (Jeffrey Dean Morgan) and his Saviors. (You know, at least until the next threat comes along.) So while it will make his death come to mean something in the larger sense, there's still the lingering feeling that it's a bit cheap—a sacrifice of a character who once represented "hope" and "the future" thanks to his youthfulness to get to a story point that shouldn't have been all that hard to reach.
But where does Carl's death stack up against the rest of the show's most noteworthy losses? As we say goodbye to the kid for good, let's take a look at where his death lands him in our updated ranking of The Walking Dead's most important deaths. Agree with his spot or did we miss the mark? Let us know in the comments below!
Rest in peace, Carl. We hope there's chocolate pudding in heaven for ya.
The Walking Dead airs Sundays at 9 p.m. on AMC.