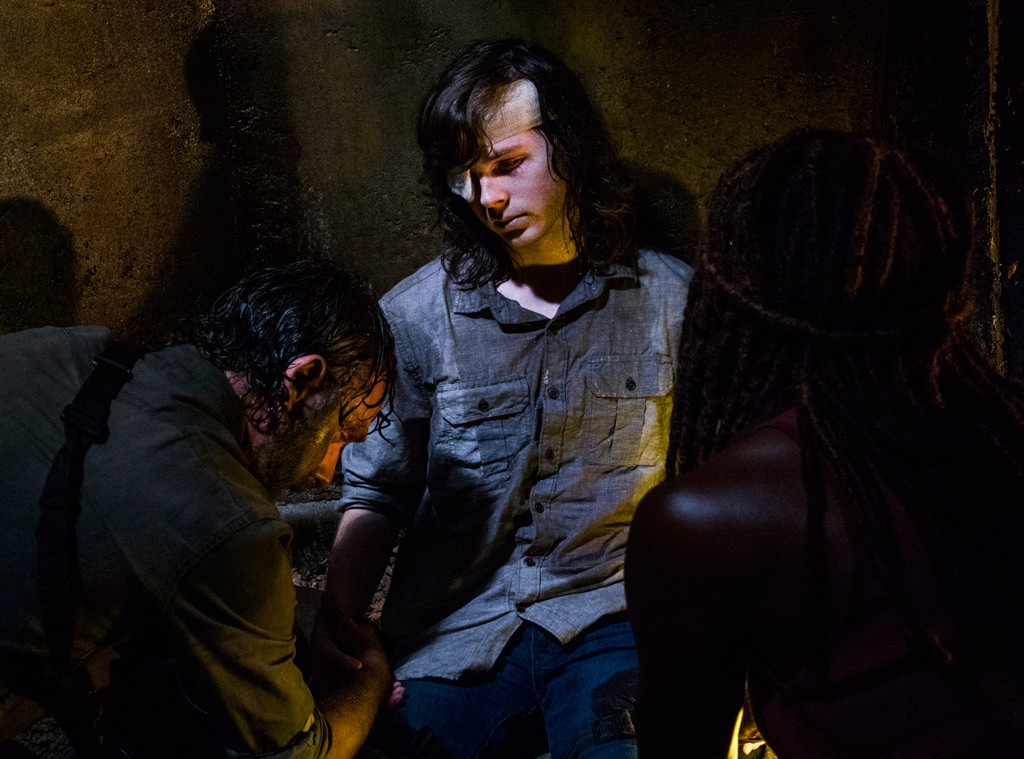 AMC
Warning: The following contains spoilers from the midseason premiere of The Walking Dead. If you haven't watched yet, you may want to bookmark this page and return once you have. Proceed with caution.
Remember when season eight of The Walking Dead began and we were all wondering what those flash forward scenes with an Older Rick living in peace with his family—including a living Carl—were all about? Well, now we know. And let's just say the reveal was, well, underwhelming.
As Carl (Chandler Riggs) lay dying from the walker bite he sustained while trying to save his new pal Siddiq (Avi Nash) in last fall's midseason finale, he revealed to a distraught Rick (Andrew Lincoln) and Michonne (Danai Gurira) that what we'd seen had been the kid's vision for a possible future without the all-out war the zombie apocalypse survivors currently find themselves trapped in.
Of course, once we learned that Carl was not long for this world, it was clear that the flash forwards had to be the figment of someone's imagination, considering the character was alive and well in them. But there's something about killing off a character who once represented hope for the future on a show with very little of that and turning that death into a plot device for another character to realize that all this endless fighting isn't helping anyone and that there has to be another way that makes this whole thing feel just a little bit cheap. 
Not only does it present one of the biggest changes from the show's source material yet—Carl is still alive and kicking in the comic books—but it serves as a major disservice to one of the show's longest-running characters (and actors, by the way).
In a world where hopelessness and death are literally around every corner, would it really take the death of his son for Rick to realize that there has to be a better way? Shouldn't he know that already? While it is certainly a relief that this hints at the eventual end to this relentless (and boring) dispute with Negan (Jeffrey Dean Morgan), a character who's proven to be something of a dud after his splashy debut, it just feels like the writers should have taken some of their own advice here and found another way.
What do you think about Carl's death and the big reveal about the flash forwards? Sound off in the comments below.
The Walking Dead airs Sundays at 9 p.m. on AMC.