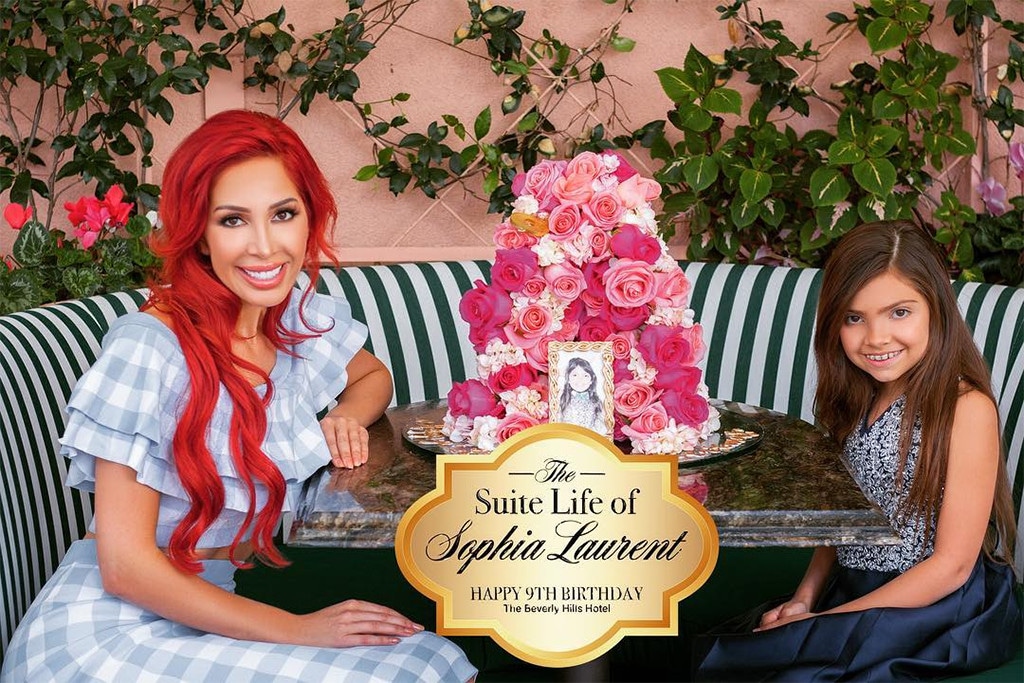 Instagram
Farrah Abraham once against went all out for her daughter Sophia's birthday.
The 26-year-old Teen Mom star's little girl turned 9 on Friday. The two celebrated before her big day; Farrah treated Sophia to a Suite Life of Zack & Cody-themed mother-daughter celebration at the Beverly Hills Hotel, where she reserved a suite (whose rates start at $1,050 a night). Farrah posted on her Instagram page a photo of the two sitting in their booth at the hotel's poolside Cabana Cafe, in front of a three-tier cake adorned with roses and a picture of Sophia.
"Sophia was very specific this year—as we have thrown huge parties in the past with school and classmates, my world traveler this year wanted The Suite Life theme, similar to The Suite life on the Disney channel," Farrah told E! News exclusively. "So The Beverly Hills hotel accommodated this to the upmost in the famed Polo Lounge, Cabana Cafe, pool space and junior suite."
Farrah later shared on Instagram a photo of Sophia jumping on the double bed in their hotel room, with was adorned with gold helium balloons spelling out "9 HAPPY BIRTHDAY."
"HAPPY 9th BIRTHDAY @sophialabraham," the reality star wrote. "This picture makes my entire day."
Inside their room, the birthday girl enjoyed a meal consisting of steak, mashed potatoes and green veggies, as well as a banana split.
"I'm gonna party like it'sssss MY BIRTHDAY!" Sophia wrote on her own Instagram page. "Living the Suite Life! @bevhillshotel #icecream #bananasplit #steak #beverlyhills #royalty."
"Sophia now has her favorite hotel in Beverly Hills," Farrah told E! News. "The love and exceptional service provided fit for this Girl Boss was perfect!"
The reality star said her daughter received gifts from the hotel, such as an iPhone cover and other swag, and also enjoyed her "custom palm designed outfit by Savous to match The Beverly Hills Hotel theme."
"On her real day, Sophia will be boogie boarding on the beach like a true Pisces sign enjoys!" Farrah added.
On Instagram, Farrah shared a heartfelt message to her daughter. 
"Happy Birthday to the gorgeous, loving, talented, smart and wonderful Sophia Laurent Abraham for her 9th Birthday," she wrote. "I had to be one of the firsts to share my love for this very special little lady! I remember February 23 at 10:25am in Omaha NE, changed my life for the better, Sophia you bring joy, love, friendship, style, creativeness and new strengths to every person you meet and situation."
"It fills my heart with joy as your mother your the best child I could have ever asked God for," she said. "I love being apart of your journey as you do extraordinary things Happy 9th Birthday my shinning star your explosive...Cheers to the sweet life with you! Love, Your one & only mom."
The reality star told her critics that the bash took place the night before a holiday.