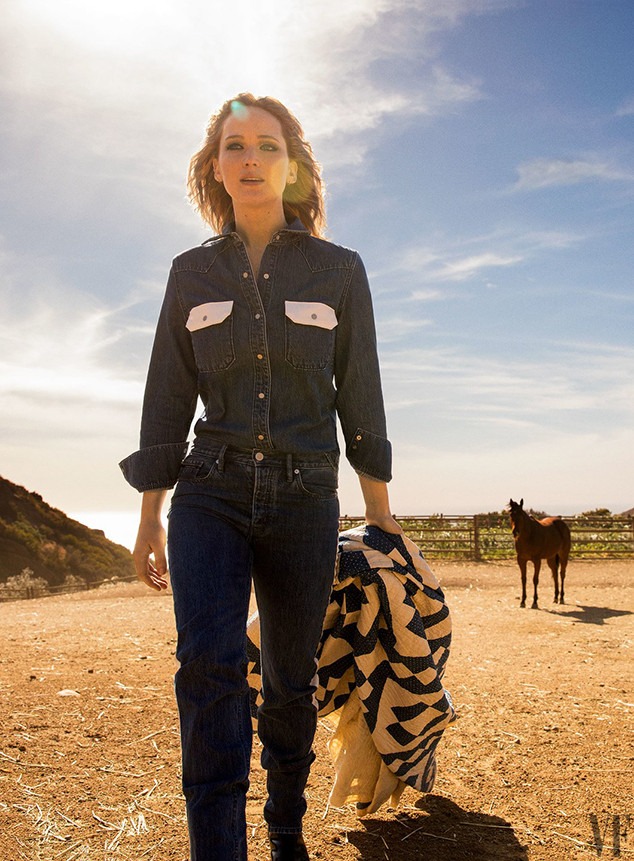 Inez and Vinoodh
Jennifer Lawrence is opening up about the 2014 celebrity nude photo hack.
The actress appears on the March 2018 cover of Vanity Fair and inside the magazine, she addresses her decision to go nude in her upcoming movie Red Sparrow (in theaters March 2).
"Red Sparrow really scared the hell out of me because I get nude," Lawrence tells Vanity Fair about the film, in which she plays a Russian spy. "I tried to do the movie without nudity but realized it just wouldn't be right to put the character through something that I, myself, am not willing to go through."
Lawrence then references the photo hack, telling the publication, "My biggest fear was that people would say, 'Oh, how can you complain about the hack if you're going to get nude anyway?'"
She then shares the major difference between the two, "One is my choice." Lawrence then adds that with the decision, "I got something back that was taken from me, and it also felt normal."
Though she was still nervous about filming the scenes, Red Sparrow director Frances Lawrence, who worked with the actress on three Hunger Games movies, helped make her more comfortable.
"He looked me right in the eyes like I had clothes on and then all of a sudden I was like, 'Oh, O.K., it's just like I have clothes on.' Everybody here is professional. You're still at work. One look just made me comfortable. It didn't make me feel naked," Lawrence explains.
A lot of the crew on Red Sparrow had also worked on Hunger Games, "They all knew me since I was a baby." And Lawrence shares with VF that after they wrapped filming on the nude scenes she teased the crew, "I hope you guys feel creepy."
For her role of an ex-ballerina in Red Sparrow, Lawrence spent months training.
"I've always wondered what it would take to get me to really diet, to really be hungry, because I've never done it for a movie," Lawrence says. "For Hunger Games, they told me to lose weight, and then I discovered Jack in the Box. Red Sparrow was the first time that I was really hungry, and disciplined. I can't be in character as an ex-ballerina and not feel like an ex-ballerina."
But dieting, Lawrence explains, is just "not in the cards" for her.
"I can't work on a diet. I'm hungry. I'm standing on my feet. I need more energy. I remember having a meltdown, freaking out that I had eaten five banana chips," she shares.
Lawrence also opens up to Vanity Fair about her November 2017 split from Mother! director Darren Aronofsky.
"We have an amazing friendship that started before the movie, then we had a partnership with the movie, and then we had a romance that came from the movie, so when you strip the romance away, we still have immense respect for each other," Lawrence shares. "As cliché as it sounds, we were good to each other. I read stuff all the time that I think would be perfect for Darren. And I think we'll work together again."
On the response to Mother!, Lawrence recalls thinking, "Do you guys not get it? I gave my body, Darren gave his f--king heart, he bled for that script, and you don't get it.' It's a little sad. And I remember letting it be sad for a couple of days, and then I was like, 'You know what? This is not where I get my happiness from. I get my happiness from my friends and my house—they've brought me so much sanity."
So what's next for Lawrence? She's toying with the idea of starting her own TV network.
Lawrence, who has previously professed her love for reality TV like Keeping Up With the Kardashians and Real Housewives, tells Vanity Fair, "I have actually been toying with the idea of becoming a billionaire and I'd like to start my own TV network. I am pretty much a television professional at this point. And I have a brilliant idea for a reality show called Breakup Island. I can't tell you the details, but there are very distinct cast members like The Bachelor, between the ages of 20 and 50, who you stay with and care about."