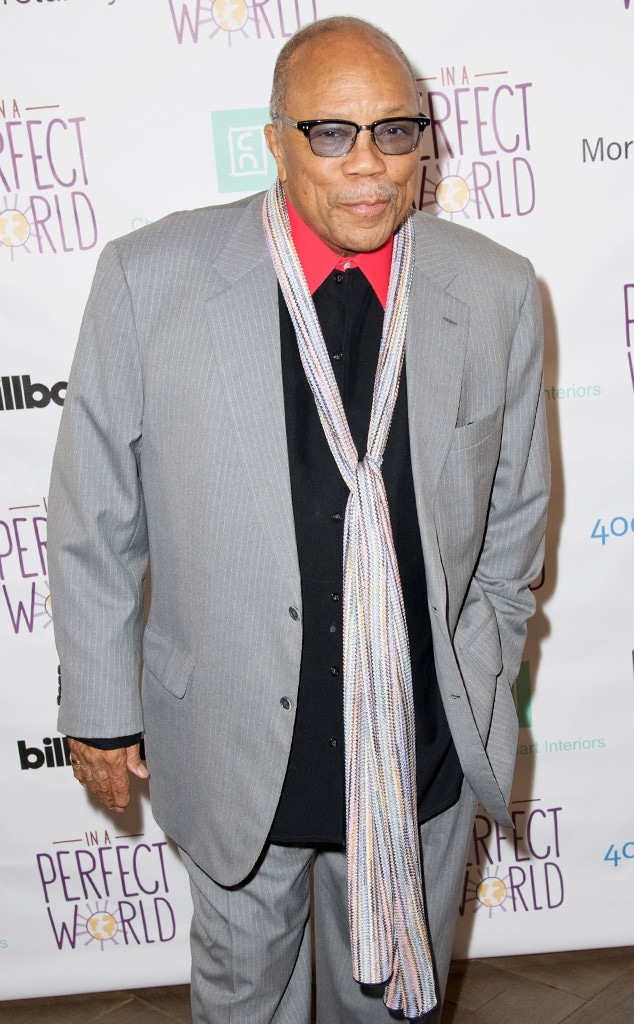 Earl Gibson III/Getty Images
Quincy Jones is apologizing for the many remarks he's made over the last few weeks.
Not only did he claim to have gone on a date with Ivanka Trump, he also dissed Taylor Swift's songwriting and made some shocking remarks about Michael Jackson and Richard Pryor. 
However, the 84-year-old's family held what he describes as an intervention, and he took to Twitter this morning to apologize for his mistakes.
"A couple weekends ago, my six daughters (who I'm beyond proud of ) took me aside to do a surprise 'family intervention' because of some silly things I've said in two recent interviews &…I have LEARNED MY LESSON," he began. "Let me tell you, I'm so grateful for my daughters because they aren't scared to stand up to their daddy. I am an imperfect human & I'm not afraid to say it. And I'm sorry & I'm not afraid to say it."
He continued, "When you've been fortunate enough to have lived such a long & crazy life (& you've recently stopped drinking- three years ago!), certain details about specific events (which do NOT paint the full picture of my intentions not experiences) come flooding back all at once, & even at 85, it's apparent that "wordvomit" & bad-mouthing is inexcusable."
Jones understands that his recent comments don't coincide with the message he wants to share with the world.
"One of the hardest things about this situation is that, this bad-mouthing has contradicted the very real messages I tried to relay about racism, inequality, homophobia, poverty…you name it," he said. "And of course I don't want that. I have already reached out to my friends privately, but when you live a public life, you have a responsibility to be an example, & since I do lead a public life, I wanted to make an apology."
Thus, he concluded his statement with an apology.
"I'm sorry to anyone whom my words offended & I'm especially sorry to my friends who are still here with me & to those who aren't. There friends are like blood family to me. To my dear family & Friends … thank you for your grace. Thank you for calling me out when I've clearly made a mistake…many mistakes."
He continued, "Even though sometimes it's difficult to receive criticism or discipline (especially publicly), I want you to know I hear you. I hear ALL of you…& I thank you. So, I encourage you all to please grow with me & keep on keepin' on. Love, an 85 year old bow-legged man who is still learning from his mistakes."