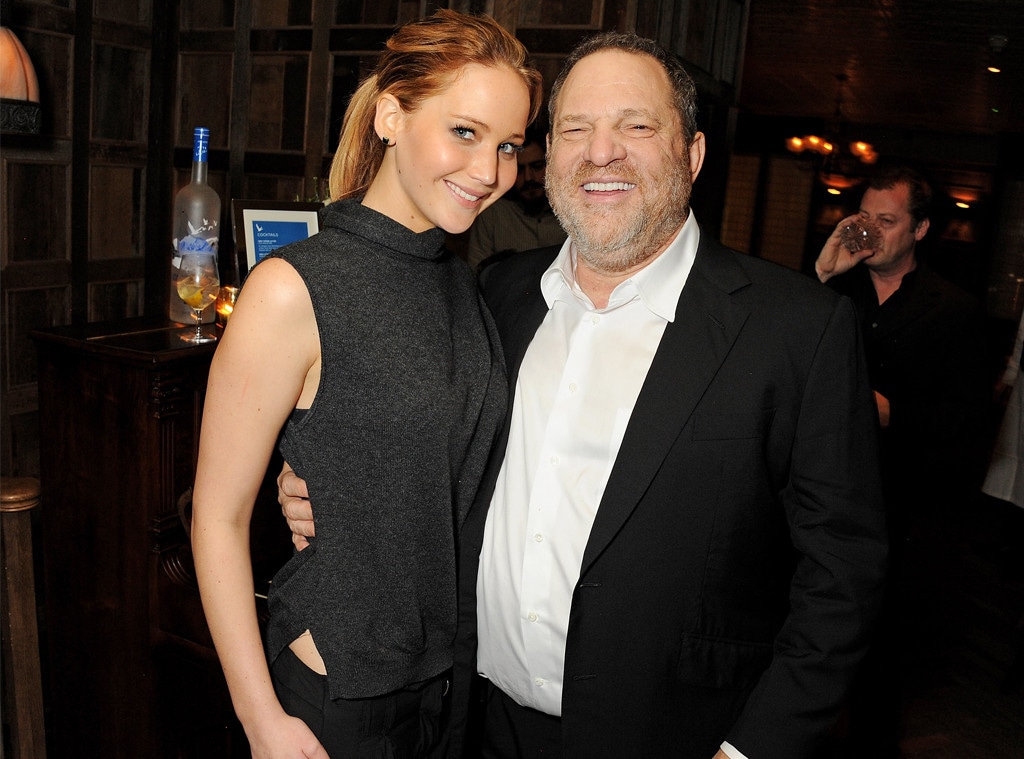 David M. Benett/Getty Images
Jennifer Lawrence will not let Harvey Weinstein use her name in his defense.
In court documents obtained by E! News Wednesday, Weinstein petitioned to have a class action lawsuit dismissed. In response to six actresses who claim that he, along with The Weinstein Company, used his power to bully women and cover up his alleged misconduct, the producer name-dropped actresses including Jennifer Lawrence, Gwyneth Paltrow and Meryl Streep in an effort to prove that not every actress he's worked with had a negative experience.
Weinstein quoted Lawrence as saying he'd "only ever been nice" to her.
Lawrence distanced herself from Weinstein Thursday morning.
"Harvey Weinstein and his company are continuing to do what they have always done, which is to take things out of context and use them for their own benefit," the 27-year-old star of X-Men: Dark Phoenix told E! News in a statement. "This is what predators do, and it must stop."
"For the record, while I was not victimized personally by Harvey Weinstein, I stand behind the women who have survived his terrible abuse and I applaud them in using all means necessary to bring him to justice whether through criminal or civil actions," Lawrence added. "Time's up."
Lawrence joined Streep, who denounced Weinstein's legal tactics Wednesday night.
"Harvey Weinstein's attorneys' use of my (true) statement—that he was not sexually transgressive or physically abusive in our business relationship—as evidence that he was not abusive with many OTHER women is pathetic and exploitive," she told E! News. "The criminal actions he is accused of conducting on the bodies of these women are his responsibility, and if there is any justice left in the system he will pay for them—regardless of how many good movies, made by many good people, Harvey was lucky enough to have acquired or financed."
Paltrow, meanwhile, has not commented. In the court documents, Weinstein's lawyers argued that in spite of her on-the-record claims that he behaved inappropriately towards her in the mid-'90s, the Shakespeare in Love actress "was not so offended that she refused to work with Weinstein again"—nor "did her career suffer as a result of her rebuffing his alleged advances."
After Lawrenc and Streep spoke out against him, Weinstein apologized Thursday afternoon.
"Mr. Weinstein has been informed that his civil counsel responded in court to a class action lawsuit which improperly sought to include all actresses who had previously worked with Mr. Weinstein, even where those actresses have made no claim of wrongdoing," the film producer's spokesperson told E! News in a statement. "Even though Mr. Weinstein has worked with hundreds of actresses and actors who had only professional and mutually respectful experiences with him, Mr. Weinstein has directed in the future that no specific names be used by his counsel, even where those actors have made previous public statements about him."
Weinstein's spokesperson said he "acknowledges the valuable input" Lawrence and Streep "have contributed to this conversation" and apologizes for involving them in the class action lawsuit. Moving forward, he "has advised his counsel to not include specific names of former associates; and to avoid [doing so] whenever possible, even if they are in the public record."