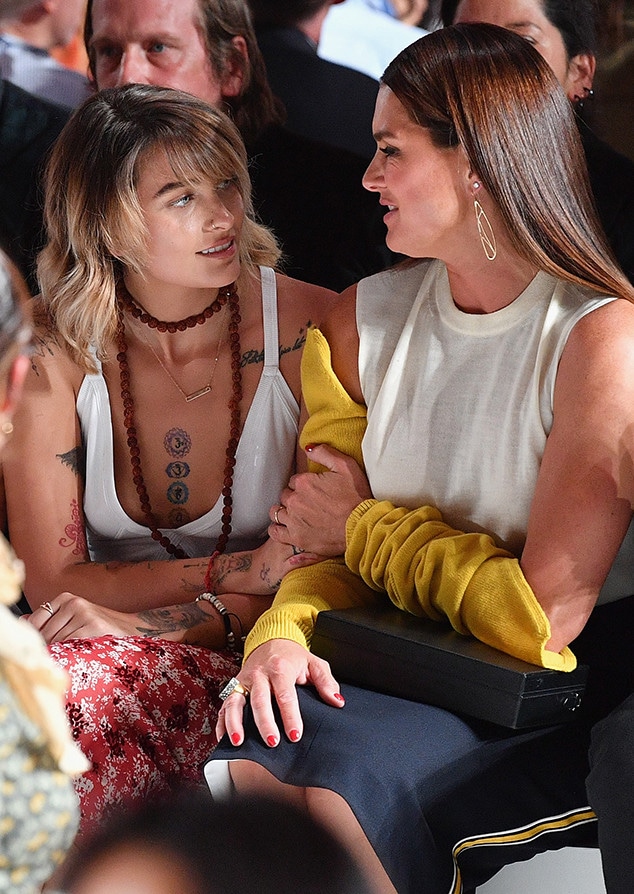 Dia Dipasupil/Getty Images
Brooke Shields had a special bond with Michael Jackson, and now she has one with his daughter Paris Jackson.
On Wednesday's episode of Watch What Happens Live With Andy Cohen, the 52-year-old model told the story of how she met Paris and the "pure moment" they shared.
Shields first met Paris when the King of Pop's daughter was just a baby. However, The Blue Lagoon star reintroduced herself at the 2017 Calvin Klein Collection show at New York Fashion Week.
"She turned to me and goes, 'So you're my dad's friend,'" Shields recalled. The actress then said, "Yes, I am" and shared a sweet moment with Paris. 
"Then I waited a while and I looked at her and I said, 'I really miss your dad.' And she looked at me and she held mine and she goes, 'Me too,'" she recalled. "And it was just a pure moment."
As children who grew up in the spotlight, Shields and Michael formed a strong connection. While rumors of a possible romance spread, Shields claimed "nothing happened romantically."
"Of course we loved each other, but nothing happened romantically," she wrote in her book There Was a Little Girl (per People). "I would be like, 'Oh please, knock it off.' He was like this kid who would ask you [about dating and romance]. Nobody was telling him and nurturing this stuff and I think he was terrified. He was terrified and sort of juvenile. I think there was an arrested development." 
Still, Shields told Rolling Stone the "Thriller" singer asked her to marry him more than once.
"I would say, 'You have me for the rest of your life, you don't need to marry me, I'm going to go on and do my own life and have my own marriage and my own kids, and you'll always have me,'" she told the magazine. "I think it made him relax. He didn't want to lose things that meant something to him."
After Michael died in 2009, Shields spoke at his memorial service. She still remembers the last encounter she had with the singer.
"He sent me a beautiful floral arrangement when my dad died," she told host Andy Cohen. "I still have the vas."
Watch the video to hear Shields tell the story.