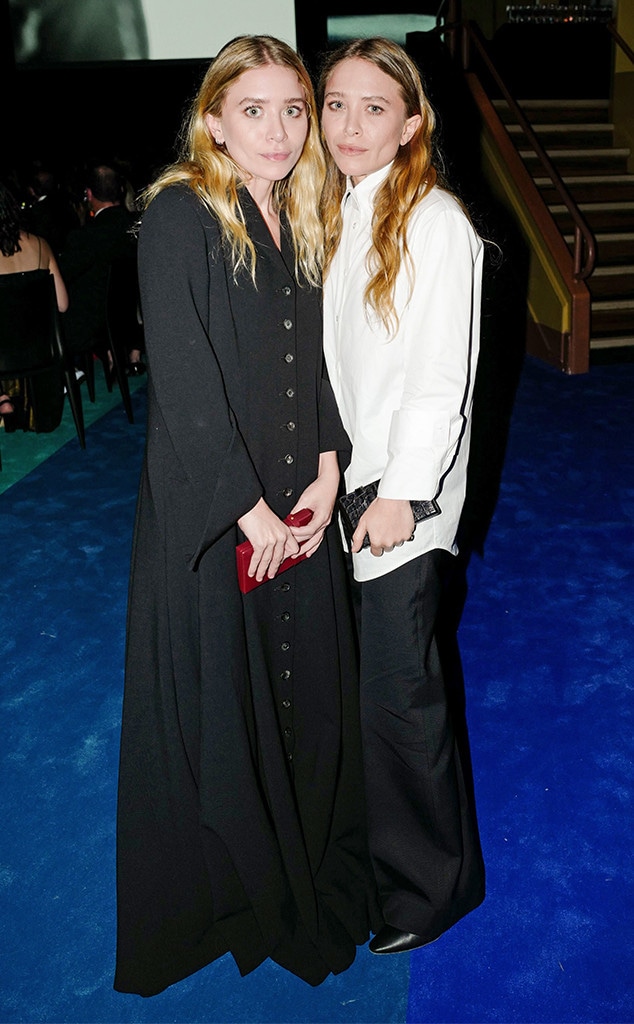 David X Prutting/BFA/REX/Shutterstock
Mary-Kate and Ashley Olsen spent their childhood being together all the time, and in their earliest years even joined forces to portray one character.
Their adolescence was similar, as the "Olsen Twins" transcended their Full House fame to create their own booming, kid-friendly brand with movies, books, video games, cosmetics and a successful clothing deal with Walmart. They became 10-year-old millionaires together, then went to high school and were cheerleaders together. They both missed the prom because they were co-hosting Saturday Night Live.
They bought a house, a $4 million mansion in Bel-Air, and then they went to college together, both San Fernando Valley natives enrolling at New York University in 2004. They bought out the top floor of a West Village high-rise for $7.3 million, not because the dorms weren't good enough for them but because they figured the attention they attracted on a visit might wear on potential roommates.
Neither of them appears to have graduated, but then they went into the high-fashion business together, and the rest is billionaire-empire, child-stars-make-good history.
But they also grew up. Of course they eventually bought their own residences and Mary-Kate got married in 2015, to French banker Olivier Sarkozy.
Now (and yet still only) 31, the sisters are leading separate lives, sometimes with an ocean between them. But even when they're apart, they're still together.
Last week they showed their Fall 2017 collection for The Row at New York Fashion Week and a hand gesture the two shared—caught on video by an attendee after the no-photos-please runway show—caught someone's eye at the Olsen Daily who in turn sent fans (and critics) rocketing back two decades to a time when we were first getting to know the fraternal(!) twins.
"We have this little thing, you know, when [want to say] we love each other we'll squeeze each other like three times," Mary-Kate explained to E!. "Then I'll squeeze her hand back, like, four times. Like, 'I love you too.'"
At the show, the sisters appeared to share a three-squeeze hand clasp. But the gesture and the anecdote don't even need to be connected (though they totally are, right?) to see that the Olsens have enjoyed a truly unique and as-yet unbreakable bond for their entire lives.
In 2009, on The Oprah Winfrey Show, Winfrey quizzed them on "who's the nicest," "who's the messiest," etc., and every answer, said in unison, began with "it depends..." Basically, at any given time, one is the yin to the other's yang, the peanut butter to her jelly.
Donato Sardella/Getty Images
They're best friends "probably more than anyone thinks," they said practically in unison on Ellen in 2010, Mary-Kate finishing Ashley's sentence. Ashley continued, "We're together every day, probably from 9 a.m. till 12 at night, sometimes earlier."
Asked if they had that twin-sense, in that one knows when the other one is in trouble or needs her, Ashley agreed, "we definitely feel it. And also, you know, we're mirror twins, so we also kind of go like this." She mimed balancing scales. "One's really good, the other's not so good, it's kind of this balancing act."
Eight years later, they haven't lost that sense of the importance of balance. At their presentation for The Row last week, according to The Cut guests left with either a black or white crystal, the former for warding off negative energy and the latter for promoting harmony.
Owen Kolasinski/BFA/REX/Shutterstock
Both twins live primarily in New York, though Mary-Kate splits time between her and Sarkozy's $6.25 million Manhattan townhouse and their Paris residence. They also do business in their hometown of L.A., where most of their family lives and they have an Elizabeth and James store at The Grove shopping center and The Row on Melrose Place. Ashley's been there a bit more, though, lately: She broke up with financier boyfriend Richard Sachs a year ago and was spotted in Brentwood in November grabbing coffee with a so-called "mystery man." She also attended a gallery opening in town just last month.
Meanwhile, they still devote the majority of their time to their sprawling fashion house, even if they're literally phoning it in.
"We've always worked around the clock. We've been working since we were nine months old," Mary-Kate told Women's Wear Daily in 2016 shortly after they had reacquired the Elizabeth and James license and were producing in-house again. "Everything is starting from scratch," Ashley said. "We're building a sales team, a merchandising team and we're going to have stores."
The ladies told the publication that they made all the decisions together, and talked through everything. Asked if they sketched together, Mary-Kate replied, "We drape."
While their collections certainly turn out harmoniously (they won Womenswear Designer of the Year at the 2012 CFDA Awards), their personal aesthetics align as well, the Olsen twins having become equally famous over the years for their swimming-in-fabric style, a look that's easy to poke fun at but which they've also made impossibly chic.
Asked in 2015 how much their personal style factors into their designs, however, Mary-Kate told British Vogue, "It doesn't. We design for our customers and try to balance being ahead of trends while maintaining an everyday casual attitude."
Though they don't shy away from the fashion scene, making annual appearances at the Met Gala and other VIP events, both Olsens are fiercely private and don't do any social media (though their brands do). They grant interviews, but almost solely to talk business.
Bill Davila/startraksphoto.com
"I was not caring what I was saying [in interviews] because I'd assumed no one would read it," younger sister Elizabeth Olsen explained her sisters' influence on her own approach to interviews to Modern Luxury last year.
"That's when we'd have conversations. [Mary-Kate and Ashley] would say, 'You know, even if you don't think anyone's going to read this article, someone might pull the quote later for [something else].' It's all part of how you hope someone interprets you, and how they frame who you are and the work you do. They're very tight-lipped—notoriously so."
They offered a rare peek behind closed doors—or at least the unofficial spokeswoman of the duo, Mary-Kate, did—in an interview with Net-A-Porter's The Edit last year.
Sonia Moskowitz/Getty Images
"I think [Ashley and I] are lucky. [Working hard] comes quite naturally for us," Mary-Kate said. "We don't need so much time to sit and think and ponder. But I have a husband, two step-kids and a life; I have to go home and cook dinner."
"I ride horses on the weekends run on the weekend. You find the thing that helps you relax and if you don't have it, you have to look for it. Or you get burned out and then you're not productive."
"I've always been a worker," Ashley said. "It has taken me a lot to figure out how to take a vacation."
And when they're in the office, "we're very organized, every minute is accounted for," Mary-Kate added.
It sounds almost as if they don't have to talk at all, that a simple glance will communicate all.
Or, 20 years later, a triple hand squeeze.