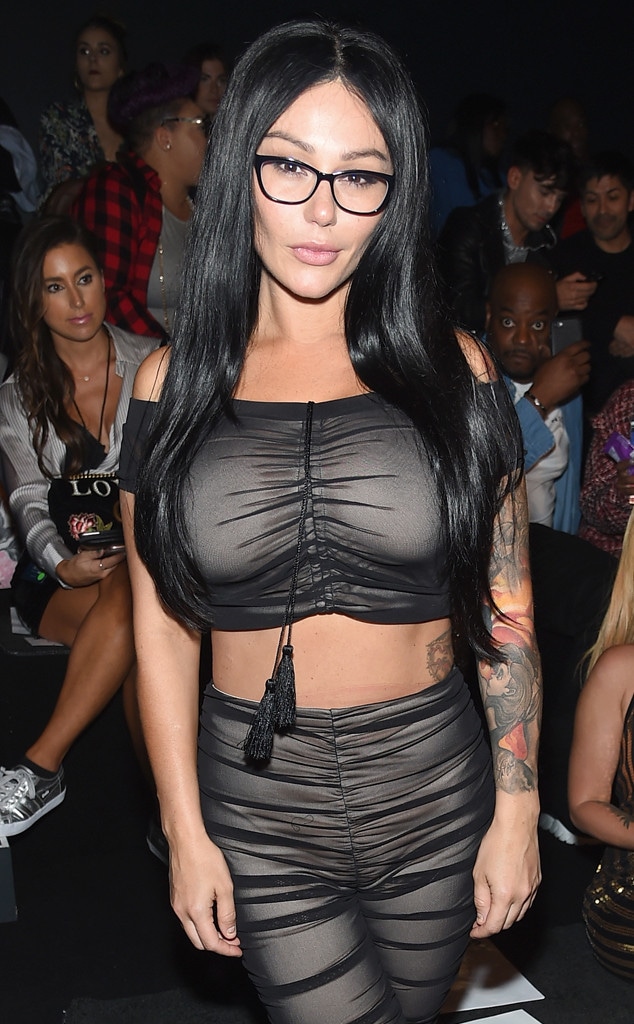 Jamie McCarthy/Getty Images For NYFW: The Shows
Happy birthday, JWoww!
Jenni "JWoww" Farley celebrated her 32nd birthday on Tuesday. The Jersey Shore and Snooki & JWoww star and married mother of two often provides valuable advice to her pint-sized bestie, Snooki, and also tells it like it is in general, on and off-screen.
"In my house, I'm not just the hot one; I'm the big sister (with the big boobs). The one everyone feels comfortable coming to for advice," JWoww says in 2011 book The Rules According to JWoww: Shore-Tested Secrets on Landing a mint Guy, Staying Fresh to Death, and Kicking the Competition to the Curb.
JWoww Gives Advice on Partying: In her book, she states some unarguable truths, such as "Sloppy drunk is not a good look on anyone." She gives advice on drinking, saying you should "pace yourself" and "don't drink on an empty stomach." (She also includes cocktail recipes in her book, as well as tips on curing a hangover.)
In 2010, Snooki was arrested for drunk and disorderly conduct. The incident was shown on Jersey Shore. JWoww came to her aid after she was taken into custody. After her release, Snooki said she wanted to quit drinking. JWoww gently tells her she can just slow down instead.
"On Thursday night, you want a glass of Pinot? There's nothing wrong with that," she said.
"Yeah, I think Pinot's OK," Snooki replied. "Pregnant people do it."
"Exactly," JWoww said.
Watch:
Snooki and JWoww on How Motherhood Changed Their Lives
JWoww Gives Advice on Dating: Jwoww has often dished out relationship advice on Jersey Shore and also acted as a voice of reason amid Ronnie Ortiz-Magro and Sammi "Sweetheart" Giancola's fights.
When Sammi wanted to check on Ronnie after one of them, JWoww told her, "If he just called you a bitch, why are you going to run back to him? Do you see how that looks?"
When JWoww and Snooki saw Ronnie cheating on Sammi at a club, they sent an anonymous letter about it to her.
"If they end up back together, she looks like the dumbest bitch." " JWoww whispered to Snooki.
In addition, in her book, she says, "Remember that a guy will say anything to get in your pants" and, "No self-respecting woman deserves to be treated like some guy's dirty laundry."
She Can See the Real "Situation": Remember when Mike "The Situation" Sorrentino bashed his own head against the wall on purpose in Italy during a physical confrontation with Ronnie? JWoww called an ambulance, saying they feared he may have a concussion.
He later returned to the house, sporting a neck brace. JWoww was unimpressed.
"When I see Mike and his neck brace, I feel like he's doing an insurance claim right now," JWoww said.
You keep doing you, JWoww. Happy birthday!