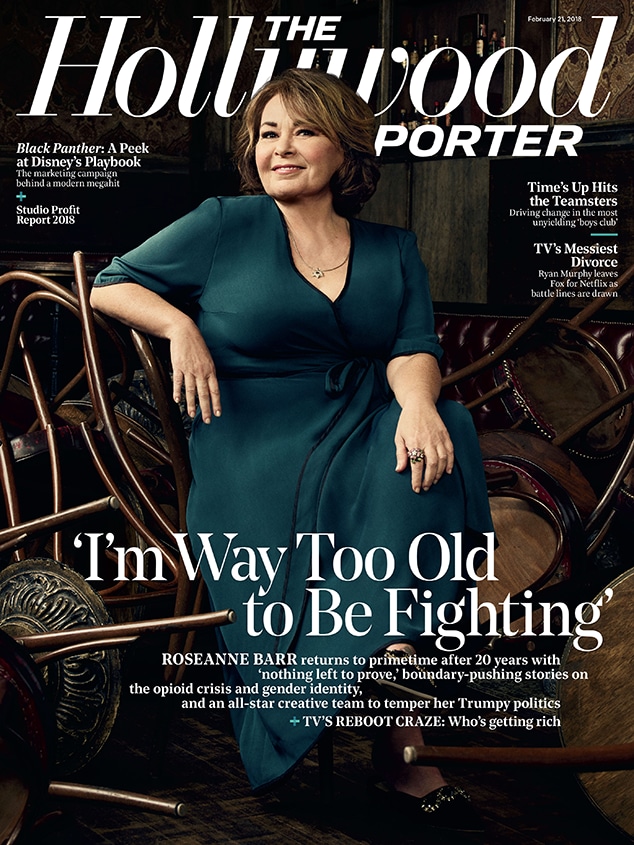 The Hollywood Reporter
When ABC announced their plans to revive Roseanne, the groundbreaking blue-collar family comedy that ruled the airwaves on the network for nine seasons from 1988 to 1997, much attention was paid to two pressing issues: How would the show welcome back star John Goodman in light of the original series finale's revelation that his Dan Connor was dead? And how would star and creator Roseanne Barr's real-life support of President Donald Trump play into the new episodes?
With the story behind Goodman's return already partially revealed thanks to an effective trailer released by the network last week, the question of the revival's political leanings remains, though those involved want you to know it might not be exactly what you think.
Though there will be a Hillary Clinton dig in the premiere—at Barr's insistence, no less—and the fictional Roseanne will be as steadfast in her support of the 45th president as her real-world counterpart, returning star Sara Gilbert, who also serves as executive producer this time around, is offering some assurances. "People think this show is more political than it is," she said in a recent roundtable discussion with The Hollywood Reporter. "It's more about how a family deals with a disagreement like that."
For Barr, the decision to make Roseanne a Trump supporter was in service of a greater story idea. "I wanted to do it this way. It's the conversation everybody is having," she said. "Families are not speaking to each other. People are still shocked and upset about it. It's the state of our country."
Much like its original run, the revival will tackle some serious issues that most other sitcoms tend to ignore like the plague, including health care, the opioid crisis, gender and illegal immigration. "We wanted to make sure that all sides were represented in the show, which seems to be taboo today," co-showrunner Bruce Helford, returning after running the show in season five, said. "We did an episode about a Muslim neighbor. I can tell you that the hair of the standards and practices people went on end."
The episode touching on opioids looks to be one of the revival's most dramatic, co-showrunner Whitney Cummings revealed. "But what I've always loved about Roseanne is the show's ability to have these incredible dramatic moments in a multicamera sitcom with an audience sitting there, not laughing 'cause an incredible dramatic moment is playing out, whether it was when DJ wouldn't kiss the black girl at the school play or Jackie's domestic abuse," she said. "We thought maybe this could be one of those episodes."
Despite the heady subject matter, everyone involved hopes that what made the series so irresistible in its original run—the notion of watching a working-class family trying to keep their heads above water while reacting to the ever-changing world around them—will remain true this time around. "The Conners are good people, though, and they're also trying to adapt to the world," Goodman noted. "They're learning."
Roseanne returns with a special hour-long premiere on Tuesday, March 27 at 8 p.m on ABC.