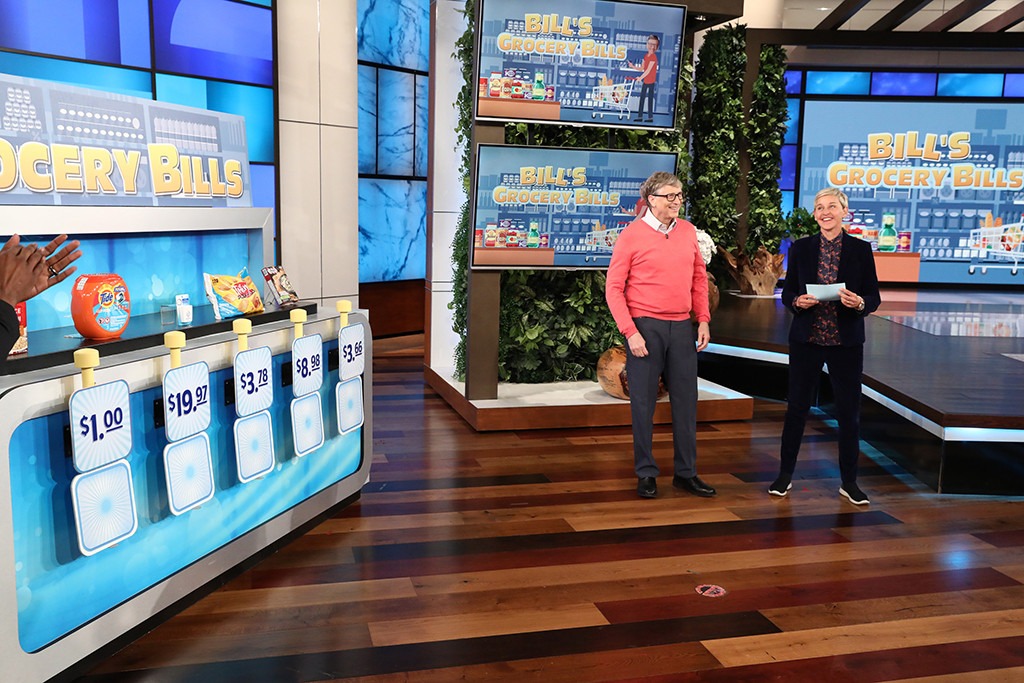 Michael Rozman/Warner Bros.
Admittedly, it's been "a long time" since Bill Gates last shopped at a supermarket.
Ellen DeGeneres invited the billionaire to appear on her eponymous talk show Wednesday, and she decided to have a little fun. With some assistance from Stephen "tWitch" Boss, she showed Gates five grocery items. If he correctly guessed the price—within $1—the audience will get a special prize. "If you get all of 'em," the host joked, "we'll pay off your children's student loans."
The first item was Rice-a-Roni, which Gates guessed costs $5.
"It's a dollar," DeGeneres told him. Undeterred, Gates said, "I'll take five!"
Gates initially guessed the next item, Tide Pods, cost $4. "They want me to go higher. Let's go with $10." After DeGeneres said they cost $19.97, she explained, "It's expensive to do laundry."
The Microsoft founder guessed Signature Care Dental Floss costs $4—just 22 cents more than their retail value. Before they moved on to the fourth item, DeGeneres told him, "You need to get both of these within a dollar so that they get something. If not...you get to run to your car!"
Next, Gates guessed that Totino's Pizza Rolls cost $22...then $15…then $8. It's a good thing he decided to take cues from the audience, as they're sold at groceries for $8.98. The final item, TGI Friday's Spinach Artichoke Cheese Dip, stumped the famous philanthropist. "It's branded, you know? You guys think less than $10?" he asked the crowd. "Like $7? $6? I will go with $4." DeGeneres revealed that they're sold for $3.66, meaning Gates fell within the $1 parameter.
To find out what the audience won, watch the video now.