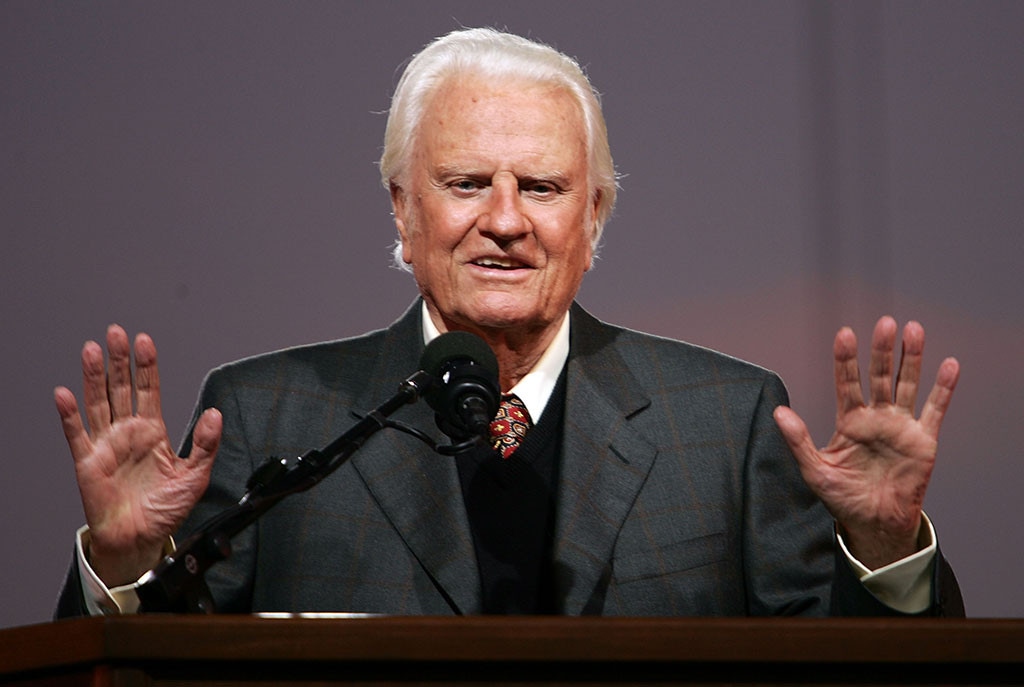 Spencer Platt/Getty Images
"I would like to be remembered as a person who was faithful to God, faithful to my call—did it with integrity and with love."
People all over the world are remembering famed preacher Reverend Billy Graham, who died at his home in North Carolina on Wednesday morning of natural causes, a family spokesperson confirmed to ABC News. He was 99 years old.
Dubbed "America's pastor" by former President George W. Bush, Graham was widely known for decades as an influential Christian Evangelist preaching the gospel to all who would listen. 
From his humble roots on a family dairy farm near Charlotte, he was ordained as a Southern Baptist minister in 1939 and rose to public prominence hosting revival meetings in tents in Los Angeles. The meetings amassed national publicity and paved the way for his national and international religious crusades. 
Gjon Mili/The LIFE Picture Collection/Getty Images
Having embraced modern media, Graham, a published author, captivated audiences' hearts and minds on their television screens, through their radios and live in front of audiences,  ultimately reaching millions of people in nearly 200 countries and territories.
However, he resisted social activism and marches, posing a particular conflict for him during the Civil Rights Movement. He later admitted regret for not marching, but contributed to the cause by hosting a series of crusades in Alabama to ease racial tensions through the gospel. "Had it not been for the ministry of my good friend Dr. Billy Graham, my work in the civil rights movement would not have been as successful as it has been," Dr. Martin Luther King, Jr. once said of Graham. 
His highly respected role helped him forge relationships with multiple presidents, including former presidents Dwight D. Eisenhower, Richard Nixon and Lyndon B. Johnson, all whom sought his counsel. Graham was revered overseas, as well, having gained the quiet support of Queen Elizabeth II. 
In 1950, he founded the Billy Graham Evangelistic Association and was recognized with the Congressional Gold Medal in 1996 and the Ronald Reagan Presidential Foundation Freedom Award in 2000.   
Ron Galella, Ltd./WireImage
While Graham may have been considered a confidante by many prominent figures, he personally leaned on his wife of nearly 64 years, Ruth Graham. The two met as students at Wheaton College in the early 1940s. 
"Standing there, looking at me, was a slender, hazel-eyed movie starlet! I said something polite, but I was flustered and embarrassed. It took me a month to muster the courage to ask her for a date," the late pastor recalled in his autobiography, Just As I Am.
The couple wed in 1943 and spent six decades together, during which they welcomed five children and 19 grandchildren, before Ruth's death in 2007. At the time of her passing, it was announced Graham would be buried next to her at Billy Graham Library. In his final years, Graham was living with Parkinson's disease and faced health challenges that come with old age. He is survived by their sons Franklin and Nelson and daughters Virginia, Anne and Ruth. 
"He was a man who had a purpose, a dedication in life; he knew where he was going," Ruth once said of her husband. "He wanted to please God more than any man I'd ever met."