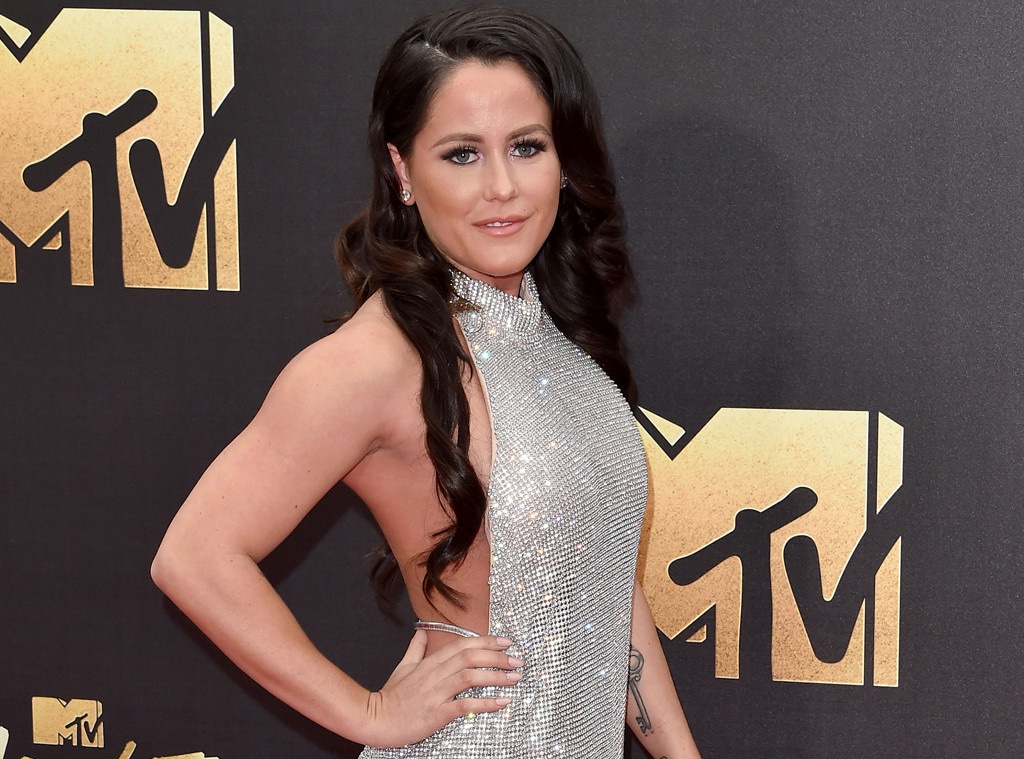 Axelle/Bauer-Griffin/FilmMagic
Life for a Teen Mom isn't easy and for Jenelle Evans, it's pretty dramatic as well.
On Thursday, news broke that Evans was recently hospitalized after authorities responded to an alleged assault that took place at her and husband David Eason's North Carolina home. A rep for Evans told People that the 26-year-old reality star "had friends over Saturday night and they had a bonfire on her property" and that "Jenelle ended up tripping and falling by the fire." The police chief with the Columbus County Sheriff Department told the outlet that officers had responded to a 911 call, which was "called in as an assault." 
Meanwhile, Evans has not commented publicly but did deactivate her Twitter account.
The development comes as Jenelle continues to experience one heck of a year filled with highs and lows. And yes, those ups and downs have been documented for
Take a look at just some of her biggest moments in the past 12 months alone.
Fairytale Wedding: This past September, Jenelle and David said "I Do" in front of family and close friends at their home in North Carolina. The proud mom wore a $2,999 dress and enjoyed a rustic-themed reception. While pictures may have presented a fairytale day, a Teen Mom 2 episode caught Jenelle threatening to cancel the wedding 24 hours before the ceremony even started. Spoiler alert: Everything worked out just fine.
We Quit Teen Mom: Before David was fired from MTV, the reality star and his wife threatened to quit Teen Mom 2 after she didn't like her portrayal in a recent episode. "Yes, me and David have our ups and downs but yesterday's episode was uncalled for. Because David didn't feel like explaining another argument or drama on camera they make it look as if David is hiding some weird ass shit from the public as if he was hurting me in some way?!"she shared on Instagram. "I have decided after this season I'm probably calling it quits for filming this show. I told Morgan it's getting to out of hand and it's not healthy for us anymore, just harming us mentally. They treat all of us as if we are in a freak show and in cages. We aren't human beings to @mtv what-so-ever."
Custody Battle From Hell: It's no secret that Jenelle has an estranged relationship with her mother Barbara Evans. One of the reasons was because of their custody battle involving Jenelle's son Jace. In May 2017, the family reached a custody agreement that provided mixed emotions. "I'm really happy we could get to a decision for Jace but it doesn't change my feelings towards my mom," Jenelle explained to E! News. "She still isn't giving up my son to me but I will fight again in the future when the time is right. I'm happy but devastated at the same time that I didn't take it to trial. But in the world of Jenelle, you learn to pick and choose your battles."
Drug Revelations: This past summer, Jenelle released her memoir titled Read Between the Lines: From the Diary of a Teenage Mom. In the book, the author spoke candidly about her heroin addiction she overcame. "My first trip was amazing. I won't glamorize the drug by going into the long details of why people love it so damned much. Before I knew it, I was shooting up four or five times a day. I was hooked," she wrote. "The first thing I lost to the drug was my family. I disowned my mother and siblings and friends, but the truth is no one wants to talk to you when they suspect you're a junkie." With help from her mom, Jenelle was able to get on the road to a sober recovery.
Twitter Drama: Whether on or off season, Jenelle finds herself getting into a few war of words with Twitter users. In fact, some of those feuds centered around Kailyn Lowry and Chelsea Houska late last year. After reportedly sending a cease and desist letter to her co-stars, Jenelle received some heat from her co-workers. "If you have 10+ mugshots do not try to blame me for you not being [able] to secure a job," Kailyn tweeted. "That wasn't even worth responding to. Over it."
Baby Bliss: Back in January 2017, Jenelle became a mom for the third time when she welcomed a baby girl named Ensley Jolie Eason. "Life is pretty complicated at the moment, but I love it and wouldn't trade my role as 'mom,'" Jenelle explained to E! News. "David and I talked about it one day recently and how complicated things can get with Kaiser and Ensley together. They remind us why we are done."
Blue Apron Drama: When you're a reality star, chances are you partner with companies for a few #ad Instagram posts. This month, Jenelle and Blue Apron made headlines when it was determined they would not be working together anymore. As for whose decision it was, that remains still uncertain. "I decided not to work with Blue Apron because of bad tensions with a previous co-worker they decided to work with as well," Jenelle told E! News. "After breaking the news to Blue Apron, they got on their social media account responding to fake accounts about me telling them they were firing me. My husband got upset by this and [led] to him tweeting them."
Leaving the Past in the Past: Much to the surprise of Teen Mom fans, the reality star reunited with her mom and Jace (who Barbara has primary custody of) during an end-of-summer trip to get ice cream. "Whatever makes him happy," she captioned the snapshot, adding the hashtag "#FamilyTime." 
Health Scare: In October, Jenelle was by her 4-year-old son Kaiser's side as he was hospitalized to undergo surgery to remove his adenoids. Revealed the concerned mama, "My poor bubba! After many many doctors appointments and tests... Kaiser had to get tubes in his ears and his adenoids removed like I did when I was little. Hearing test showed his hearing was down by 40% and now his ears have already improved, super happy for him!"
(This story was originally published Wednesday, February 21, 2018 at 3:00 a.m. PST)