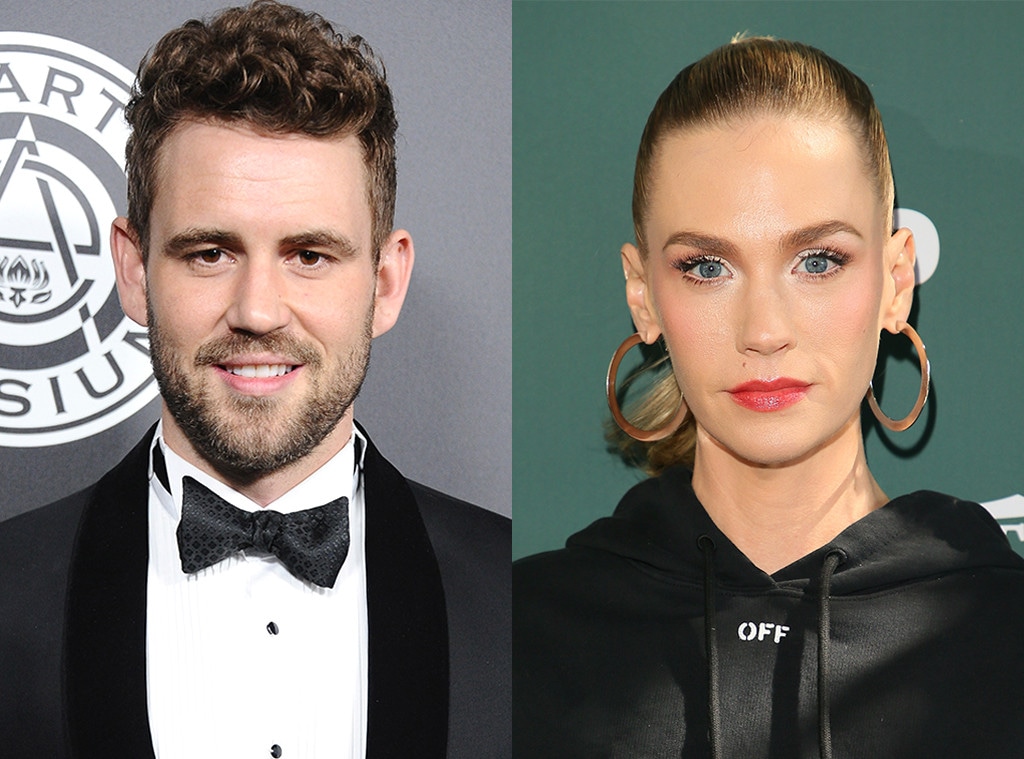 Getty Images
Is January Jones getting a single red rose tonight? Maybe! But it won't be from Nick Viall!
On Tuesday, the former Mad Men actress set the record straight about what exactly is going on with the Bachelor alum after the two ignited dating rumors last month with some flirty social media behavior.
Jones spoke to ET at the Council of Fashion Designers of America (CFDA), Variety and WWD's inaugural launch of Runway to Red Carpet Initiative at Chateau Marmont in Los Angeles and finally addressed the gossip.
"He's a friend of mine. He's super sweet," said. "No, I'm single. But, he's a friend of mine and tells me lots of inside scoops."
The Bachelor buff also told the outlet that she was less than titillated at the latest season of The Bachelor staring Arie Luyendyk Jr.
"As I was getting ready, I was watching last night's episode. I know who the final three are… I don't know," she revealed. "There hasn't been enough drama this season to entice me. It's been a little too boring, I'm sorry to say. I guess they're too normal or whatever. We need some [drama]. There was that one girl, Krystal. She was Cracker Jacks. Yeah, she was weird."
There you have it: January Jones thinks season 22 of The Bachelor is a snoozefest!
Just in case you're vaguely remembering Jones talking about Viall recently, you'd be right.
In November, Jones went on the Late Late Show with James Corden and told the British funnyman that out of the blue Viall challenged the Bachelor superfan to a Lip Sync Battle.
"He asked me to battle him on Lip Sync Battle," the actress revealed, adding that he had gotten in touch with her team to send her the request. 
"Is that his way of asking me out or does he have a problem with me?" she said, reacting to the ask. "I don't know what that was, but I declined because I don't need to be humiliated." 
While she said she wasn't interested in battling him on air, she was kind of into his whole deal.
"You don't know if you like him or if he's a scumbag and I think that's why I'm attracted to him, maybe?" she explained. 
Ya know—but only in a friend way.
Jones previously dated Will Forte and Jason Sudeikis. Viall was engaged to Vanessa Grimaldi after his season of The Bachelor. The two split in August 2017.