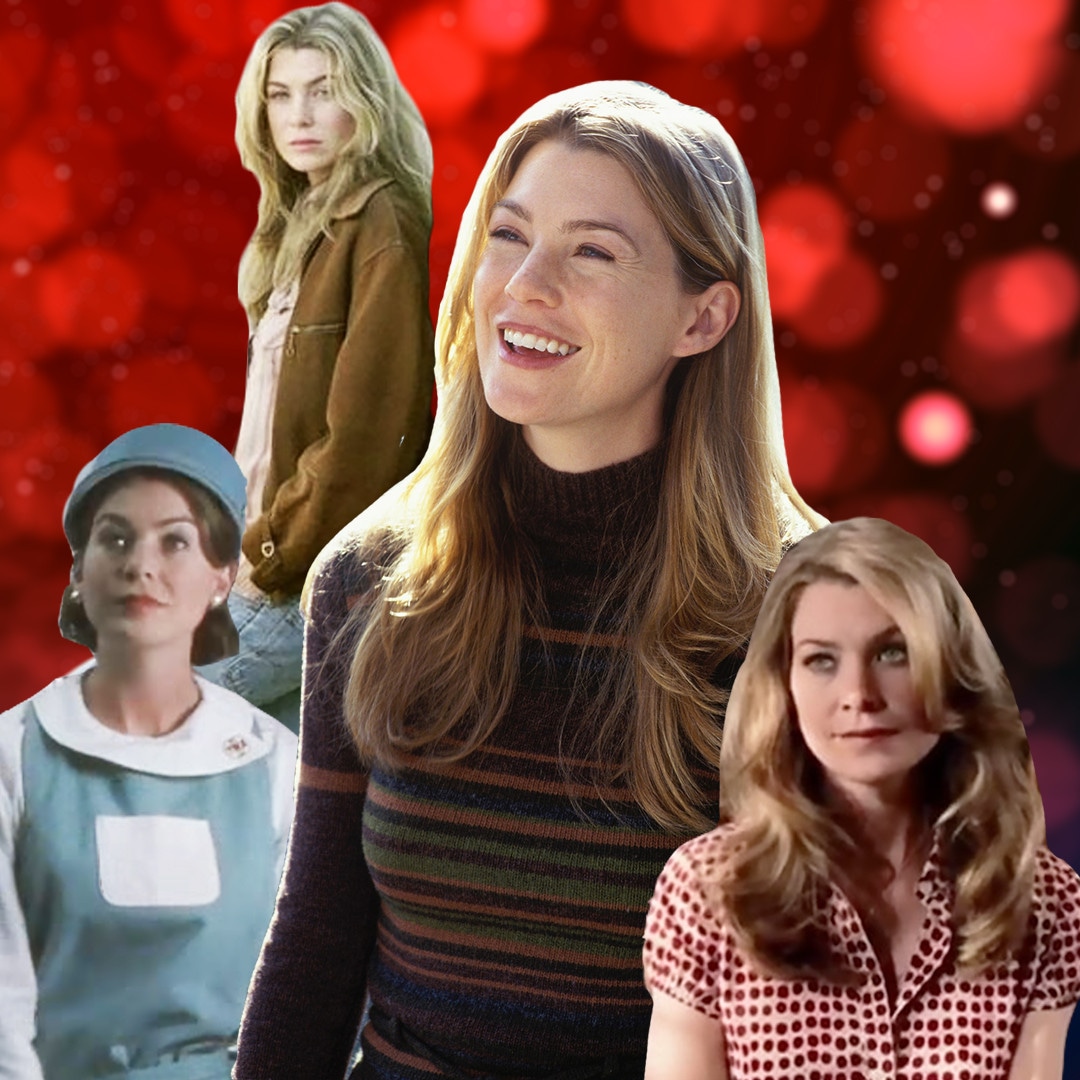 E! Illustration
Before she was knocking boots with McDreamy, before she'd ever uttered the indelible "Pick me. Choose me. Love me." speech, and way before she became television's highest paid dramatic actress, Ellen Pompeo was an actress on the cusp of breakthrough with a burgeoning film career.
But as a new generation continues to find Grey's Anatomy on Netflix 14 years after the show premiered on ABC, they'd probably be surprised to know that the woman responsible for bringing Meredith Grey to life has any film credits to her name. After all, she hasn't appeared in any since stepping foot in Seattle Grace (now known as Grey Sloan Memorial) Hospital. And that's what happens when your breakthrough role lasts over a decade, coming to define your career. Everything that came before tends to fall a bit by the wayside. 
Let's change that, shall we? As Old School, one of her most high-profile films, celebrates its 15th anniversary, let's take a look back at the forgotten film career of Ellen Pompeo.
Though she began her acting career in 1996 with an appearance on Law & Order, followed by some guest appearances on Friends, Strangers with Candy, Strong Medicine—and yes, a second appearance on L&O—in the lead-up to landing the role of Meredith Grey, Pompeo would make her big screen debut in 1999 with a small role of "Upset Girl" in gender-flipped American Pie-esque comedy called Coming Soon. Aside from having the designation of being Ashton Kutcher's first film, the film, which inexplicably also starred Ryan Reynolds, Gaby Hoffman and Mia Farrow (all at very fallow points in their respective careers), did nothing at the box office and has largely been forgotten from everyone's collective memory.
After she popped up in a few small films so forgotten by time they don't even have Wikipedia pages (In the Weeds and Mambo Cafe), Pompeo got her big screen big break with director Brad Silberling's Moonlight Mile, which was released in 2002. In the film, a drama loosely based on its director's experiences when his girlfriend, actress Rebecca Schaeffer, was murdered by an obsessed fan, Pompeo starred alongside Jake Gyllenhaal, Dustin Hoffman and Susan Sarandon as Bertie Knox, the love interest for Gyllenhaal's grieving Joe Nast. (Fun fact: Silberling's suggested inspiration for Pompeo's character, a fictional addition inserted to his story, was his wife Amy Brenneman. She would later join Pompeo at Shondaland as one of the stars of Private Practice.)
The film was only mildly received, but Pompeo's performance managed to grab the attention of several prominent critics who would, in turn, single her work out for praise. While Entertainment Weekly would note her "sun-dazed appeal" and Variety proclaimed she'd made a "vivid first impression," it would be the late Roger Ebert who spoke of her debut with the deepest affection.
"Pompeo, a newcomer, plays Bertie with a kind of scary charisma that cannot be written, only felt," he gushed. "She is so vulnerable in this movie, so sweet as she senses Joe's pain and wants to help him."
As the actress admitted in a recent interview, it wasn't just the critics who were suddenly paying her attention. "Sam Mendes, Steven Spielberg, Warren Beatty," Pompeo told The Hollywood Reporter last month. "They were all, 'We were blown away by this performance' and 'You're a superstar.'"
She wasn't lying. Her very next film appearance was a minor role in Spielberg's Catch Me If You Can, popping up to be romanced by Leonardo DiCaprio as stewardess Marci. Though the film would go down as the most critically and commercially successful of her career, the brevity of her story would keep her from factoring into the conversation surrounding the film upon its release. That wouldn't be the case with her next role.
As Nicole, love interest to Luke Wilson's sad sack Mitch in director Todd Phillips' ultimate frat bro comedy, Old School, Pompeo was once again finding herself singled out by critics, though this time around as an act of sympathy for being saddled with what they perceived as a thankless role. The New York Times opined that she and the rest of the female cast had been "mostly delegated to standing around and shaking their heads at the antics," while Ebert didn't pass up the opportunity to praise her earlier work.
"One of the cute co-eds is played by Ellen Pompeo, who was so absolutely wonderful in Moonlight Mile," he wrote in his one-star review of the film upon its release exactly 15 years ago. "She should not be discouraged by this sophomore effort. Even Meryl Streep had to make a second movie after Julia." While the esteemed critic was offering the actress encouragement, her next few gigs seemed to argue in direct opposition. A blink-and-you'll-miss-it gig in Marvel's ill-fated first attempt at adapting Daredevil for the screen as Matt Murdock's secretary Karen Page (a role that would be beefed up considerably in the hit Netflix series) in 2003 led to a pair of forgotten films (Undermind and Art Heist) and, ultimately, her work in the 2004 Michel Gondry stunner Eternal Sunshine of the Spotless Mind being left on the cutting room floor entirely.
It was at that moment, with her promising film career seemingly stalled, that her agent presented her with the script for a pilot written by a then-unwritten talent, Shonda Rhimes. At first, Pompeo rejected the notion out of hand. "I was like, 'I'm not going to be stuck on a medical show for five years,'" she recalled to THR. " 'Are you out of your f--kin' mind? I'm an actress.'" But, as she told Good Housekeeping in 2016, with the assurance from her agent that the show would likely never make it to series, and in need of the paycheck the pilot would provide her, she submitted for the role. And the rest, as they say, is history.
As Grey's Anatomy became an irrepressible hit, it became clear to its star that there would be no returning to film in her future. At the show's three year mark, as she told Good Housekeeping, she signed on for future seasons knowing that no film role she'd be offered would compare to the meaty work Rhimes was providing for her week after week. And now, with 14 seasons under her belt, there's a pretty good chance that by the time she finally decides to hang up her scrubs, she walks away from acting altogether.
"Acting, to me, is boring. An actor is the least powerful person on set, so I don't care about chasing roles," Pompeo, whose begun directing episode of the ABC hit and launched her own production company, Calamity Jane, admitted to THR. "Plus, at my age, it's pretty unrealistic. Not that I can't do a cool cable thing, but I'm not going to have this whole second life as a movie star. I'm not f--kin' Julia Roberts."
While she may not fancy herself a Julia Roberts, we have no doubt that whatever she chooses to do when Grey's does reach its inevitable conclusion, it'll be a second act worthy of her history-making run on network TV. And though Meredith Grey will likely always tower over her other achievements, we'll always have a soft spot for the brief film career that started it all.
Grey's Anatomy returns on Thursday, March 1 at 8 p.m. on ABC.