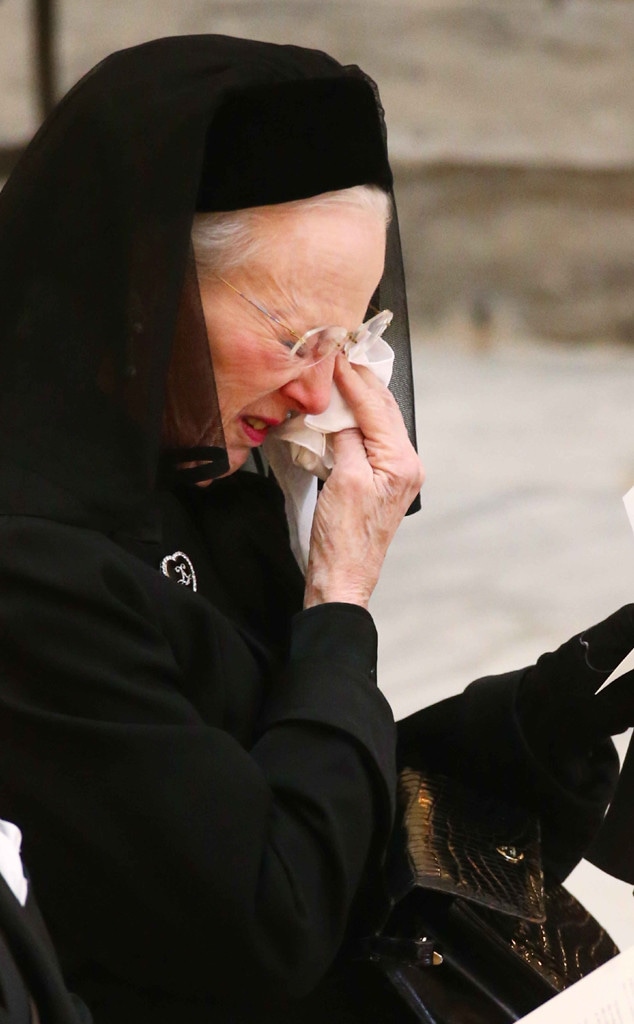 People Picture/Willi Schneider/REX/Shutterstock
Mourners gathered at Christiansborg Palace Chapel on Tuesday for the funeral of Prince Henrik.
Several officials and members of the Danish royal family attended the private ceremony to pay their respects. Queen Margrethe II wept as she grieved the loss of her husband. The royal couple's eldest son Crown Prince Frederik of Denmark also attended the services with his wife Crown Princess Mary and their children Prince Christian, Princess Josephine, Princess Isabella and Prince Vincent. At one point, Mary could be seen comforting the young royals. Hendrik's son Prince Joachim also attended the ceremony with his wife Princess Marie.
People Picture/Willi Schneider/REX/Shutterstock
During the ceremony, Henrik's coffin was draped with the Danish flag and guarded by military officials. It was then carried out of the chapel, where crowds of people lined the streets to pay their final respects.
Bax Lindhardt/EPA-EFE/REX/Shutterstock
According to ABC News, Henrik will be cremated. As The New York Times reports, the royal previously said he did not want to be buried next to Margrethe. The decision reportedly stems from his frustration over not receiving the title of king.
Utrecht Robin/action press/REX/Shutterstock
Henrik died Feb. 13 at the age of 83. As E! News previously reported, the royal was hospitalized with pneumonia at the end of January. At this time, doctors discovered a benign tumor in his lung. Henrik later contracted an infection. 
He had also been diagnosed with dementia last September.