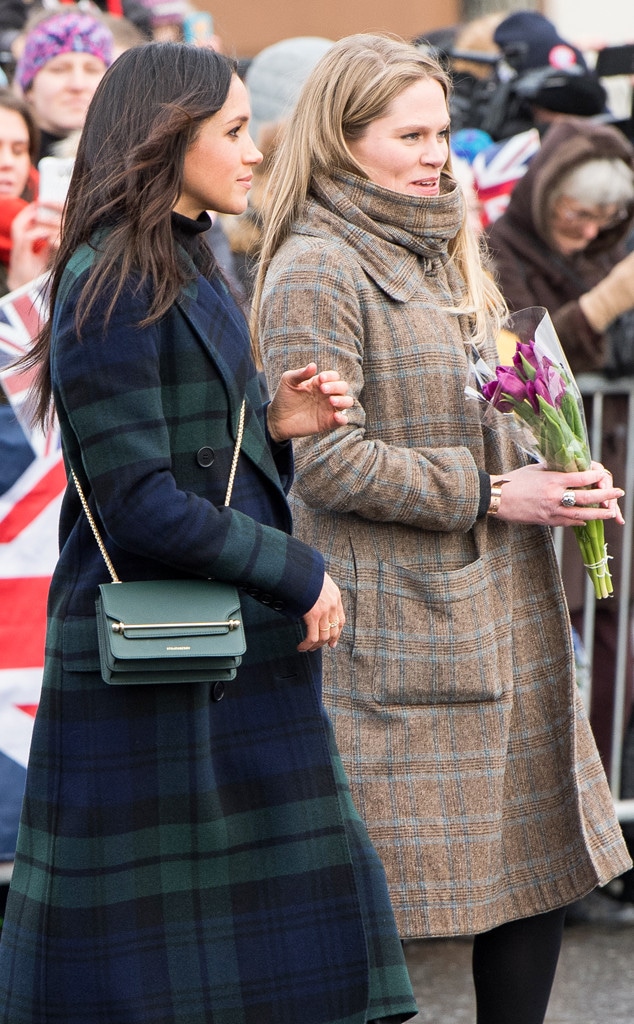 Samir Hussein/WireImage
She's not official a royal yet, but she's well on her way!
Ahead of her May 19 wedding to Prince Harry, Meghan Markle has just been given an official aide, a right-hand woman to help with her royal schedule.
On Monday, the announcement was made that former Kensington Palace press officer Amy Pickerill will now be an assistant private secretary in Prince Harry's office working on Markle's official diary and handling any correspondences that the royal-to-be receives.
A Kensington Palace spokesman said Pickerill "will be working on Meghan Markle's programme".
The news of the official help should come as no surprise as the former Suits star's royal obligations have been ramping up. She's already done four public visits with her fiancé.
She was photographed with Pickerill during the couple's recent royal trip to Edinburgh, Scotland earlier this month. Pickerill was photographed standing next to Markle and holding a bouquet of tulips that had been given to American by a fan.
ADRIAN DENNIS/AFP/Getty Images
As for Pickerill's pedigree, she went to former Nottingham University history and previously worked for the Royal Bank of Scotland in a number of roles in the press office department.
Earlier this month, key details were released about the upcoming royal wedding between Prince Harry and his bride-to-be, who announced their engagement in November.
The duo's wedding will occur at St. George's Chapel in Windsor Castle on Saturday, May 19 at 12 p.m.
Kensington Palace announced, "Prince Harry and Ms. Meghan Markle are hugely grateful for the many good wishes they have received since announcing their engagement. They are very much looking forward to the day and to being able to share their celebrations with the public."
Additionally, the Palace revealed, "The Dean of Windsor, The Rt Revd. David Conner, will conduct the Service. The Most Revd. and Rt Hon. Justin Welby, Archbishop of Canterbury, will officiate as the couple make their marriage vows."
Following the nuptials, the newly married couple is set to take a carriage procession, "along a route from St George's Chapel, leaving Windsor Castle via Castle Hill and processing along the High Street and through Windsor Town, returning to Windsor Castle along the Long Walk. They hope this short journey will provide an opportunity for more people to come together around Windsor and to enjoy the atmosphere of this special day."
Following the procession, "there will be a reception at St George's Hall for the couple and guests from the congregation."
And finally, the Prince of Wales will give a private evening reception for the couple and their close friends and family."