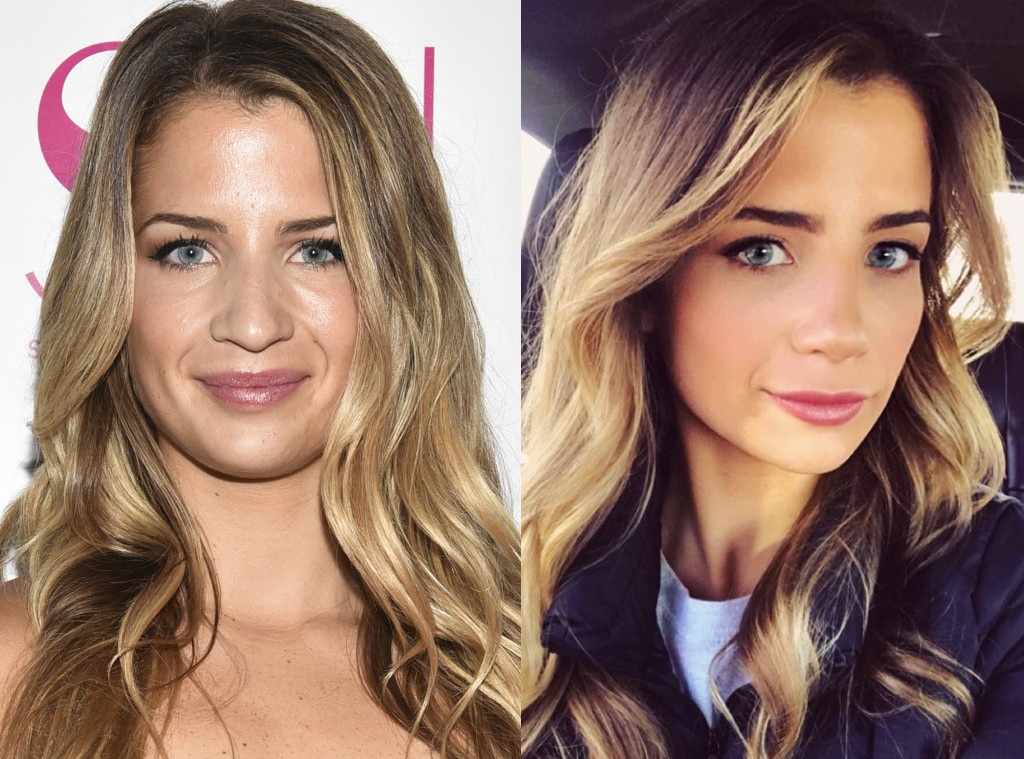 Rodin Eckenroth/Getty Images; Instagram
No, it's not a new haircut...
After fans were quick to notice that she was looking a bit different in an Instagram post from Thursday, Southern Charm's Naomie Olindo has revealed the truth behind the new look—she got a nose job. The reality star's dramatic transformation comes five months after her breakup with boyfriend Craig Conover.
On Thursday's post, a slew of fans commented that the reality star's face looked different than it had previously.
A day later, Olindo wrote in the comments section that she had in fact gotten a "new" nose, using a nose emoji to reveal the news. 
The 28-year-old added in the comments section, "No point in hiding ANYthing." The personality also revealed that she had had the surgery 13 days prior and that there was still swelling.
To one fan who criticized her decision, Olindo wrote, "You are part of the problem. If someone doesn't like something about themselves and has the opportunity to change it, do you think they shouldn't because 'beauty comes from within'? It's a very personal choice and thank god I feel so secure + happy about my decision that nothing pea minds like you could ever say would ever affect how I feel now. Use your brain."
On Friday, Olindo elaborated more about her surgery to Bravo TV's The Lookbook: "Getting my nose done was something I've wanted since I was eight years old. It's still early in my recovery but I've never been happier. My surgeon, Dr. [A Joshua] Zimm, did the most amazing job and my only regret is not having done it sooner! Plastic surgery shouldn't be taboo."
The candid star added, "If there's something about yourself that you don't like and you have the opportunity to change it, why wouldn't you? I did it for me and no one else and want to be as open as possible about it. I'm so happy with my decision and would do it 100 times over."
Similarly to her rhinoplasty news, Olindo told fans about the split via social media
In an Instagram post that she shared in September, one fan asked Naomie in the comments section if she was still with Craig.
"Unfortunately we are not," she responded. "But we are still great friends."
One commented with the message: "Craig is a good guy and a good catch. That is why she was with him. Nobody is perfect."
Naomie responded, "Thank you! Could not agree more. Craig is awesome."
Prior to their break up, the pair admitted onscreen that they were close to a breaking point, which caused them to seek outside help. As a result, viewers watched the duo go through couples counseling.
When it was time for the season four reunion show, however, both parties shared how much progress they had made in their relationship.
"It's been great. It took a while and we had to hit rock bottom and for a few months it wasn't very fun but fortunately, we both want it enough. It's hard to explain but fortunately we worked it out," Craig shared before the taping.
"We started moving away from the storm instead of going in circles and circles and now it's like clear skies. Who knows what the future holds but right now, we are best friends."
Naomie added, "We're good. We're fine. He's texting me right now saying I'm sure you already look pretty."
Looks like a lot's changed...
(E! and Bravo are part of the NBCUniversal family)