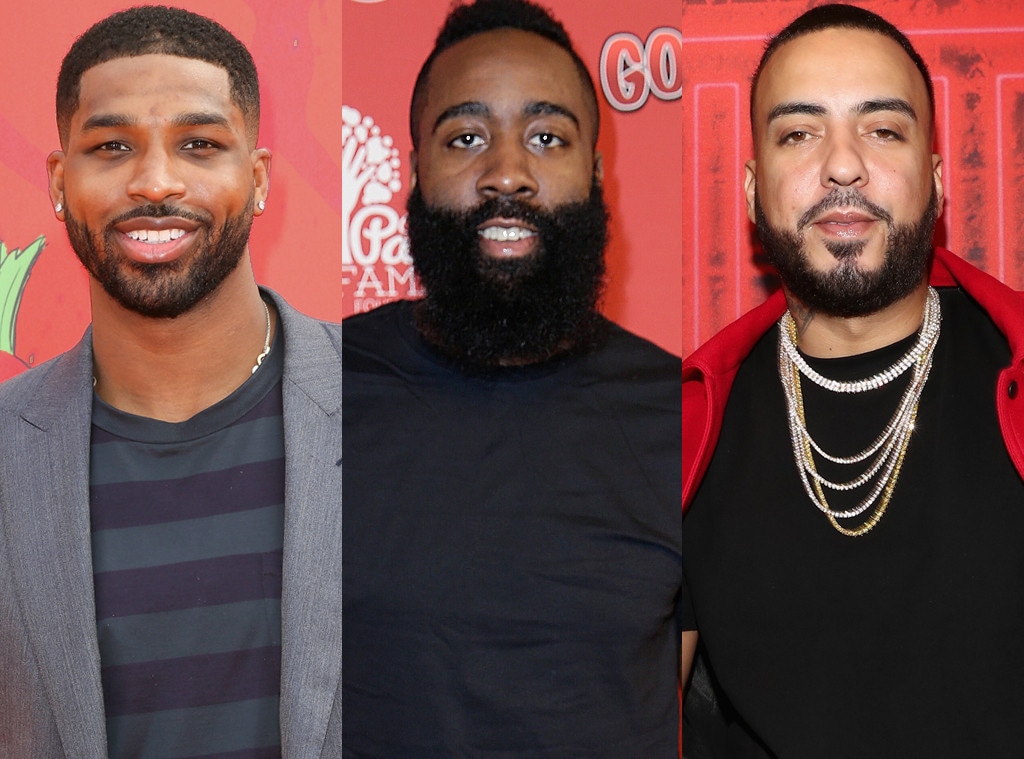 David Livingston/Bob Levey/Christopher Polk/Getty Images
A couple ex-boyfriends aren't going to ruffle his feathers! 
Tristan Thompson, Khloe Kardashian's boyfriend and the father to her unborn child, hit up the Rémy Martin MVP Weekend party at Avenue Los Angeles on Friday to see a special performance by Travis Scott, who just had his first child with Khloe's sister Kylie Jenner.
But Tristan wasn't the only one of Khloe's loves at the bash. Both French Montana and James Harden, the pregnant reality star's ex-boyfriends, also hit up the party celebrating NBA All-Star Weekend.
Sounds like it could have been an awkward time for the NBA star—but it wasn't!
E! News can confirm that all three men hung out together at the party at the same time. A source at tells E! News that the 26-year-old baller was enjoying himself throughout the night.
The insider says, "Tristan was there for a while before Travis Scott performed, he hung out at the Remy Martin table and enjoyed a few cocktails. He was really cool and was having a good time enjoying the party."
The source added that, "French walked in with The Weeknd and Future. French walked over to Tristan's table and hung out there and even watched Travis at the table. There was no weirdness between Tristan and French."
The party goer also said, "Nicole Scherzinger was hanging out at the table nearby too. Tristan was enjoying the party and watching Travis, who performed around 1 a.m. and played 4 songs. His set only lasted 30 minutes."
Travis, who wore ripped jeans and a colorful skeleton shirt, performed "Butterfly Effect," "Huncho Jack," "Antidote" and "Goosebumps."
Other attendees at the swanky bash were Chanel Iman, Julissa Bermudez, professional BMX athlete Nigel Sylvester, Canadian EDM duo DVBBS and Danny Abeckaser. Even Food Network star Guy Fieri hit up the Avenue to catch Travis' performance.
The 67th All-Star Game, which is set to take place on Sunday at 5 p.m. PT, will feature rosters drafted by All-Stars themselves. Tomorrow's game against Team Stephen and Team LeBron will feature picks made by LeBron James and Stephen Curry.
Meanwhile, it's possible that there was no weirdness because Khloe's made it clear she's only got eyes for Tristan.
Just yesterday, the expectant reality star shared an Instagram post of the happy couple in a Valentine's Day themed photo.
"'When a woman is loved correctly, she becomes ten times the woman she was before' Thank you my love," gushed the mom-to-be in her caption.
As for her past romances, Khloe briefly dated French Montana in 2015 after her split from ex-husband Lamar Odom. They've remained friends despite breaking up.
"We have history and we've had a relationship and a great friendships and I love that we are still friends," she said in 2016. "I don't believe in f--king and ducking. We had a great relationship and I like that we can still be friends."
As for her short relationship with James, he and the Keeping Up With the Kardashians star dated for eight months before calling it quits in 2016. In a 2017 interview with Sports Illustrated, Harden revealed he didn't like the spotlight that came with dating Khloe.
"I feel like it was for no reason," the Houston Rockets player said of the media frenzy that came with dating Khloe, although he didn't say her name. "I wasn't getting anything out of it except my name out there and my face out there, and I don't need that. It wasn't uncomfortable, but it wasn't me."
This isn't the first time that Thompson and Harden have come face to face. Earlier this month, Thompson's Cleveland Cavaliers and Harden's Houston Rockets squared off on the court on Feb. 3. The Rockets beat the Cavs 120 to 88.
Tristan may have lost the game, but he won the girl...
Reporting by Allie Rosenbloom