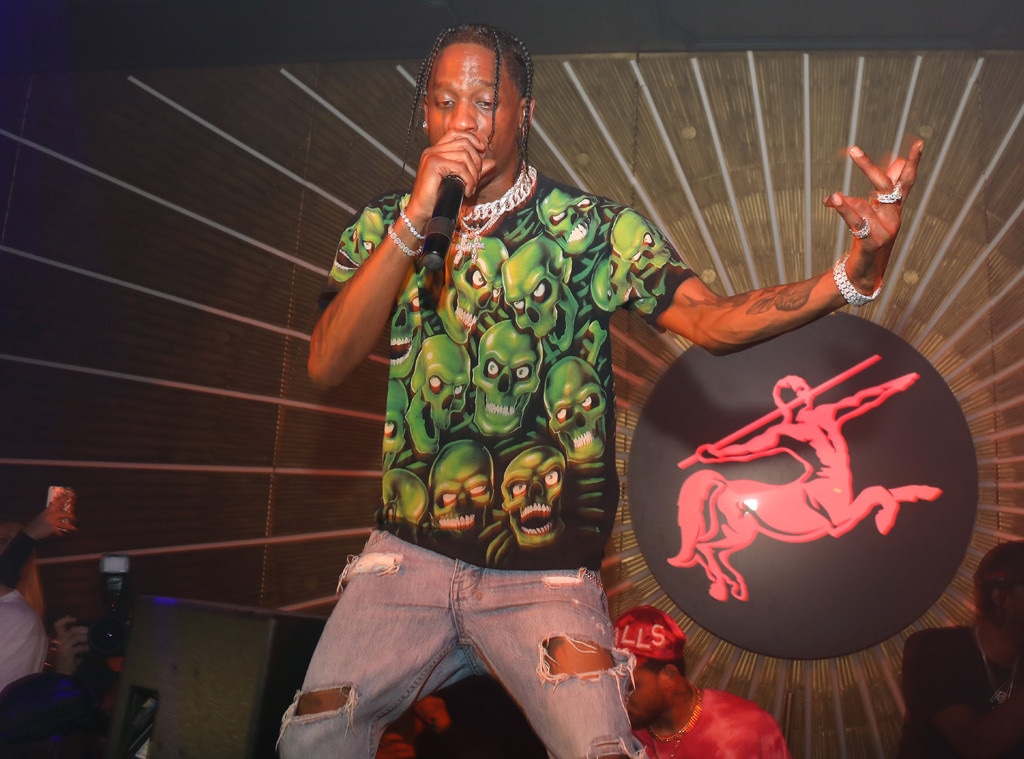 Jerritt Clark/Getty Images for Remy Martin
Travis Scott may be a new dad but he's still a music man!
Two weeks after welcoming his first child, baby Stormi Webster, with girlfriend Kylie Jenner, the 25-year-old rapper hit the stage at Avenue Los Angeles during NBA's All-Star Weekend in Los Angeles on Friday night.
The 25-year-old, who wore ripped jeans and a colorful skeleton shirt, performed "Butterfly Effect," "Huncho Jack," "Antidote" and "Goosebumps."
The party, which was part of the Rémy Martin MVP Weekend, lit up the TAO Block in Hollywood and culminated with a special performance by the proud papa, whose lady was nowhere in sight.
Rappers French Montana and Future were also there and headed to the VIP area, as did Nicole Scherzinger. Other attendees at the swanky bash were Chanel Iman, Julissa Bermudez, professional BMX athlete Nigel Sylvester, Canadian EDM duo DVBBS and Danny Abeckaser. Even Food Network star Guy Fieri hit up the Avenue to catch Travis' performance.
The 67th All-Star Game, which is set to take place on Sunday at 5 p.m. PT, will feature rosters drafted by All-Stars themselves. Tomorrow's game against Team Stephen and Team LeBron will feature picks made by LeBron James and Stephen Curry.
Jerritt Clark/Getty Images for Remy Martin
Just yesterday, the rapper and the E! reality star posed for their first photo together since welcoming their daughter on February 1.
Seen on Scott's Snapchat, the new parents posted a mysterious image of them wearing medical masks and leaning in for the selfie.
He captioned the image, "bdjxjkdn."
Meanwhile, Travis has been having a busy weekend in and out of Los Angeles.
The music man took to his Instagram on Saturday afternoon to announce he was renting out two movie theaters for kids to watch Black Panther that afternoon in his hometown of Stafford, Texas.
He captioned the photo, which had information about the two screenings, which were being held at the AMC Fountains 18, ,  "I LOVED BLACK PANTHER SO MUCH RENTED TWO MOVIE THEATHRES FOR THE KIDS TO WATCH #godsplan #bigshots."
The new dad tagged the post with "God's Plan," which is Drake's song. The Canadian performer has challenged fans and others to do good deeds following the slew of philanthropic works he has been doing in Miami while filming the song's video.
Additionally, Scott tagged the post #BigShots, which is the song that he and Kendrick Lamar did on the Black Panther soundtrack.