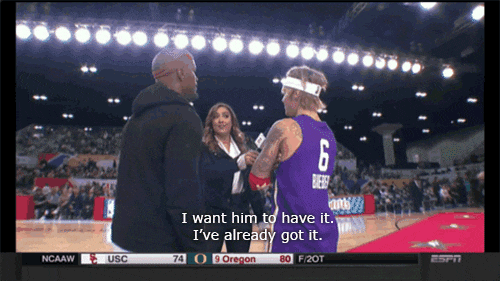 ESPN
Amid a career break following a 2017 tour that was cut short, Justin Bieber made his return to the NBA All-Star Celebrity Game on Friday after seven years.
He did not emerge victorious but he appeared to be in great spirits, meeting fans and bonding with his teammates.
The 23-year-old pop star, who was named the MVP of the annual event in 2011, played for Team Lakers with fellow stars such as Nick Cannon, Stranger Things teen star Caleb McLaughlin, Entourage's Jerry Ferrara, Chinese-Canadian actor Kris Wu and Property Brothers star Drew Scott. Black Panther's Michael B. Jordan served as a coach.
They competed against Team Clippers, made up of the likes of Jamie Foxx, Migos rapper Quavo, Arcade Fire singer Win Butler, Black-ish's 12-year-old star Miles Brown, Red Hot Chili Peppers musician Flea and Orange Is the New Black actress Dascha Polanco. Common was one of their coaches. Team Clippers won, 75-66.
The game took place at the Verizon Up Arena at the Los Angeles Convention Center, near the Staples Center, home of the Los Angeles Lakers and where Team LeBron will take on Team Stephen at the 2018 NBA All-Star Game on Sunday.
During the celebrity game, Bieber was no match for Quavo as he scored a layup. The rapper also blocked him as he attempted to make a basket. Bieber missed many shots throughout the game but did manage to score a few field goals.
Quavo was later named the 2018 NBA All-Star Celebrity Game MVP. Bieber congratulated him.
"That's my boy, J.B.," Quavo told ESPN. "He said I was ball-hogging. I said, if we was on the same team, it would've been the greatest 1-2 punch ever."
Bieber was all smiles during most of the event. He took selfies with fans and signed autographs as his teammates warmed up. He also had a heartwarming exchange with McLaughlin, which the Stranger Things star posted on Instagram.
Before the game, Bieber and Foxx were asked if they were both aiming to become MVP.
"I want him to have it," the singer told ESPN, looking at the actor. "I've already got it."