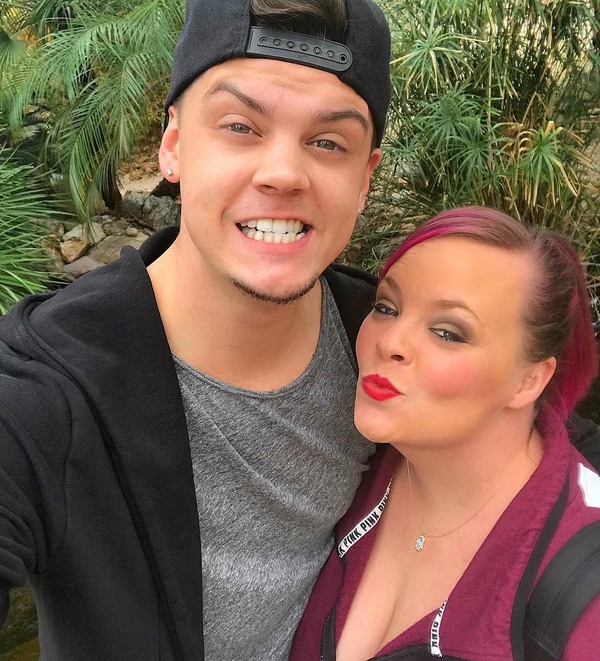 Instagram
Tyler Baltierra is celebrating his wife's hard work and dedication to bettering herself. 
As Teen Mom star Catelynn Lowell continues her stay at a treatment center, she received a special visit from her biggest supporter. Tyler took to Instagram on Friday with a new photo of the couple, revealing they had completed an "emotionally intense" week of family programs. 
"Seeing this gorgeous woman & all the work she has done has given me such hope, a feeling of peace, and unconditional love that is hard to explain with words," Tyler wrote. "It was a very emotionally intense Family Week Program, but I know that our love & commitment towards each other will persevere through anything this life throws our way.
Tyler continued, "I'm so proud of you Babe & I can't wait until you finally come home so I can just hug you & hold you for as long as I want. You are worthy... You are strong... You are beautiful... You are loved! #MyBabe #Soulmate #MyWife"
Last month, the 25-year-old mom announced her decision to return to treatment a little over two weeks after initially leaving in late December. At the time Catelynn told her social media followers she was seeking professional help for "suicidal thoughts" as well as to "work on my trauma and getting on different meds." 
Meanwhile, Tyler has documented his own struggles raising their 3-year-old daughter Novalee alone. Referencing an emotional Instagram video he posted, Tyler later added, "I was upset because it's difficult when Nova cries out for her mommy [and] I have to keep explaining why she's not here to hug her tears away!" 
On Monday's episode if Teen Mom OG, Catelynn and Tyler shared their pregnancy news with family. 
Teen Mom OG airs Monday nights at 9 p.m. on MTV.