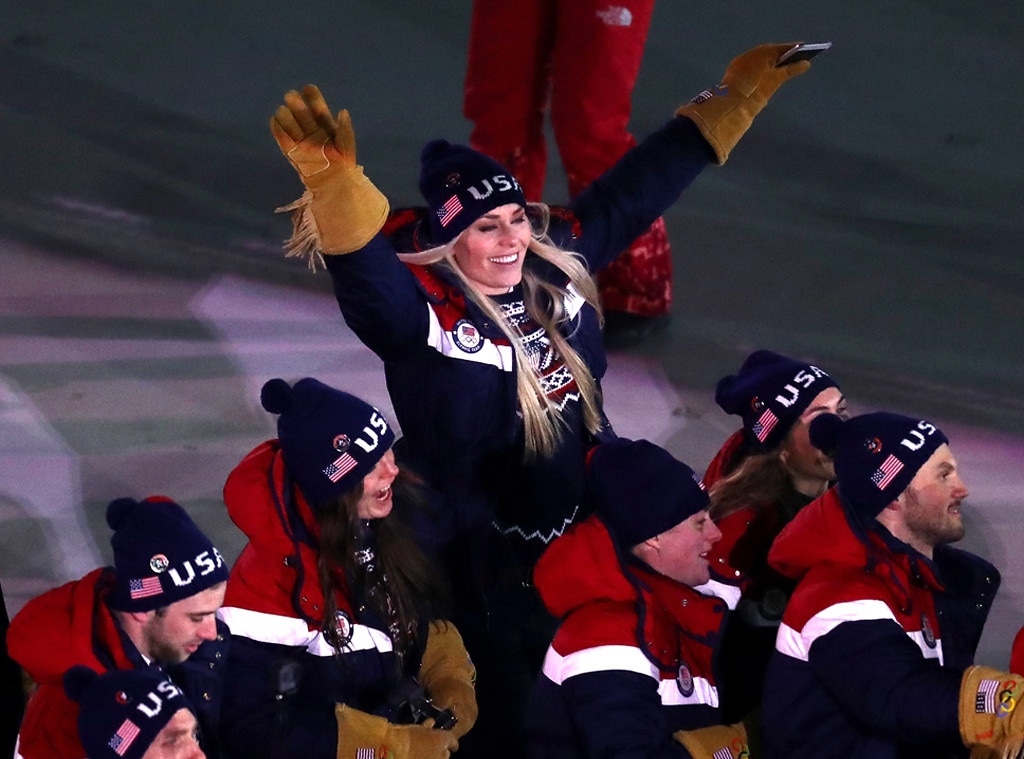 Al Bello/Getty Images
Finally, Lindsey Vonn races tonight.
That "finally" is double-pronged: The 2018 Winter Olympics have been on for a week and she's the last of Team USA's reigning super-stars to hit the snow or ice, so finally we'll be seeing her in prime-time. And it's also been eight years since Vonn last competed on the Olympic stage, so finally she's getting her shot again.
The 33-year-old athlete has overcome so much to get to this point (and we don't just mean dating Tiger Woods, though that does seem to be a thing that women end up needing to overcome). Injuries, losses, more injuries, the distractions of all the other opportunities that have presented themselves to her over the years, and did we mention injuries... but here she is in Pyeongchang with her eye on the prize.
Or three prizes, to be exact.
Her quest for redemption kicks off Friday night with the ladies' Super-G, and then next week the spotlight will be trained on her as she competes in the downhill on Tuesday and combined event (featuring both downhill and slalom) on Thursday.
"I feel like I've been a caged bull for the last week and a half, and all I want to do is be set free so I can get my energy out," Vonn told Today's Savannah Guthrie in Pyeongchang. "It's going to be game on."
AP Photo/Gabriele Facciotti, File
Asked if she was nervous, she said, "I've been through this a few times, I've already won Olympic gold, so I'm not nervous, I don't feel the pressure. I know the routine, and I think being older gives me a pretty big advantage, so I'm not worried about the young guns just yet."
To call her the comeback queen would be too easy. But we're going to anyway.
Brimming with potential, Vonn made her World Cup debut at 16 with the U.S. Ski Team and the following year was in her first Olympics, Salt Lake City in 2002, where her best result was sixth in the combine and she was immediately labeled the future face of U.S. Alpine skiing. At the end of 2004 she scored the very first of her record 81 World Cup victories in Lake Louise, Alberta, and went on to make the podium five more times in two months.
All the while, thinking about the next Olympics as winter athletes are wont to do, she was ever retooling her physical and mental approach to competing. In 2005, she didn't make it to any podiums at the World Championships in Bormio, Italy, and later she revealed she was rattled by a confrontation with her dad, Alan Kildow, who showed up after she asked him not to come.
"He always supported me when I did well, which was 90 percent of the time, but when I didn't, he didn't handle it very well," Vonn told the Denver Post toward the end of 2005. "It was so hot and cold. It was so much criticism and so much negativity, and it was really hard to balance my emotions." Afterward she didn't have much of a relationship with her dad, who first put Lindsey on skis in their native Minnesota when she was 3.
"It was a buildup of many things, and I felt pushed over the edge," Vonn told The New York Times in 2010. "And I haven't talked to him in four years."
Talking to a reporter in 2010, however, Kildow said he kept up with his daughter's career on TV.
"Technically, she is so perfect," he said. "The hip position, the shoulder position, the hand position—she's the best...I think Lindsey is the best now as far as I've ever seen. Of course, I'm biased."
At the Turin Olympics in 2006, Vonn—who was still Lindsey Kildow at the time—crashed during a training run and had to be airlifted to a nearby hospital to get checked out, but she managed to be back on the mountain for the downhill and finished eighth. She went home without a medal but was honored with the U.S. Olympic Spirit Award and turned into one of the heartwarming tales of the chilly Winter Games.
"I was in extreme pain, but it was a good lesson," Vonn told The New York Times in November. "With ski racing, it can all end in less than a second. When I accepted that, I knew I didn't have time to squander one day of training anymore, even in the off-season. I had to push myself year-round to maximize every single race opportunity."
Between 2008 and 2010, Vonn won the World Cup at season's end three straight times. And at the Vancouver Olympics in 2010, she became the first American woman to win gold in the downhill, and she took bronze in the super-G.
Also between the Turin and Vancouver games, Vonn actually became "Lindsey Vonn," marrying fellow skier and 2002 Olympic teammate Thomas Vonn in 2007, in Deer Valley, Utah. He became her manager and part-time coach, and was part of the team that helped her get to the podium in Vancouver. (Factoring into Vonn's estrangement from her father, however, was Kildow not approving of her relationship with Tom, who was nine years older.)
She hit a few bumps in 2011, missing her shot by about 3 points to claim the World Cup for a fourth straight year—and she and Vonn announced they were divorcing (the messy split was finalized in 2013).
"Everyone knows marriage is tough," Vonn opened up to People in 2012. "But it just wasn't working, and it was making me miserable. Nothing bad happened. But there was just unhappiness. That's the only way I can even describe it—unhappy."
Also when she got married, Vonn revealed, she suffered from crippling depression—feelings she had literally tried to just ski and train through for most of her life. At the encouragement of her husband, she finally saw a doctor and he prescribed antidepressants. 
"Everyone saw me on TV, or read articles, and it was all about my great marriage, the white picket fence, all this success and my perfect life," she said. "But behind the scenes, it was a struggle." The medication helped, though she wasn't ready at the time to talk much about her issues, not wanting to be perceived as weak.
"It was crazy," she recalled. "I was excited to go outside again. I got lucky to find the right treatment right away."
Evincing the mental fortitude she's become world-famous for in her sport, she was back in top form by the end of 2011, even notching her first World Cup victory on U.S. soil (also becoming the first American woman to win at home in 17 years) and earning her fourth Overall World Cup Title in 2012.
All the while, her celebrity was starting to really transcend her sport, and not just in the pay-attention-every-four-years way. Vonn's skills, attitude and sportsmanship had made her a role model but the whole package made her a sought-after personality for endorsements, as well as an in-demand talk show guest and magazine cover girl. (And in 2010, fresh from Vancouver, she was "Secretary" on an episode of Law & Order.)
She was on top of the world—sometimes quite literally—with endorsements from Under Armour (she just starred in the sports brand's 2018 Super Bowl commercial), Red Bull, Procter & Gamble, Rolex and Oakley. And as the 2014 Winter Olympics approached, she was easily a favorite to win more gold heading into the Games.
In her first race of the 2013 World Championships in February in Schladming, Austria, however, she crashed and suffered a torn ACL and MCL in her right knee, as well as a tibial fracture. She was airlifted out of there but was confident she'd be ready to compete a year later in Sochi.
AP Photo/Luca Bruno, File
She re-tore her surgically repaired ACL that November after crashing in training, but returned to competition that December, working her way up to a fifth-place finish in a World Cup super-G race.  She vowed to take it easy (for her), to be "as safe and smart as I can."
Reality hit in January 2014. "I am devastated to announce that I will not be able to compete in Sochi," Vonn wrote in a statement online. "I did everything I possibly could to somehow get strong enough to overcome having no ACL but the reality has sunk in that my knee is just too unstable to compete at this level...On a positive note, this means there will be an additional spot so that one of my teammates can go for gold."
Ethan Miller/Getty Images
But not surprisingly, her knee wasn't the only thing in pain.
"Just devastating," she told the NY Times. "A very dark moment in my career."
At the time, meanwhile, she had her boyfriend of a year Tiger Woods by her side (and even when he wasn't, the paparazzi were, thanks to the mass interest in their relationship). During her recuperation from a second reconstructive knee surgery, she says she forced herself to watch the Sochi Olympics, to help refuel her competitive fire.
The increasingly bionic woman, knowing she couldn't rush her return this time, won her second race back that December. In January 2015, she overtook the record for most World Cup wins all-time and the record has been hers alone since. Soon after, she broke up with Woods.
"Sometimes I get reliant on other people. I had time to focus on myself. Even if it was a hard summer," Vonn told The New York Times in November 2015. 
Phil McCarten/Invision for the Television Academy/AP Images
After their breakup, Woods denied subsequent reports that he had cheated on Vonn. "I don't regret anything," Vonn told the Times. "I loved Tiger, and I had an amazing three years with him. But it was a learning experience as well. With every relationship, you learn what you need and what you want in a partner."
On Today Friday Vonn said that she had enough mental toughness to make up for any of her surgically repaired parts—including her right humerus, which temporarily went numb when she broke it in November 2016, three months before she notched her 71st World Cup victory in a downhill event in Germany.
She notched 10 more wins on the road to Pyeongchang, including her 81st on Feb. 8 in Garmisch-Partenkirchen, Germany. She has the most World Cup wins for a female skier, and is only five wins behind all-time leader Ingemar Stenmark.
"I know what my body is capable of," she said. "And that kind of strength you can't quantify. That gives me so much more confidence when I'm on the hill because I have that belief in myself and my strength."
And in the umpteenth sign of her nerves of steel, Vonn has been racing lately with a heavy, albeit devoted, heart since her beloved grandfather Don Kildow died Nov. 1.
Stephan Jansen/picture-alliance/dpa/AP Images
"He's been such a big part of my life, and I really had hoped he'd be alive to see me,'' Vonn tearfully told reports on Feb. 9. "But I know he's watching and I know that's he's going to help me."
No matter her results in Pyeongchang, she'll remain the most famous American Alpine skier in the world, and one of the best American women of all time. But Vonn wouldn't have gotten to where she is, coming back from concussions, shredding her knee, a broken ankle, a broken wrist, a broken arm and a thumb she sliced while opening a champagne bottle—plus the expected aches and pains from training and pushing herself, as well as a divorce and a highly public breakup—if she didn't want to win at the Olympics more than anywhere else.
Last year, with her long-awaited return to the Olympics finally within sight, Vonn said, "It's all that matters right now. I came into the spotlight at the Olympics. I won a gold medal at the 2010 Olympics that changed my life. It all helps establish a legacy, and now, here's one more shot. That's what the Olympics can do."
AP Photo/Giovanni Auletta
Yet even with all the glory, and all the wins and all those millions in endorsements, she still struggles with the sadness that can creep up in her down time.
"When I'm on the hill, no one can touch me. I'm tough and determined and I believe in myself," she told ESPN the Magazine's Gold Rush last year. "But off the hill, I have a very difficult time feeling confident. I just never really feel good enough off the slope. Maybe that's why I love skiing so much."
Heading into the Olympics, and even at the Opening Ceremony, she kept saying that this was likely to be her last Olympics, though she plans to race through 2019. After World Cup victory 81, she told reporters, "For sure, I will ski another season and see how high I can get the number."
But now that she's been at the Olympics for a week...
"If my body holds up, I don't know—it's possible that I could go another round," she told Guthrie, referring to Beijing 2022. First, however, she's calling Dwayne Johnson about adding to her IMDb page.
"He said he's going to help me after the season and I can follow him around a little bit and see if it's really something that I would potentially be able to do," Vonn said.
Dad's back in her life, too, the two of them having repaired their relationship after her divorce. She told Guthrie that her unbelievable resilience "comes from my grandfather, and my father as well. It's a certain grit, where there is no word quit. Failure is not in my dictionary."