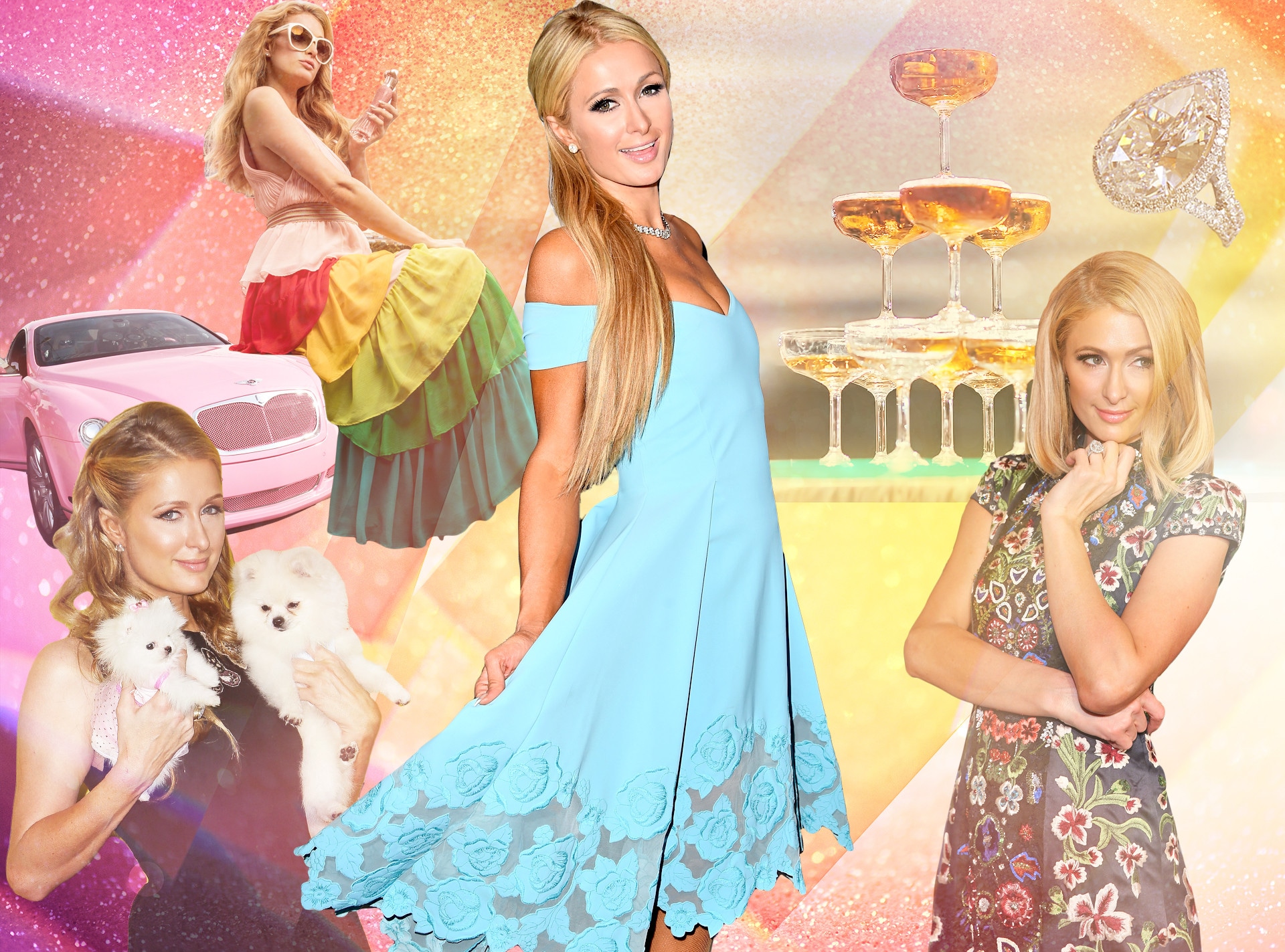 Melissa Herwitt / E! Illustration
It's good to be Paris Hilton.
The heiress and former Simple Life star was famously accused of being famous for "nothing" when she broke onto the scene in 2003, but in the 15 years since, she's managed to take that "nothing" and turn it into an empire big enough to make most of us green with envy. And now that's she's engaged to fiance Chris Zylka, she's got a sure-to-be glamorous wedding on the way, as well. 
In honor of the "Stars Are Blind" singer's 37th birthday, which just so happens to be today, let's take a look at her insanely luxe world—by the numbers.
$2 million: The cost of the rock that Zylka put on her finger when he popped the question in Aspen at the end of last year. The ring, designed by celebrity jeweler Michael Greene, contains 22 carats total!
$1,200: The estimated daily cost of Hilton's 24/7 security hired to protect her engagement ring at all times, according to a source.
23: The number of fragrances she's brought to the market, which have generated upwards of $1.5 billion dollars in sales since her first was released in 2004.
50: The number of Paris Hilton stores that have opened across the globe.
200: The number of future stores that Hilton told The Los Angeles Times in 2016 are on the way.
19: The number of product lines, including handbags, shoes, watches and clothing, that Hilton has on the market.
$7.5 million: The estimated current value of her 5 bedroom, 7,493 sq.ft. home in Beverly Hills, which she purchased in 2007 for $5.9 million.
8: The number of cars she reportedly owns, including her iconic pink Bentley Continental.
$300 million: Her estimated net worth, according to CelebrityNetWorth.com.
6: The position her one and only studio album, Paris, peaked at on the Billboard 200 chart.
5: The number of reality shows she's been the star of: The Simple Life, Paris Hilton's New BFF, Paris Hilton's British Best Friend, Paris Hilton's Dubai BFF and The World According to Paris.
2005: The year she starred in her first major motion picture, House of Wax.
23: The number of famous men Hilton's been romantically linked to before falling for Zylka.
2: The number of stories to the air-conditioned house Hilton's had built for her many, many pets to live in.
$1 million: The amount Hilton confirmed she'd been paid for single gigs in her highly-lucrative DJ career, which has kept her in-demand around the globe in places like Ibiza, Shanghai, Vietnam and Dubai.
Happy birthday, Paris!