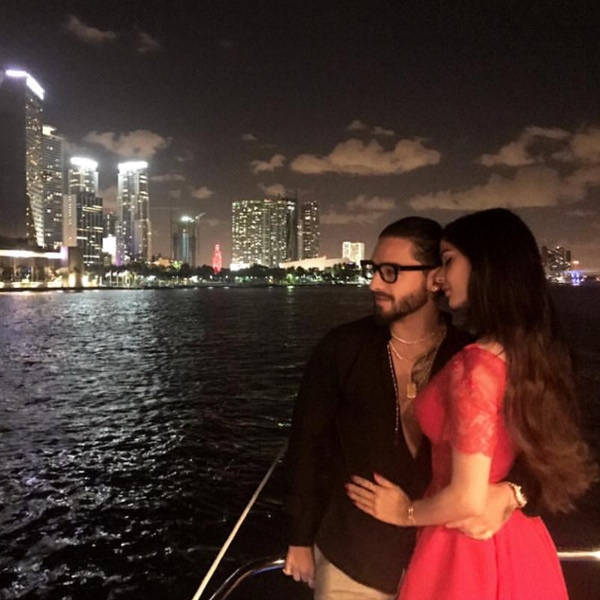 Instagram
Matching tattoos, getting a dog and celebrating the holidays together: These are all the steps that Maluma and Natalia Barulich have taken in their relationship, that was once very private.
The Colombian singer has always kept his love life out of the spotlight, but all of those self-imposed rules went out the window once he met the Cuban-Croatian beauty.
Now, the singer isn't holding back on social media or during interviews when he's asked about his special lady. 
"We have a great time together, we have fun, we love each other, and we also support each other," the singer said to Telemundo's Al Rojo Vivo. "I think those are the fundamentals. It's the most important thing. Right now, we're dating. We like what we have, I like her company, and she supports me and loves me, so you're all seeing me like never before."
He's right, this is a side to the singer that we've never seen before, and we love it!
Much like Enrique Iglesias and Anna Kournikova, two met on the set of his music video for "Felices Los 4" and they quietly dated ever since. 
The couple then took the next big step in their relationship: They got a dog. 
Maluma and Natalia introduced their fans via Instagram to their fur baby, Julieta. And of course, she has her own Instagram account. 
Then came their birthdays which they celebrated together in Las Vegas. 
"Happy Birthday to Juan Luis, the most gorgeous, talented, humble and beautiful man, with an even more beautiful soul," the Barulich wrote on the photo of them together. 
But after all that, what's the next step you can take as a couple? Well, matching tattoos, of course. 
The pair got infinity signs on their left thumbs. The model recently shared a photo on Instagram of their permanent ink. 
Then, when Valentine's Day rolled around, she shared a romantic picture of the two on a boat overlooking the Miami's skyline. 
If you head over to the model's Instagram account, you'll see that her numerous posts have comments from Maluma that say, "Mine." 
But yesterday, for the first time, we saw Natalia on his social media. That's was a huge step. Maluma shared a boomerang in his Instagram Story showing Natalia kissing his cheek.