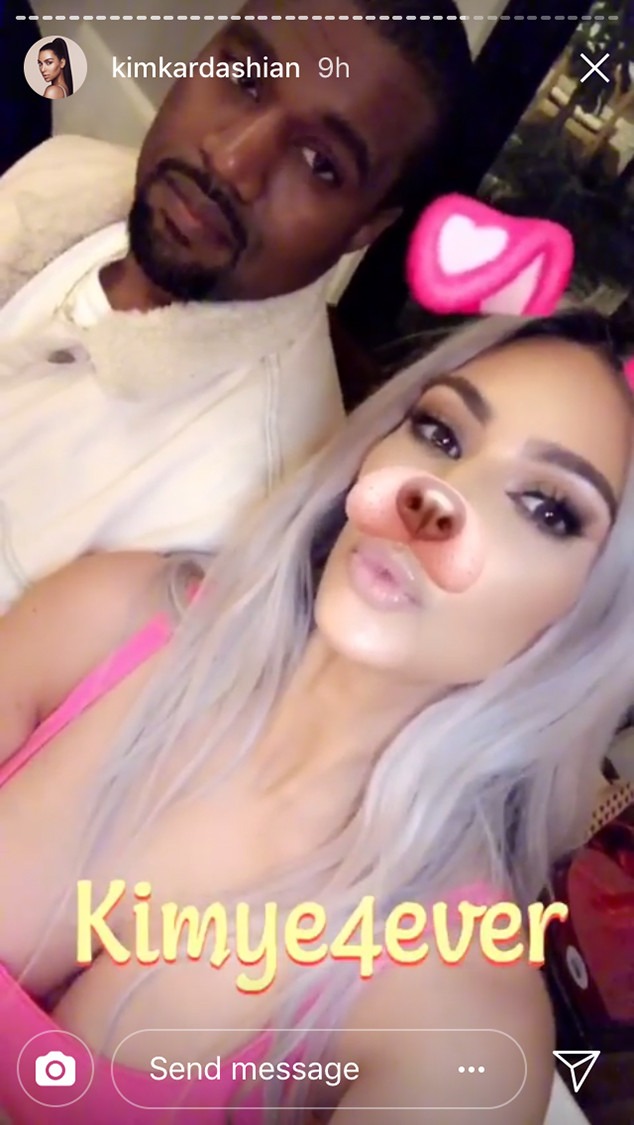 Instagram
Nothing says love like a little family karaoke. 
Kris Jenner hosted a Valentine's Day dinner at her home on Wednesday and invited a few of her closest family and friends. Kim Kardashian and hubby Kanye West were there along with Khloe Kardashian and boyfriend Tristan Thompson. Rob Kardashian also joined the family for the celebration as did Kris' sweetheart Corey Gamble. Other celebrity guests included Jada Pinkett Smith, Real Housewives of Beverly Hills couple Kyle Richards and Mauricio Umansky and family friend Faye Resnick. 
The famous momager went all out for the party. Guests sipped on champagne and enjoyed caviar before sitting down to a chef-prepared meal. She also stuck to the holiday theme by decorating her table with red and white china, dozens of candles and lots of red roses. There was even a long-stemmed rose chandelier.
And because it was Valentine's Day, there was also a lot of chocolate. In addition to giving her guests boxes of candy, the matriarch had place settings made out of the chocolate hearts Kim sent out to promote her new KIMOJI Heart fragrance.
"How cute is my mom?" Kim said in an Instagram video. "She took my chocolate, huge hearts that I gave for my perfume and broke them and made place cards for the table for our Valentine's dinner."
Everyone seemed to be having a good time. At one point, guests even started rapping Kanye's hit "Runaway" at the table, causing him to crack a smile. 
The singing continued after dinner with a full karaoke session. A tipsy Kris rocked out to everything from The Foundations' "Build Me Up Buttercup" to Britney Spears' "…Baby One More Time" with Kyle and Faye.
Unfortunately, not all of the Kardashians could be there. Kourtney Kardashian, Kendall Jenner and Kylie Jenner were missing from the festivities. However, we're sure the family sent them some love.
Khloe, who is pregnant with her first child, mentioned she would be attending the big soiree earlier in the day via her app.
"This Valentines Day will be a little different for me. Tristian will be in Los Angeles, so that will be nice. We're both not very needy when it comes to this kind of stuff. So we're just going to go to my mom's and have a couples' dinner with my family. Cute, right?" she wrote. "She's having a chef cook for us, which will be a fun little luxury."
However, it looks like the couple still enjoyed a little one-on-one time.  
"But I'll be doing some cooking too!" she added. "Tristan is Jamaican and he absolutely loves Jamaican food. He could eat Jamaican food seven days a week 365 days a year. His mom has been teaching me how to make authentic recipes, so I will be making him an amazing Jamaican meal earlier in the day."