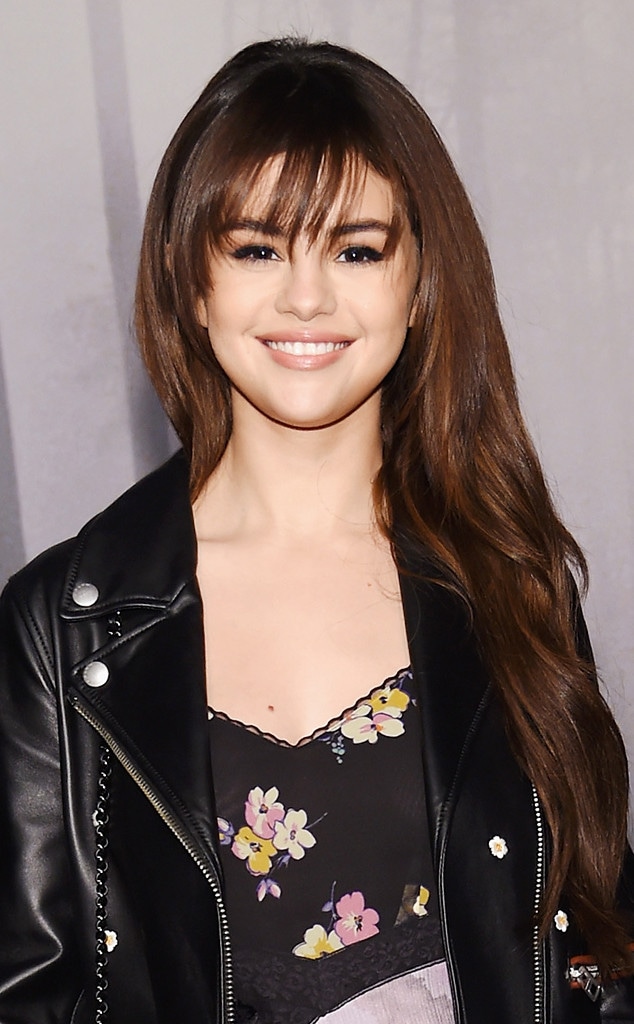 Dimitrios Kambouris/Getty Images for Coach
In honor of New York Fashion Week, Selena Gomez appeared at the Coach show with a "new" look. 
While her Instagram features the choppy, blond lob (read: long bob) she wore on the cover of Harper's Bazaar, the star has transformed her look since, going back to her long brunette tresses and adding bangs—a feminine and youthful look that pairs well with her floral-accented Coach ensemble.
We've seen this look before. In fact, when the "Wolves" singer came onto the scene as the star of Disney's Wizards of Waverly Place in the mid-2000s, this is how she wore her hair. It's her most natural hairstyle, although the bangs are a stylish addition. 
Her makeup is also similar to her back-in-the-day style. It's natural, featuring a nude lip, full brows and black eyeliner. With little color, it highlights the beauty of her complexion and makes her look younger. In fact, she looks at lot like she did in 2007 (minus the spiral curls), as seen below. 
Jean Baptiste Lacroix/WireImage
The star is going back to her roots, literally and figuratively. 
Last month, the star posted an Instagram pic of her childhood home, and shared with her 133 million followers how much she missed her life before fame.
She captioned the post, "The home I grew up in, from birth to 13...I visit this place every chance I get. In many ways it very well could have been better than my life today, but I'm grateful for a voice that can enable change today. Even when I don't know how to do it well or actually want it. I love you Grand Prairie. Thank you."
As a wise person once said, "Home is where the heart is," and Selena is reminding us of when we first gave her our heart.
Stay tuned all week for more updates, celebrity looks and how-tos from NYFW!