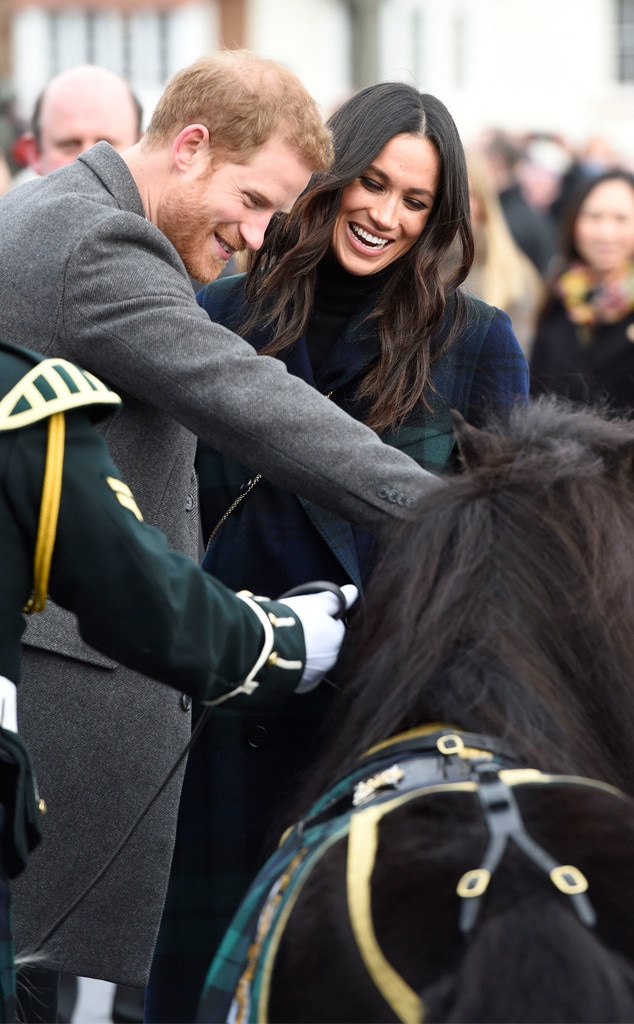 Ian Rutherford/PA Images via Getty Images
Prince Harry and Meghan Markle visited Edinburgh on Tuesday and were greeted by some very special guests—including one particularly adorable four-legged friend.
Upon arriving at Edinburgh Castle, the royal and his bride stopped to pet the mascot of The Royal Regiment of Scotland—a tiny Shetland pony named Corporal Cruachan IV. The little steed made sure to wear his Scottish best to greet the couple. However, he wasn't exactly on his best behavior. At one point, the horse attempted to bite Prince Harry's hand.
"Hey!" the prince said pulling back his hand.
Cruachan wasn't the only one there to greet the couple. Harry and Meghan also met with Pony Major Mark Wilkinson, as well as with members of the Band of the Royal Marines. Harry took over the role of Captain General of the Royal Marines from Prince Phillip in December. In addition, the couple said hello to a crowd of well-wishers.
Karwai Tang/Karwai Tang/ WireImage
While visiting the castle, the two witnessed the firing of the One O'clock Gun—a tradition that dates back to 1861 and was used to set maritime. Both Meghan and Harry made sure to bundle up for the occasion. Meghan wore a long navy and green plaid coat while Harry wore a gray coat over a navy sweater, white shirt and dark pants.
This is the couple's first official joint visit to Scotland, and they seem to have a packed itinerary. They'll later head to Social Bite—a sandwich shop that donates its profits to social causes, including homelessness. Finally, the two will end their visit by attending a reception at the Palace of Holyroodhouse. There, they will celebrate the achievements of the country's youth for Scotland's Year of Young People 2018.