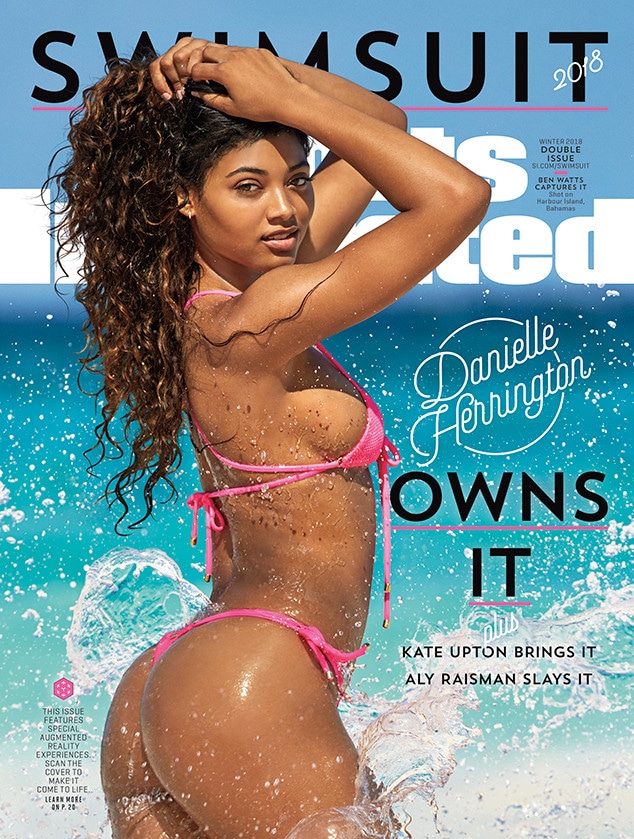 Ben Watts/Sports Illustrated
Danielle Herrington's modeling career is going swimmingly.
The 24-year-old model from Compton, Calif., graces the cover of the 2018 Sports Illustrated Swimsuit Issue. Herrington, who made her debut in the magazine as a rookie last year, saw it for the first time when supermodel Tyra Banks made a surprise visit to the publication's offices.
"I can't even believe I'm saying this. I am the 2018 Sports Illustrated Swimsuit cover model," says Herrington, who succeeds Kate Upton, a three-time SI Swimsuit cover veteran. "I can't wait for everyone to see it. I'm emotional, but I just want to say thank you to everyone who believed in me. I put in so much work for this and I'm feeling very accomplished, happy and excited."
(In years past, cover models were revealed on ABC's Jimmy Kimmel Live!.)
Ben Watts/Sports Illustrated
Ben Watts/Sports Illustrated
Herrington traveled to Harbour Island, Bahamas, for her shoot with Ben Watts, and she wears a hot pink Ola Vida string bikini on the cover. "Last year, Danielle was a rookie, and yet already an exemplary model. She's an extra hard worker and a natural brand ambassador. All those things separately don't guarantee a cover, though. Danielle was a shy girl, who went from taking her first photos last year to showing up this year a completely different person. All the good things about her seemed to be magnified. She owned every single second of her shoot. She had an enthusiasm and effervescence about her—I felt like I was meeting her for the first time. Last year she showed up never expecting to be there," magazine editor MJ Day says. "This year she showed up completely claiming her place and status as a Sports Illustrated Swimsuit model."
Herrington is the third black woman to cover the annual issue since the franchise began in 1964. She follows in the footsteps of Banks, who appeared next to Argentine model Valeria Mazza in 1996 and got a solo cover a year later, and Beyoncé, who booked a solo cover in 2007.
"Two of my role models are Tyra Banks and Beyoncé, so the fact that I get to join this incredible group of women as I become the third black model on the cover of SI Swimsuit is a dream come true. I am so excited to be part of this iconic brand that has long given identity and voice to women of all shapes, colors and beliefs," Herington says. "I hope that young girls who look at this cover are inspired to dream as big as I did and work hard to attain all their goals."