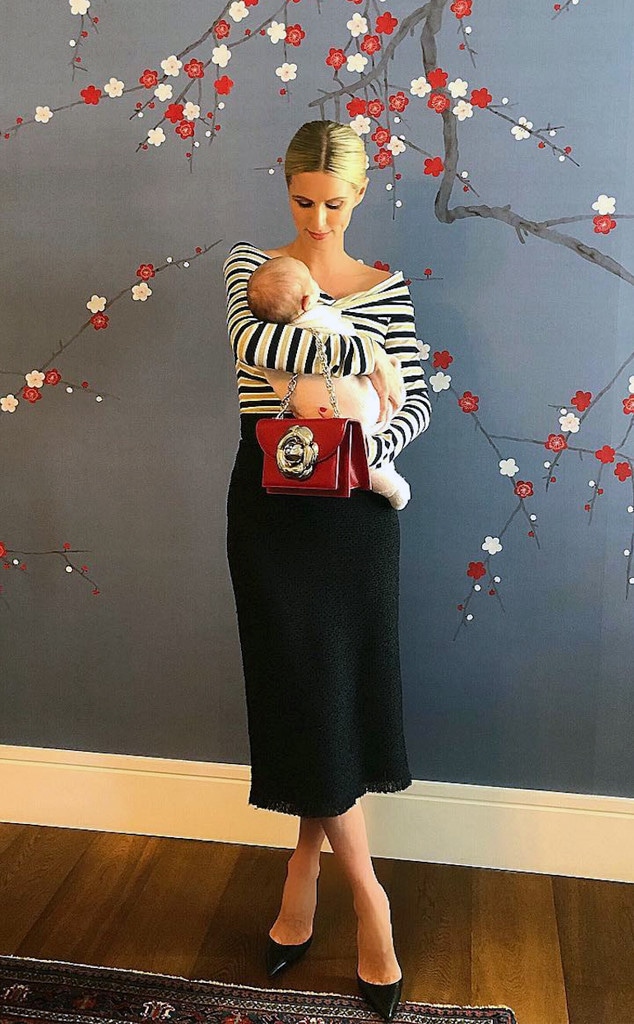 Nicky Hilton/Instagram
Oh, baby! 
To the delight of Nicky Hilton Rothschild's one million Instagram followers, the designer-socialite finally shared the first photo of her newborn daughter on Monday. Hilton was on her way to Oscar de la Renta's New York Fashion Week show when she snapped an adorable photo holding 7-week-old Teddy Rothschild.
"Kisses + cuddles before out the door to catch the @oscardelarenta show," Nicky captioned the moment. 
Hilton and hubby James Rothschild welcomed their second child together in late December, announcing on social media at the time, "Christmas came early! On December 20th James and I welcomed a baby girl, Teddy Rothschild into the world. Feeling very blessed this holiday season." 
Watch:
What Makes Paris Hilton the Best Aunt?
The couple, who wed in 2015, also have a 1-year-old daughter named Lily Grace Victoria Rothschild. 
And with Paris Hilton as an aunt, rest assured Teddy will be showered with love for years to come. The sister duo described the great lengths Paris will go to when it comes to spoiling her eldest niece, and there's no question the same goes for baby No. 2!
"Whenever she comes over, she comes bearing sweet gifts," Nicky told E! News last fall. "Clothing, toys, dolls... So Lily Grace gets very excited when Auntie Paris walks in the door." 
 "I like to spoil her," Paris chimed in with a smile. 
As always, motherhood looks oh-so glamorous on Nicky!