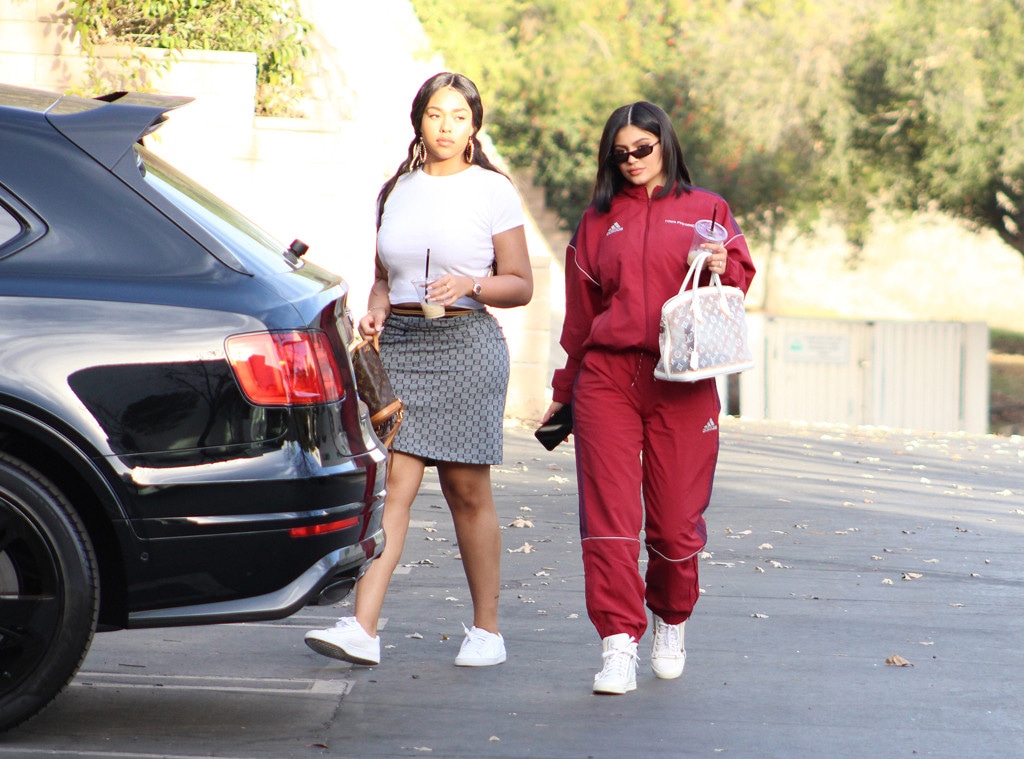 Splash News
Kylie Jenner is slowly but surely reentering the public eye. 
Less than two weeks after the E! reality star gave birth to her first child, Kylie is lending support to close friend Heather Sanders, who will soon welcome her very own bundle of joy. The 20-year-old stepped out alongside Jordyn Woods for Sanders' baby shower, which was held on Sunday in Los Angeles. 
Kylie dressed head-to-toe in a bright red Adidas tracksuit, white tennis shoes and carried a transparent Louis Vuitton handbag. She wore her always-changing hair style in a dark brunette bob. 
Fellow partygoers posed for photos with the new mom, and also shared a snapshot of Kylie and Jordyn proudly posing with Heather in front of an elaborate flower wall. 
Heather was also present for Kylie's super secret baby shower held last November, and celebrated their similarly timed pregnancies after she announced the birth of baby Stormi Webster. 
"Congratulations To The sweetest, Loving, Most Caring person on earth!" Sanders penned on Instagram. "So happy we got to share this experience together! Sleep together,Eat together, Workout etc Love Having you as my pregnant sister for 9 Months! You are going to be such an amazing Mom, and your beautiful baby is the luckiest girl in the world to have you as her mother. You Were Made For This! I Love You So Much! Can't wait for Your Snap Back We Not Even Ready, The Most [fire] Mama Ever!!"
And speaking of her post-baby bod, Kylie looked happy and healthy as she was photographed for the first time since giving birth one day prior to Sanders' celebration. The makeup mogul rocked black bicycle shorts and an oversized leather jacket for the casual outing with her best friend Jordyn.
A source recently told E! News that Jenner "hasn't started working out yet," but is "eating healthy and taking care of herself." 
As for how she's adjusting to motherhood, our insider said she's "getting used to the crazy hours" and is "very attached to Stormi." The source explained, "She honestly just never wants to leave her out of her sight not because she can't trust anyone, but because she just is so happy being with her baby."
Boyfriend Travis Scott continues to be right by Kylie's side and "loves his baby girl so much," the insider added. 
Keeping Up With the Kardashians returns this September, only on E!