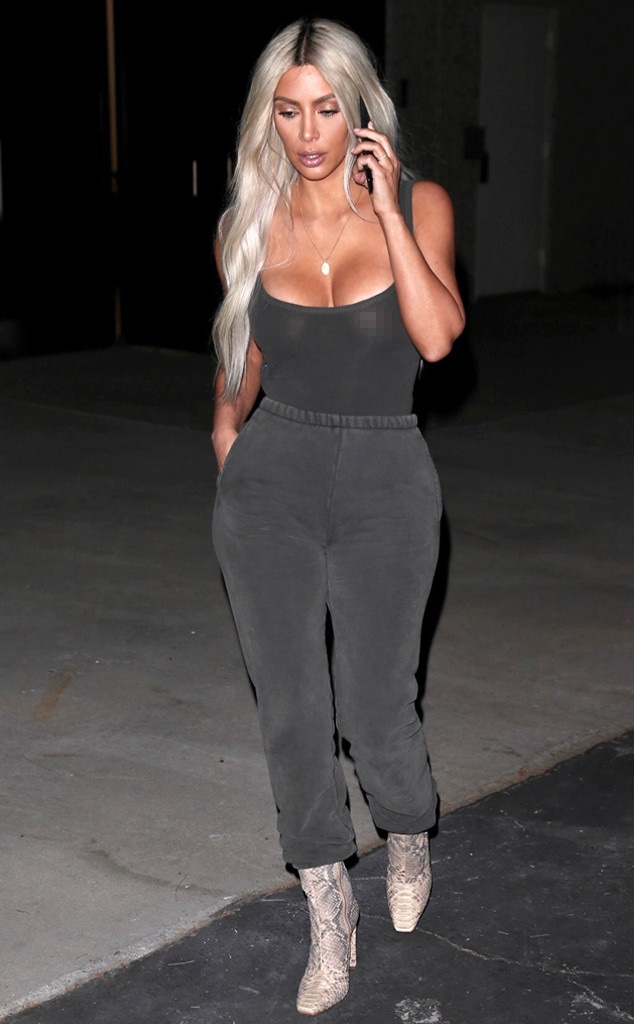 Splash News
Kim Kardashian is revealing her measurements.
The KKW Beauty founder and Keeping Up With the Kardashians star is sharing her waist size in a new video posted to her app on Monday. In the video, entitled "Never-Before-Seen Footage of My Book Club," Kim gives fans a glimpse into the book club she started with her close pals Chrissy Teigen and celebrity hairstylist Jen Atkin last year.
Back in February 2017, Kim tweeted to her social media followers, "So guys….@ChrissyTeigen & @JenAtkinHair & I are starting a book club! I'm making them read Embraced By the Light as our first book!"
In the video posted on her app Monday, the trio is joined by Kourtney Kardashian and Embraced By the Light author Betty J. Eadie.
Prior to Betty's arrival, Kourtney tells her sister Kim, "I can't take your hips seriously right now...because your waist is so small and then your hips are so big."
After being asked, Kim then went on to reveal that her waist is 24 inches. "It's never been 24 ever in my life," Kim says, before sharing that her hips are 39 inches.
During a November 2017 episode of Keeping Up With the Kardashians, Kim talked about her diet and fitness plan and met with trainer Melissa Alcantara.
"I'm going to start a really crazy diet. I was looking on Instagram and this body builder popped up on my page and she had gained 70 pounds in her pregnancy. Her kid's like 6 now. She is like ripped," Kim said on the episode. "Melissa is a trainer I found. She's super inspiring to me and I really want to meet up with her and she if she could train me. She could help direct my food and really get me on an amazing path…If I was 10 percent like her it would be life-changing. Like my whole arms and back. It's mostly food. I gotta have this lifestyle. I gotta try."
Keeping Up With the Kardashians returns this September, only on E!