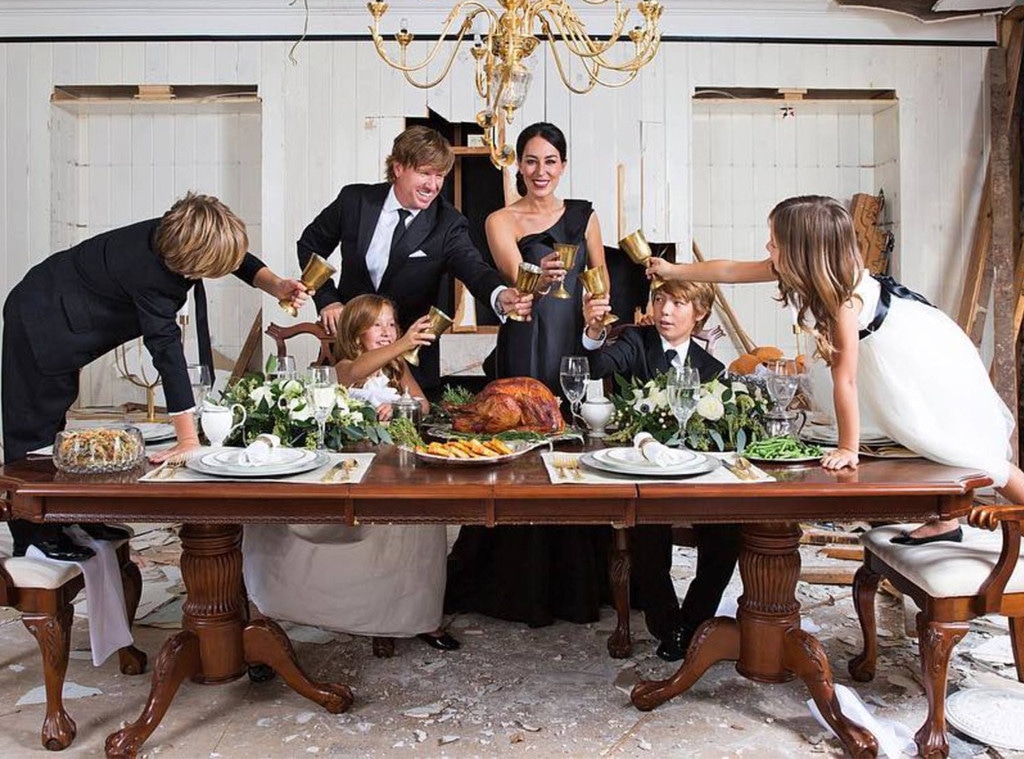 HGTV/Instagram
Chip Gaines and Joanna Gaines are known for building dream homes on Fixer Upper, but the couple's greatest project has always been their family. 
The proud parents have four children: Drake, 12, Ella, 11, Duke, 9 and Emmie Kay, 7. They're also planning on welcoming a fifth child later this year. 
For the past five seasons, fans have gotten glimpses of the children's idyllic country upbringing on HGTV. Now, viewers will get to see more of the kids on Chip and Joanna's Family Garden Project. In the special, which airs Feb. 13 at 9:00 p.m. EST, the 43-year-old dad and 39-year-old mom recruit the help of their kids to give their backyard garden a fresh new look. The special airs during the show's final season and serves as a sweet farewell to the Gaines family.
Joanna and Chip announced they were ending Fixer Upper in September 2017. While rumors of marital problems started to spread, Joanna cited their growing family as a reason for ending the show.
"For us, the most important thing in the world is Jo and I's relationship, followed very quickly by these four beautiful kids," Chip told Today back in October. "And we didn't want to push it, red line it, for so long that we woke up and realized, we are at a point of no return."
This isn't the first time the couple has talked about the difficulties of balancing work and family. In 2011, two years before the first episode of Fixer Upper even aired, Joanna wrote about the struggle on her blog.
"For a while, it was working just great and then the stress of work started spilling over on the 'mother' side and I noticed even when I was home, my mind was always at work," she said. "I noticed some things coming up in their hearts and even mine that were red flags. They needed their mom in this season of life and honestly I needed my kids."
So before we say goodbye to the Gaineses, here's a look back at seven of their cutest family moments.
1. When they involved their kids in their work
From Drake and Duke helping out with demo day to Ella turning an old attic into a study nook, there have been several instances when Chip and Joanna have engaged their kids with their work. It looks like their kids have inherited some of their DIY skills, too—especially Ella. Joanna shared a picture of their eldest daughter playing with a design book and textiles. In the caption, she wrote, "She asked me if she could be a designer when she grows up." 
2. When they taught them lessons through hard work
Whether the kids are trimming roses in the garden, tending to a baby calf or selling fresh eggs and vegetables, Chip and Joanna try to show their kids the value of hard work.
"It's fun for the kids to really see when you take something and you take care of it and it grows up strong and healthy, I mean, it's fun to watch the fruit of your labor," Joanna said in an episode shared via People. "So it's fun to have them be a part of it."
3. When they let their kids' personalities shine through
Each member of the Gaines family has a unique personality. In an interview with People, Joanna described their oldest child Drake as a "steady Eddie" who is "predictable" and "likes to play things safe." Although, she said he has his dad's sense of humor As for Ella, Joanna told the magazine she's the "creative one." Chip also said their son Duke is their "silent type." Finally, "sweet" little Emmie is "just a ball of fun," Joanna said. The couple suggested she's also their most adventurous child.
4. When they let their kids be kids
Whether it's playing hide-and-go-seek in the corn fields or dressing up as superheroes at the dinner table, Chip and Joanna make sure their kids have plenty of time to play. They're also strict about limiting the amount of screen time the kids have. In fact, the parents have said they don't even have a TV.
"I think the funny part with Chip is just the video games, the TV. I mean, that's where he kinds of gets a little strict," Joanna told People in an interview. "It's 'You go play outside.'"
5. When they remembered to take a break from work and enjoy the little moments
With a magazine, a home design company a TV show and several brand collaborations, it can be easy for Chip and Joanna to get wrapped up in work. However, the parents still manage to set aside time to bond with their kids. In one episode, Chip took a break from landscaping to shoot hoops with Emmie. Another time Joanna took a break from her to-do list to just paint with her daughter.
6. When they celebrated their achievements with their kids 
Chip and Joanna make sure to celebrate their achievements with their family. Whether it was having their kids break ground at their newly purchased property the Silos or having them be the first ones inside their newly opened bakery, they make those happy moments even better by sharing them with the people they love most.
7. When they hinted they might want to have another baby 
Even though the couple didn't share their pregnancy news until January, the parents have been hinting at a fifth child for a while. 
Watch the video to see some of their other clues.
Watch Chip and Joanna's Family Garden Project Feb. 13 at 9:00 p.m. EST on HGTV.
For more on the couple's journey to happier than ever, tune into E! News tonight at 7 and 11 p.m. PT