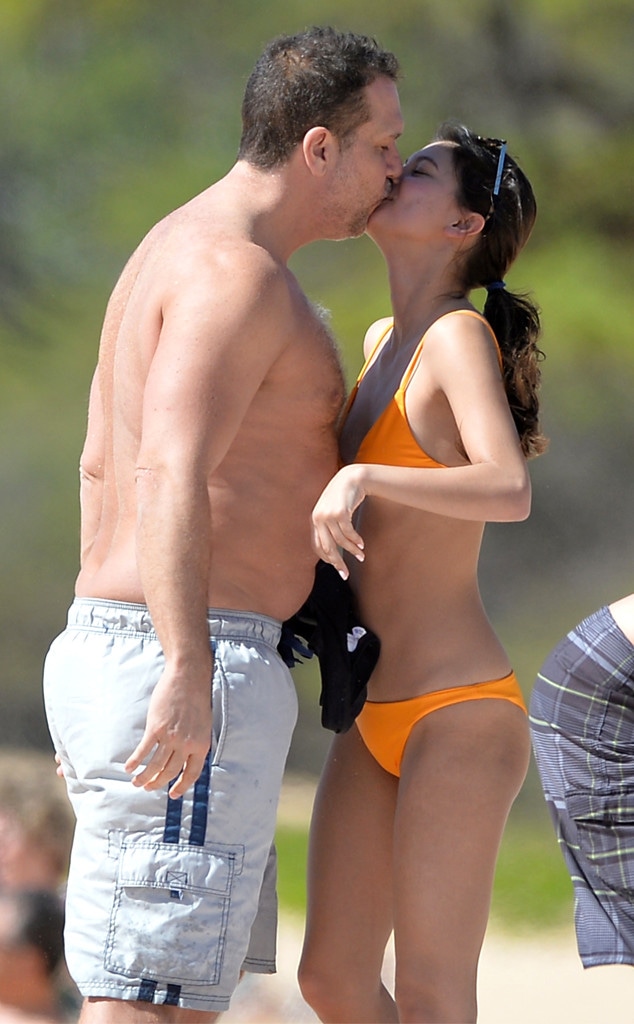 BACKGRID
Life's a beach when you're Dane Cook!
The 45-year-old funnyman and his 19-year-old girlfriend Kelsi Taylor put their love on full display when they hit up the beach during a romantic vacation to the island of Maui in Hawaii on Saturday.
The lovebirds were spotted enjoying some fun in the sun and getting in some serious PDA on while on the beach. 
The pair kissed, held hands and snuggled up to each other for all to see.
Kelsi, who is a singer, opted for a bright orange two-piece bathing suit. Her boyfriend, who is 26 years her senior, donned gray trunks.
A source tells E! News, "Dane and Kelsi flew in on a private jet to Maui last Thursday. Dane loves Maui and visits a few times a year. He and Kelsi have already been once and they couldn't wait to come back with friends for another vacation."
The insider says that the lovey dovey couple has been "having a great time so far."
As for how the trip's been going, the spy says, "They've been spending a lot of time on the beach with friends, laying in the sand and wading into the ocean."
The source also added that the two work well: "Dane and Kelsi are light hearted and playful together. They make each other laugh and are always having fun."
The couple has been keeping busy, taking a day trip to Big Beach and enjoyed their time there.
The source said, "They were play fighting on the beach and dancing around. But they stopped themselves for some quick PDA. He grabbed her and pulled her in for a kiss. They held hands and canoodled on the beach before Kelsi put on a cover up and they went back to their hotel."
"Dane and Kelsi worked out together in the hotel gym and had a fun dinner with their friends at the restaurant," said the source. "They seem very happy together and can't get enough of being in Hawaii."
On Friday, Dane posted a photo of a beautiful view with a quote by Ralph Waldo Emerson: "Do not go where the path may lead, go instead where there is no path and leave a trail." 
But it isn't all about fun—the vacay's also about getting fit.
Kelsi shared some pics on her Instagram from their getaway, including one of them pre-workout at their hotel with the caption, "Mahalooooooooh."
Sounds like quite the romantic pre-Valentine's Day trip together!
Despite their May/December relationship, the two haven't been shy about professing their love for one and other. They are all over each other's social media accounts.
In January, Dane wrote a message to Taylor for all to see, "My gf @itskelsitaylor who quite simply is a gift. #bestlaughs."
Meanwhile, the singer shared a pic of the pair on Instagram in January and captioned it, "#relationshipgoals."
The two appear to have spent the Christmas holidays together, as well as Thanksgiving.