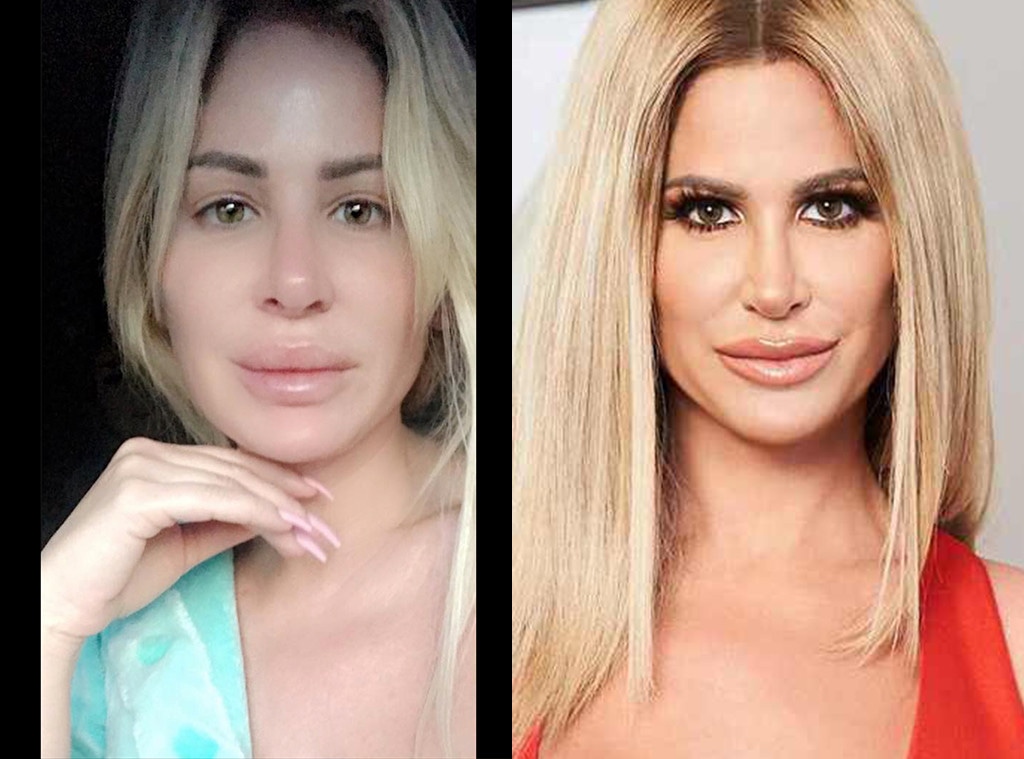 Kim Zolciak/Instagram/Bravo
She's wigging out—literally!
She's known for her made-up ways and her wig-infused locks, but Kim Zolciak-Biermann is giving fans a peek at what she's really like—makeup-free and wig-free.
The Real Housewives of Atlanta star hopped on Insta to show the world a fresh-faced image of herself, sans all the regular pomp and circumstance usually shown.
The "Don't Be Tardy" singer wasn't late to the Instagram party when she took to social media on Saturday to post the selfie, along with a lengthy caption in which the reality star gave fans a healthy tip: you do you.
The 39-year-old, who has been wearing a long blonde wig for years, wrote, "I feel beautiful with no makeup and no wig and I feel beautiful with makeup and a wig."
The mother of six wrote, "I love being a woman dressing up and I also love running around in my La Perla pajamas bottoms (that are old as sh-t I wear them everyday) and my bathrobe."
The Bravo star also made sure to give a shout out to her husband Kroy Biermann, saying that he's all about her no matter what she's wearing.
"My husband makes me feel beautiful at all times! I think it's really important to do what makes YOU happy!"
Kim, who showed off her flawless complexion in the makeup-free snap, also said gave fans some tips on how she keeps her skin looks so amazing.
"I have ALWAYS been into skincare and my skin  I have gone to bed maybe twice in my entire life with makeup on (yes even if I'm swaying at the sink hunni I still scrub that face)."
The star, who is known for having a way with words, concluded her caption by writing, "I think it's REALLY important to do YOU! Do what makes YOU happy! Love the skin you're in!"
Just as Olay says: Love the skin you're in!