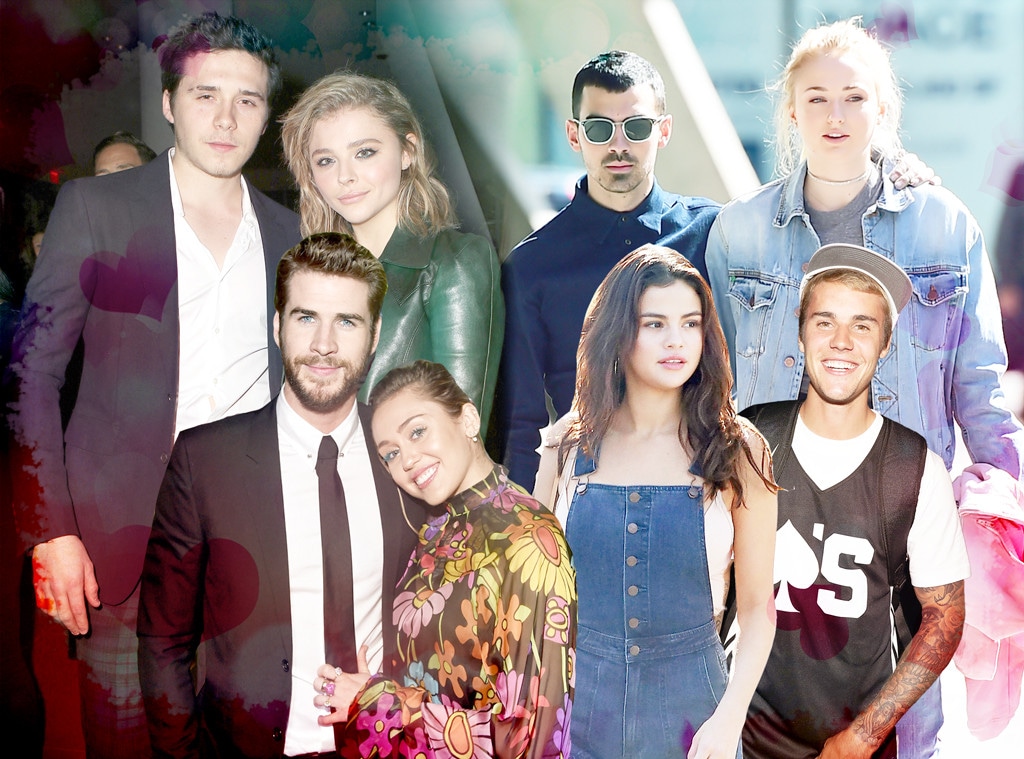 E! Illustration
If you had asked us this time last year if we thought we'd be including Justin Bieber and Selena Gomez on an upcoming list of Hollywood's hottest young couples, we would have politely asked you in return, "What year, exactly, do you think this is?"
But what a difference five months makes, let alone a whole year—especially when it comes to young love.
Not only are Jelena fans 'shipping like it's 2012 again, but we've got new relationships, reunions, milestones, engagements and babies to discuss this time around. So without further adieu...
Vasquez-Max Lopes / BACKGRID
The Heart Wants What It Wants: Selena Gomez started 2017 in the early stages of a relationship with The Weeknd and ended it—after successfully bouncing back from a kidney transplant and seemingly undergoing one life-altering hurdle after another—back together with Bieber.
The couple, who first started dating when they were teenagers before breaking up for the first time in 2012, have re-bonded over their faith, their history and what probably already feels like a lifetime of shared experiences. Apparently Selena's mom hasn't entirely accepted Justin back into the fold, but what can he expect? It'll take time to rebuild the trust all around.
"They are basically emotionally inseparable and attached," a source told E! News about Jelena 2.0 (or is it 4.0 at this point?). And "everyone around them knows how much they mean to each other and they are truly on a great path together."
"I'm 25. I'm not 18, or 19, or 20," Gomez mused to Billboard last November, having been named the music publication's Woman of the Year. "I cherish people who have really impacted my life. So maybe before, it could have been forcing something that wasn't right. But that doesn't mean caring for someone ever goes away. And [that goes for] people in general."
Acknowledging the glut of headlines that she and her fellow Disney Channel alums, such as the Jonas brothers and Demi Lovato, have made over the years, she said, "We've gone through seasons in our lives. I don't think it's as serious as people make things out to be half the time. It's just my life. I grew up with all of these people, and it's so cool to see where everybody is."
Ready to Tie the Knot: It barely took a year of dating before Joe Jonas decided to propose to Sophie Turner, so these lovebirds from opposite sides of the pond are engaged. Kevin and Nick Jonas were among the revelers at a party in the betrothed couple's honor held in New York in November.
They haven't been showing off on social media lately, but they just attended a Grammys party together, so...so far, so good for Sophie and Joe in the new year.
Maintaining the Hottest Quo: Joe Jonas ex Gigi Hadid (that fling seems like a lifetime ago) and her beau Zayn Malik—who's in like Flynn with Gigi's fam—also made the Grammys scene in New York after spending Christmas together.
"love this man more than I could ever put into words, & am inspired by his drive to be and do better everyday... cheers to YOUR YEAR my @zayn - happiest happiest birthday & 25th year of life !! I'm proud to be by your side x," Gigi, who even had "ZAYN" emblazoned on her phone case, wrote on Instagram Jan. 12.
As for Zayn's thoughts on his relationship, he has said that he's not in it for the visibility factor. "That's not something I want to be a part of," he told Britain's Evening Standard last summer. "I'm with her because I like her and I hope she's with me because she likes me. When we come home, we don't really talk about that s--t. We just spend time together as a normal couple, cook food, watch TV, have a laugh."
"I post what I think would be normal to post of your boyfriend," Gigi says of her at-times criticized social media habits in the March 2018 issue of British Vogue, featuring the 22-year-old model and her sister Bella Hadid on the cover. "The comments are: 'It's extra, it's fake.' But if I don't do it enough then it's: 'Oh they're fake, they're not really together.' I try to do what feels real to me, and do it with integrity." (Psst, Gigi: They're just jealous.)
Reunited and Twinning: After a breakup that didn't take in 2016, Chloë Grace Moretz and Brooklyn Beckham got back together last summer and soon entered the matching-denim portion of their relationship. 
And that, apparently, was a gateway style move that served as their entrée into coordinated makeup, as 18-year-old Brooklyn rimmed his eyes with black liner just like his girlfriend's at her 21st birthday party last month.
There is no look those Beckham men can't pull off, is there?
Alberto E. Rodriguez/Getty Images for Disney
The Old Married Couple: Well, Liam Hemsworth and Miley Cyrus aren't married yet, but the engaged duo have now been together for the better part of this decade—minus the two years they spent finding themselves—and have eased into a comfortable, undramatic routine.
"I'm 24. I hope I get to live a little bit more [before marriage]," Miley told the Sun on Sunday last year. "I have too much living to do. Three years ago, if you'd asked me if I'd be here, this happy with this man, I'd have been stunned. I'm just riding this out. In some relationships, you lose yourself by being with someone else. Actually, it made me find myself more.
"I have no idea what the next three years will bring, but if it's possible to get even happier, I'll take it."
Namaste, Miley. Namaste.
On the Trading Block: Kendall Jenner hasn't given up on now ex-L.A. Clippers star Blake Griffin, whom she'd been dating for several months before he was traded to the Detroit Pistons at the end of January.
A source told E! News earlier this month, in fact, that the 22-year-old model went to Detroit to help Griffin get settled, amid what is obviously a huge, sudden transition for him after nine years (aka the entirety of his NBA career) with the Clippers. "She had a few days off and wanted to be there for him," the insider said. "She doesn't know if they will stay together, but they are going to try and see what happens."
Before the move, we had been told that the couple weren't that serious, but Blake made Kendall laugh, "and that's why she loves being around him."
Coincidentally, another of her former beaus, now ex-Laker Jordan Clarkson, was just traded as well, to the Cleveland Cavaliers, where Khloe Kardashian's boyfriend, Tristan Thompson, plays. It's a small world after all.
Getty Images/Kylie Jenner/YouTube
All Grown Up: Sure, matching eyeliner is a big step, but Kylie Jenner and Travis Scott are parents now.
The couple welcomed daughter Stormi Webster (Travis' real name is Jacques Webster) on Feb. 1 after never explicitly confirming that they were having a baby for the entirety of Kylie's pregnancy.
"I'm sorry for keeping you in the dark through all the assumptions," the 20-year-old posted on Instagram after E! News exclusively reported news of the birth on Feb. 5. "I understand you're used to me bringing you along on all my journeys. My pregnancy was one I chose not to do in front of the world. I knew for myself I needed to prepare for this role of a lifetime in the most positive, stress free, and healthy way I knew how. There was no gotcha moment, no big paid reveal I had planned. I knew my baby would feel every stress and every emotion so I chose to do it this way for my little life and our happiness."
"Kylie's first few days of motherhood have been the happiest of her life," a source told E! News last week. "She feels like being a mom is her true calling and there's nothing that's ever felt so right. Bringing the baby home has been the greatest joy and most sacred experience, she is elated and overjoyed. Kylie felt so ready to meet the baby and had been counting down the weeks for what felt like forever, she can't believe she's finally here and in her arms and this journey is beginning."
And true to form, Kylie's photo of Stormi's hand clutching her mother's perfectly manicured thumb is already the most-liked photo of all time on Instagram.
You came to the right place, little one.